Jean Gaspard Takes WSOP Circuit New Orleans Following Three-Way Deal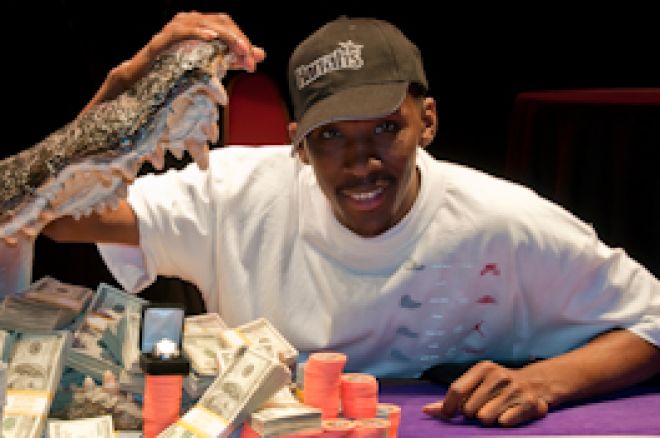 After leading for the entire final table, Jean Gaspard was declared the winner of the Championship Event of the World Series of Poker Circuit at New Orleans on Wednesday evening, following a three-way chop between Gaspard, Billy Kopp, and Ken Christopher. Besides taking home $161,175 for coming out on top of the field of 167, Gaspard also won an entry into this summer's $10,000 WSOP Main Event, another $1,000 for expenses, as well as the WSOP Circuit gold ring.
When play began on Wednesday, Kurt Scheer was the final table's short stack with just 115,000. However, a double-up through Justin Allen followed by another winning hand versus Billy Kopp carried Scheer up to the 300,000-chip mark and seemingly out of the danger zone.
However, Scheer quickly found himself back in treacherous territory in a hand that began with Kenny Milam raising from early position, and Scheer and Gaspard both calling behind. The trio saw an action flop —
. Milam checked, Scheer bet 50,000, Gaspard called, and Milam got out of the way. The turn was a tantalizing
. Scheer quickly pushed all in, and Gaspard thought just a brief moment before calling. Scheer showed
for the nut flush, while Gaspard turned over
for a set of tens. The river brought the
, giving Gaspard the boat and knocking Scheer out in ninth place.
Immediately following Scheer's elimination, Kopp raised to 31,000 and Kenny Milam — the new short stack — pushed all in with his last 86,000. Kopp quickly called, turning over pocket kings versus Milam's
. The board came
, and Milam was eliminated in eighth.
Gaspard continued to extend his chip advantage, moving out past 1.5 million, about twice the stack of Kopp, his nearest foe. Gaspard used that big stack in a big hand versus Justin Allen, rivering a straight to claim all but 55,000 of Allen's chips. On the following hand, Gaspard raised to 30,000, Allen pushed all in with
and Gaspard called with pocket fours. Gaspard's fours held up, and Allen hit the rail in seventh.
Ten minutes later, the last woman in the event, Anita Vasquez, pushed her last 54,000 and was called by both Gaspard and Ken Christopher. The two men checked it down as the board came
. Christopher showed
, better than Gaspard's pocket fives as well as Vasquez's
, finishing her day in sixth.
A couple of orbits after that, a hand came in which Gaspard opened with a raise from the button, then Christopher reraised from the small blind. That's when Daniel Walsh came over the top with an all-in bet of approximately 200,000 from the big blind. Gaspard folded, and Christopher snap-called, showing
against Walsh's
. Bad fortune for Walsh, who after seeing the flop run out
was the fifth-place finisher.
It would take nearly three hours before the next elimination, during which period Gaspard continued to maintain the chip lead, hovering around the 1.6-million mark, while Kopp chipped up past one million in chips. Christopher held steady with 420,000, but Steven McKoy had slipped down to about 130,000 when he decided it was time to gamble with
. Christopher called McKoy's all-in, showing
. The flop —
— was bad news for McKoy, and the
on the turn left him drawing dead. McKoy's day was done, and they were down to three.
As it turned out, that would prove the final hand played at the final table. At that point the remaining players decided to discuss a chop, and after much deliberation an agreement was reached. The remaining prize money was divided according to each player's chip stacks, thus Gaspard would take $161,175, Kopp $123,837, and Christopher $111,097. Gaspard was deemed the winner, meaning he additionally won the gold ring, the $10,000 entry into the WSOP Main Event, plus the extra grand for expenses.
Here are the payouts for the final table:
1. Jean Gaspard — $161,175*
2. Billy Kopp — $123,837*
3. Ken Christopher — $111,097*
4. Steven McKoy — $63,916
5. Daniel Walsh — $49,934
6. Anita Vasquez — $39,948
7. Justin Allen — $31,958
8. Kenny Milam — $25,966
9. Kurt Scheer — $21,971
*payouts reflecting three-way chop