ESPN's World Series of Poker Coverage: Buy or Sell?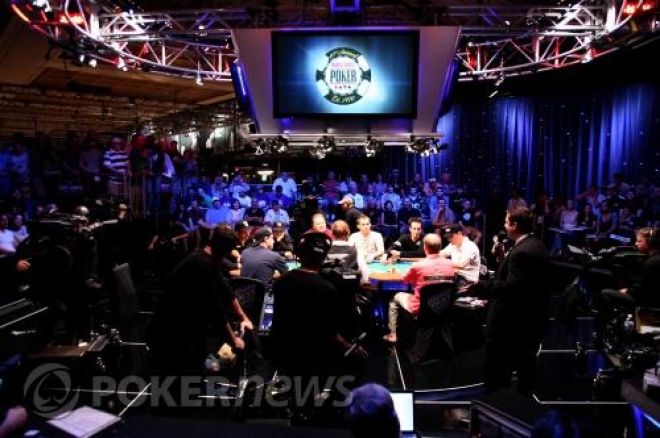 This year's World Series of Poker coverage on ESPN has changed dramatically. Instead of featuring multiple WSOP preliminary event final tables, some of which were games other than Hold'em, ESPN decided to shift their focus to more Main Event time and special "made for TV" events, like Ante Up For Africa, and the $40,000 WSOP Anniversary tournament. As the WSOP was progressing, there was a lot of chatter on how this years coverage would pan out, and whether the move away from the smaller final tables, which frequently lacked star power would be a good thing or a bad thing for the game. We've hashed it out here at PokerNews HQ and here's what we think.
Nicole Gordon believes this was a necessary move that will have positive ramifications for the coverage itself.
No More "Friends and Family" Final Tables
I've been there. I've seen the agita rise in the esophagus of many an ESPN producer as every last recognizable player was eliminated before the final table of a televised event, leaving them with very few "personalities" to work with when it came to putting together a two-hour television broadcast. Say what you will, but in addition to being the world's most prestigious poker tournament, the WSOP is also a non-fiction television series that depends on ratings to survive. Picking a series of events and crossing their fingers that a few famous faces would end up in the final nine is just too big of a gamble for ESPN at this point. Fans want to see their favorite players, and if the most popular and/or telegenic ones happen to have an off year, there will be a lot fewer people tuning in next summer. Choosing to televise the elite $40,000 NLHE event, the Ante Up for Africa charity event and expanding the coverage of the Main Event to 26 hours was a wise decision on the part of the network and the producers as it gave them the best opportunity to put together episodes that would feature the biggest stars of the game.
More Room to Tell Stories
The beauty of ESPN deciding to cover the Main Event so comprehensively this year is that it also allows 441 Productions to do what they do best when it comes to producing poker television — telling great stories. Not only will they have the airtime to focus on the established pros that poker fans want to hear about, they'll be able to follow the journeys of other players who might not make the cut should the Main Event be confined to fewer episodes. Case in point: Tuesday night's broadcast gave us the story of Marlon Shirley, a Las Vegas native who lost his leg in a childhood accident who went on to become a Paralympic track star and earn a gold medal in the 100-yard dash. More Main Event airtime also allows producers to incorporate featurettes detailing some of the preliminary event highlights, a la their piece on Greg Mueller winning two bracelets in ten days.
More Interesting Hands
One of the biggest complaints hard-core poker enthusiasts have voiced in the last several years about the Main Event coverage has been the fact that the strong majority of all the hands broadcast are of the pre-flop "all in and a call" variety. With the luxury of more airtime, audiences got to watch Lex Veldhuis' aggressive style unfold over a series of well-timed bluffs and his read on his primary target, Simon Muenz, truly develop. More time was also spent focusing on Mike Matusow's Day 1 "small-ball" strategy and how his unwillingness to play a big pot on Day 1 cost him big time when he folded his queen-high flush to Richard Johnson's ace-high flush draw. Sure, there were a few all-in confrontations, but on the whole, the hand content in 2009 is turning out to be far more balanced than it has been in prior years.
Michael Friedman feels the coverage is dumbing down the game.
Don't Put All Your Eggs in One Basket
The WSOP's decision to only provide coverage for no limit Hold'em events is in many ways disrespectful of many of the players that fuel the WSOP economy. How is it possible that someone who wins two (Brock Parker/Phil Ivey) or three (Jeffrey Lisandro) bracelets doesn't even get five minutes of coverage. Why is it that the best players in the world play mixed games at the highest limits, but the WSOP decides to pass on the $50,000 H.O.R.S.E. event?
Granted these games/tournaments are a little more difficult to follow for those unfamiliar with poker, but strictly promoting no limit dumbs down the game and basically ignores the fact that there are plenty of players who know how to do things other than shove their chips into the center. In the end, the WSOP was fortunate when Phil Ivey narrowly managed to make the final table of the Main Event, as it actually gives ESPN something to cover. Not many people care about the no-name players that also made the November Nine. If Ivey had not made it, people behind the WSOP broadcasts would have looked real bad because they would have passed on covering other style events that featured sick star-studded final tables. In other words, the WSOP got lucky this year.
Ante Up for Africa?
I understand that there are celebs and I understand that it is for a good cause, but who really cares from a poker stand point? I'm not trying to be a jerk (and I know I'm going to catch hell for taking this position), because I am all-about charity work and helping others, but there were some phenomenal final tables that went down during this year's WSOP and none of them will see the light of day, let alone be aired in prime time. Although I love the altruistic imagery that this coverage provides for the game, as a poker fan, I want real action instead of a bunch of players "having fun." Putting on a $40k no limit tournament is one thing because it features 200 of the game's top players going at it, but televising a charity tournament that offers little serious action for poker fans seems like a weak way to take advantage of what little prime time space ESPN has for the game.
The WSOP Broadcast Formula Is Tired
Here's an idea: take the time that was used for Ante Up for Africa and dedicate four, 15-minute segments that recap four tournaments and do it in 60 Minutes style. Each segment should be reported by a veteran poker journalist and a poker pro that was on site during the event and it should feature commentary on the action that provides both knowledgeable analysis and insider insights that can only be gleaned by spending time on the floor. Some of televised poker's best moments have come when pros provide commentary, and having a veteran journalist's take on what happens during a tournament is invaluable.
Think, ESPN's Pardon the Interruption meets High Stakes Poker. Intellectual yet entertaining action hosted by people that are actually involved (in some way) in the tournament they are talking about. I'm tired of corny jokes and lame player profiles. I want to know which degenerates donked off their chips at a crucial time in a tournament. I want to know why five players busted out of the $1,000 Stimulus Special every minute or two. I want real substance because we've got fluff in spades.
We're curious to hear your thoughts on the subject; leave them below or head over to our forums to make your voice heard.