WCOOP Day 7: Ryan "g0lfa" D'Angelo and "iCeVeNoM" Capture Victory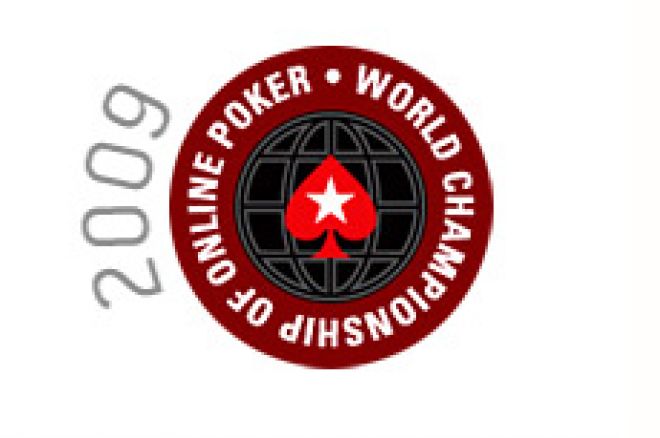 Day 7 of the 2009 World Championship of Online Poker at PokerStars offered a lighter schedule than did the prior days. On the docket were the $530 No-Limit Hold 'em Triple Shootout and the $320 8-Game affair. Two new WCOOP champions emerged as "iCeVeNoM" and Ryan "g0lfa" D'Angelo bested their respective fields.
For "iCeVeNoM," it took nearly 16 hours to take down the Triple Shootout event. With four players remaining, "iCeVeNoM" won a coin flip against Nelson "Mumtum23" Chain that gave him a sizable lead over his two remaining opponents. Chain's
came up short against "iCeVeNoM's"
as an ace hit on the flop. The good luck continued for "iCeVeNoM" during heads-up play against "dynamoM." On the final hand, "dynamoM" was at a 5:1 chip disadvantage and got his money in with pocket eights against "iCeVeNoM's" pocket fours, but a four found the board and sealed the deal for "iCeVeNoM" who claimed the bracele and $91,250.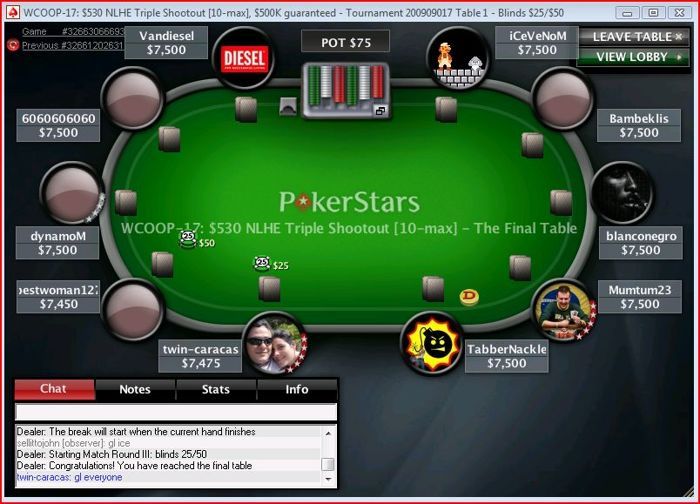 PokerStars WCOOP 17 - $530 NLHE Triple Shootout [10-max]
Buy-in: $500+30
Prize Pool: $500,000
Entrants: 1,000
1. iCeVeNoM - $91,250
2. dynamoM - $63,500
3. TabberNackle - $47,250
4. Nelson "Mumtum23" Chain - $35,250
5. 6060606060 - $24,750
6. Anh Van "Vandiesel" Nguyen - $20,000
7. Bambeklis - $15,750
8. Jorge "twin-caracas" Arias - $12,500
9. Connor "blanconegro" Drinan - $9,500
10. bestwoman127 - $7,000
Notable Finishes: Victor Ramdin (12th - $1,925), GotURead (13th - $1,925), Shane "shaniac" Schleger (33rd - $1,925), David "SexSeen" Sands (37th - $1,925).
Ryan "g0lfa" D'Angelo may have begun the final table as the chip leader of the 8-Game mixed event, but he had a long way to go before claiming the top prize. A key hand that boosted his chances and stack came against Mark "The Omaholic" Roland at 6,250/12,500 Pot-Limit Omaha. Roland was under the gun and min-raised. D'Angelo re-raised the pot on the button and Roland called, bringing out a flop of
. Roland got the rest of his chips in with
for trip threes, while D'Angelo tabled
for two pair and an open-ended straight draw. The
hit the river and D'Angelo took "The Omaholic" out en route to his 8-Game WCOOP victory.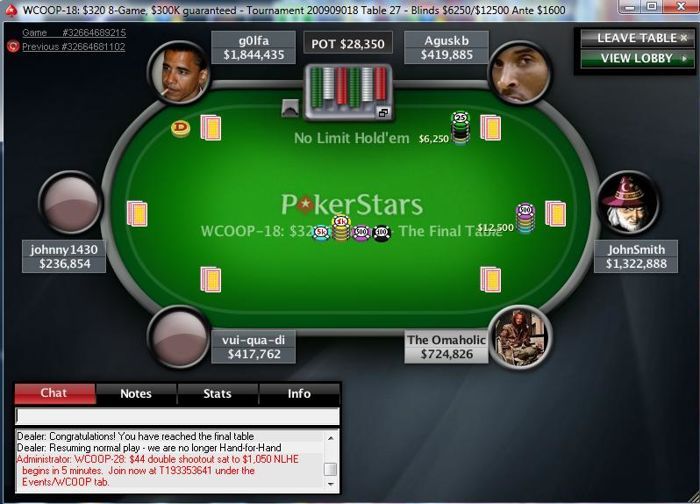 PokerStars WCOOP 18 - $320 8-Game
Buy-in: $300+20
Prize Pool: $300,000
Entrants: 999
1. Ryan "g0lfa" D'Angelo - $50,250
2. vui-qua-di - $37,500
3. JohnSmith - $28,500
4. Aaron "Aguskb" Gustavson - $19,500
5. Mark "The Omaholic" Roland - $12,870
6. johnny1430 - $9,000
Notable Finishes: Scott "ScottBrewr99" Arents (10th - $3,750), Jason "JP OSU" Potter (12th - $3,750), Raymond "raydavis77" Davis (13th - $2,520), Jerrod "jerrod" Ankenman (16th - $2,520), Tony "D1rtyR1v3r" Nardi (28th - $1,500), Ryon "7CardRyon" Nicholson (33rd - $1,260), Bryan "badbeatninja" Devonshire (48th - $930).
Plenty of WCOOP events remain, so sign up for a PokerStars account and win your bracelet today.