WCOOP Day 6: Thiago "XTheDecanoX" Nishjima, "Dangdokodang" and Raymond "raydavis77" Davis Earn Bracelets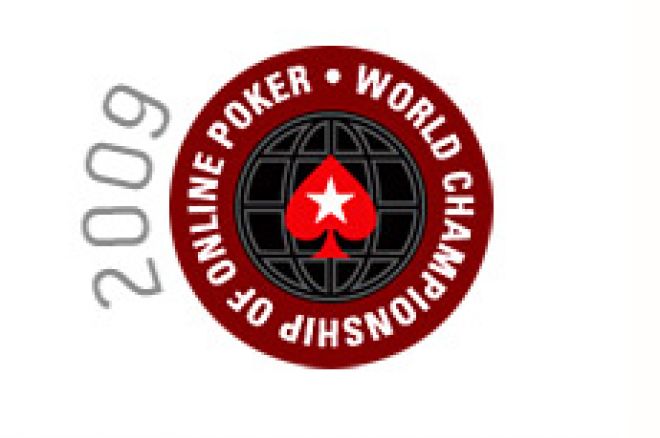 Day 6 of the 2009 World Championship of Online Poker at PokerStars crowned three new WCOOP champions and was highlighted by a $1,050 no-limit hold'em affair. It started with 1,558 hopefuls Tuesday evening and ended on Wednesday morning with Thiago "XTheDecanoX" Nishjima besting Adam "skilled_sox" Ewenstein for the near $250,000 first-place prize.
Ewenstein entered the final table of Event 16 with the chip lead with Nishjima not far behind in second place. They tangled quickly as "skilled_sox" four-bet all in with deuces and "XTheDecanoX" called with big slick. A king hit the flop and Decano took over the chip lead and held it for much of the way. His rush of eliminations included cracking Joe "hoodini10" Udine's
with
and it seemed like Nishjima was destined to win the bracelet. Nishjima sealed the deal at the 40,000/80,000/10,000 level after opening with a raise. Ewenstein called and the flop came down
. Nishjima had no piece of that with his
and tried to win the pot then and there with a bet, but Ewenstein called. The
turn card was checked by both players and the
fell on the river, making trips for Nishjima . Ewenstein fired a bet only to see Decano move all-in with the bigger stack. Feeling that his
was the best hand, Ewenstein called and the tournament was over. Thiago "XTheDecanoX" Nishjima took down the biggest payday of WCOOP Day 6, almost a quarter of a million dollars.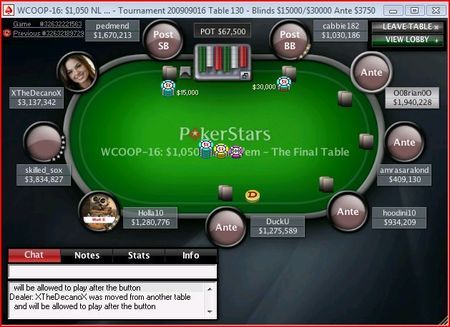 PokerStars WCOOP 16 - $1,050 No-Limit Hold'em
Buy-in: $1,000+50
Prize Pool: $1,558,000
Entrants: 1,558
1. Thiago "XTheDecanoX" Nishjima - $249,280
2. Adam "skilled_sox" Ewenstein - $186,960
3. Greg "DuckU" Hobson - $140,220
4. pedmend - $102,438.50
5. Joe "hoodini10" Udine - $74,005
6. O0Brian0O - $57,646
7. Matt "Holla10" Christensen - $42,066
8. cabbie182 - $27,265
9. Michael "amrasaralond" Binger - $15,580
Notable finishes: Jamie "TheNew" Robbins (12th - $12,152.40), Yevgeniy "Jovial Gent" Timoshenko (16th - $7,011), Tim "Tmay420" West (18th - $7,011), Ryan "raiderryan78" Smith (19th - $5,920.40), Isaac "westmenloAA" Baron (31st - $5,141.40).
During four-handed play of the $320 mixed hold'em event, "dangdokodang" won a crucial hand and never looked back. Holding
in the big blind, "dangdokodang" called chip leader "drgonzo10978's" raise on the button. The flop fell
and "dangdokodang" put in a check-raise with the flopped full house. "Drgonzo10978" called and when the
hit the turn, the fireworks continued. After a few bets and raises, "dangdokodang's" tournament life was never at stake with the full house, as his opponent "drgonzo10978" tabled
for a straight. Never giving up the chip lead from that point forward, "dangdokodang" sailed to victory.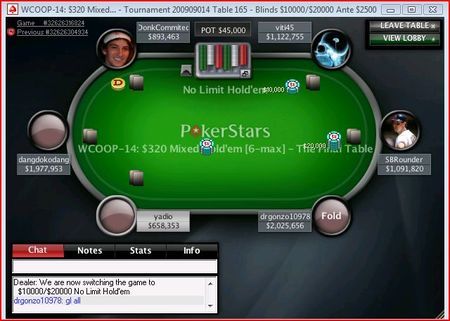 PokerStars WCOOP 14 - $320 Mixed Hold'em (6-max)
Buy-in: $300+20
Prize Pool: $468,900
Entrants: 1,564
*1. dangdokodang - $70,727.38
*2. Yann "yadio" Dion - $60,564.64
3. DonkCommited - $42,201.01
4. drgonzo10978 - $28,134.01
5. viti45 - $18,756.01
6. Tom "SBRounder" West - $11,066.05
* denotes two-way deal
Notable finishes: Mike "SirWatts" Watson (14th - $3,633.98), Tim "TurnRiva" Marsters (15th - $3,633.98), Jon "TwistedEcho" Heath (19th -$2,696.18), Katja Thater (23rd - $2,696.18).
After "goleafsgo41" busted in third place of Event 15, Raymond "raydavis77" Davis and "bobsmith166" agreed to a near-even chop leaving $2,000 to the winner. What followed was an hour-and-a-half long heads-up duel. Davis had his man short-stacked and on the ropes several times, but "bobsmith166" did not go easily. The tournament finally ended at 35,000/70,000, the 37th level of the tournament. On the final hand, with each drawing one card on the third draw, Davis tabled
for a 3-card 5,2,A, while bobsmith166 paired up with
, a 3-card 6,4,3. Davis had entered the final table with the chip lead and held on to capture the WCOOP bracelet.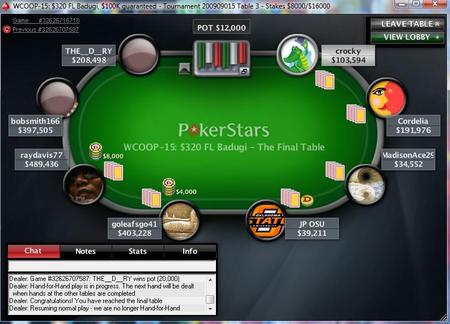 PokerStars WCOOP 15 - $320 Badugi
Buy-in: $300+20
Prize Pool: $112,800
Entrants: 376
*1. Raymond "raydavis77" Davis - $19,912
*2. bobsmith166 - $17,312
3. goleafsgo41 - $11,844
4. Cordelia - $8,460
5. Danny "THE__D__RY" Ryan - $5,640
6. Jason "JP OSU" Potter - $3,948
7. Billy "crocky" Argyros - $2,820
8. MadisonAce29 - $2,256
* denotes two-way deal
Notable finishes: Dan "djk123" Kelly (9th - $1,833), Frank "gator93" Hernandez (17th - $1,099.80), Matt "ch0ppy" Kay (20th - $1,099.80), Daniel "KidPoker" Negreanu (21st - $1,099.80), Katja Thater (22nd - $1099.80).