World Poker Tour Merit Cyprus Classic Day 4: Rep Porter in Control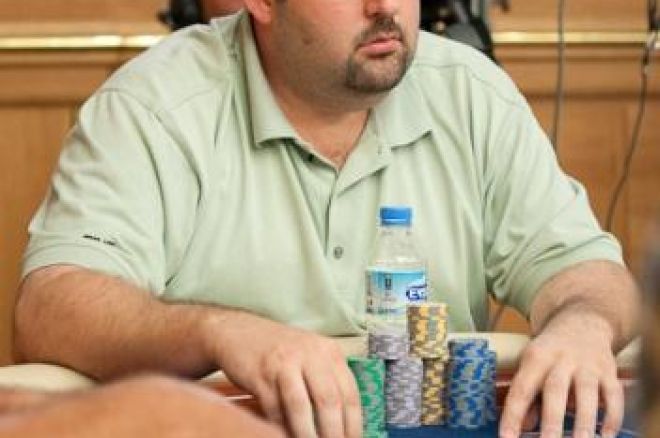 After three full days of action at the World Poker Tour Merit Cyprus Classic, players and media were treated to a predictably short Day 4 that took just over two levels to complete.
Twenty-one players returned to the tournament room this afternoon to fight for their spots in the final ten. The first half-hour of play was a feeling-out period as the big stacks kept the pressure on and the short stacks waited patiently for the right spot. A third of the way through the opening level, the first big confrontation resulted in a dramatic double elimination.
Steven Fung lit the fuse with an opening raise to 26,000 before Engin Sancalctaroglu moved all-in for just about 100,000. When the action came around to John Lestina, he followed suit and committed his own final 100,000 chips or so. Fung had the stack to splash around, and he made the call to put both players at risk with
. Lestina's
was in good shape against that hand while Sancalctaroglu's
was a slight favorite over both opponents. Both all-in players would meet their demise, though, as the dealer ran out a board of
to make Fung the winning Broadway straight.
That put the remaining 19 players squarely on the money bubble, and the short-handed tables would jab back and forth for another 15 minutes or so.
The big blind of 10,000 was coming around all too fast for perennial short stack Anthony Aboukhalil, and he elected to put his 20,000 remaining chips into the middle one hand before having to post. His
was called down by Antony Lellouche's
, and a board of
improved neither player. The rest of the room could breathe easier as Aboukhalil's bubble exit guaranteed them a payday and set the final two tables.
The last Greek Cypriot in the field, Tommy Vedes, would be the first to collect his check. On a flop of
, Vedes put his tournament life on the line with
. Steven Fung was right there to look him up with
, and the turn and river blanked off to send Vedes to the payout desk to claim 18th-place money ($17,300).
Next to depart was Ahmet Arpa (17th place, $17,300), the victim of two consecutive run-ins with Huck Seed. In the first encounter, Arpa committed more than 100,000 chips to the preflop pot before reluctantly folding to a flop bet, leaving himself dangerously short with just 49,000 chips. That remainder would go all into the next pot, and Seed would once again try for the knockout. He called with
, and Arpa was at least drawing live with his
. Neither player benefitted from the board, though, and Seed's ace-high was good enough to send Arpa out. Joseph El Khoury (16th place) took the last of the $17,300 payouts when his
ran into Layne Flack's
just as the first 90-minute level of the day came to a close.
The early stages of the next level were marked by a series of big double-ups as Jonathan Little, Nenad Medic, Aleh Plauski and Fung all survived their all-in sweats within 20 minutes.
The extroverted Sefik Peltekci would be shown the exit in 15th place, his efforts good enough for a pay bump-up to $19,030. By that point, Antony Lellouche's once-mountainous chip stack had become just a molehill and his
would get him into trouble against the
of Rep Porter. Lellouche finished up in 14th place, and Aleh Plauski followed right behind him in 13th, both men picking up $19,030 on their way out the door.
After another short spell of relative inactivity, Homan Houshiar was knocked off in 12th place ($20,760) when his
was struck down by Uri Keidar's
on a board of
. Just moments later, Kelly Kim ran his
into the
of Janar Kiivramees. A king on the flop was all she wrote for the 2008 WSOP finalist, his 11th-place exit ($20,760) marking the end of a brisk Day 4. Here's how the final ten players will stack up heading into Day 5:
Rep Porter - 1,786,000
Jonathan Little - 972,000
Layne Flack - 952,000
Steven Fung - 681,000
Huck Seed - 669,000
Uri Keidar - 583,000
Janar Kiivramees - 509,000
Rony Jazzar - 437,000
Thomas Bichon - 396,000
Nenad Medic - 256,000
Those people will return at high noon (GMT+3) tomorrow, and everyone is predicting another quick session. They'll play for just four eliminations to set up the six-handed final table on Saturday.
If you missed any of the action today, head over to the Live Reporting page to catch up. And if you're not doing so already, follow us on Twitter for more coverage in real time.