World Poker Tour Merit Cyprus Classic Day 2: Medic to the Front Lines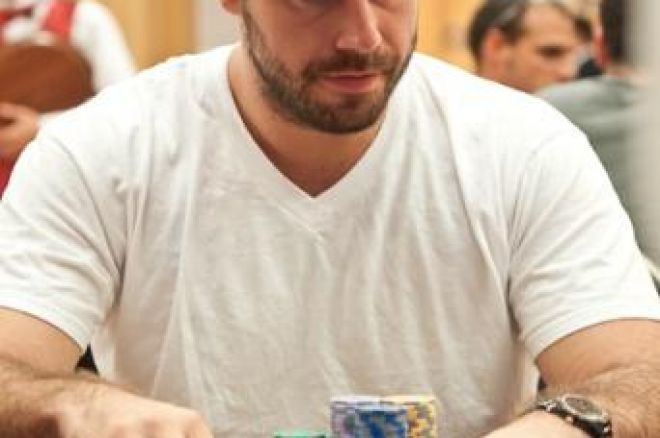 After covering tournament poker for about a year, most tournament reporters will tell you they feel like they've seen it all. But Day 2 of the World Poker Tour Merit Cyprus Classic provided a scenario that none on Media Row could ever remember: the top four stacks in the 125-player field at the start of the day were all eliminated by the time the overnight chip bags were passed out to the 55 survivors.
The day set itself up for surprises when Jan Skampa, second in chips to start the day with almost 200 big blinds in his starting stack, was eliminated less than 30 minutes into play. It was a stunning collapse for Skampa, whose exit came at the hand of Rony Jazzar who flopped a set of fives and moved in for 80 big blinds on the river of a
board. It's anybody's guess as to what Skampa called with — he mucked upon seeing Jazzar's hand and quickly vacated the tournament floor. Jazzar rode that early massive pot to finish second in chips (258,000) by the end of the day.
Skampa wasn't alone in the busto boat. Chip leader John Tabatabai had a quiet demise in the middle stages of the day; third-place Phil Gordon drifted continuously downward, looking more and more miserable with each passing level, until he was eliminated in the last level of the day. Fourth-place Ludovic Lacay fared no better. Several Team Full Tilters also hit the rail as Howard Lederer, Mike Matusow and Patrik Antonius couldn't find the right combination of cards and aggression to make it to Day 3.
The big winner of the day was former WPT champion Nenad Medic (277,000), who more than tripled his starting count to finish Day 2 as the overnight tournament chip leader. Medic seemed to benefit from a table break about halfway through the day, moving to the left of Sorel Mizzi and Layne Flack. The three provided endless amusement for their neighboring tables by engaging in a push-up prop bet. Flack was required to do 15 push-ups for every all-black flop that hit the table, 30 if the flop was either all spades or all clubs. Medic and Mizzi had similar requirements for all-red flops. Each man complained at the end of the day about sore muscles but showed no problem pushing around their tablemates –- Medic most of all. It seemed that every time he was in a pot, he took it down.
Tommy Vedes, Antony Lellouche, Huck Seed and Jonathan Little also had strong showings on Day 2 to finish near the top of the counts. They'll have less work to do than Team Full Tilt Pros Andy Bloch and Chris Ferguson, who are still in the hunt but will start Day 3 with below-average stacks. All of these players are part of a deeply talented field that will return at noon local time on Wednesday to play another five 90-minute levels or until 18 players remain, whichever comes first.
Follow all of the action on our comprehensive live reporting pages, or get the updates on twitter.