World Poker Tour Merit Cyprus Classic Day 1B: Phil Gordon Leads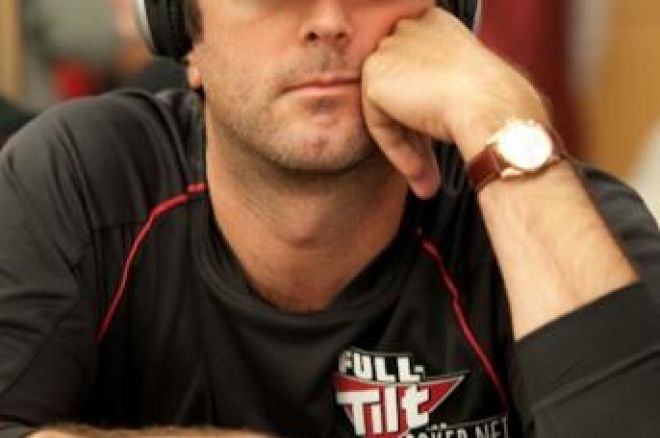 Day 1b of the WPT Merit Cyprus Classic is in the books, and it was a remarkably accurate carbon copy of Day 1a. The action kicked off at 1:00 p.m. with just a couple of tables running, but 90 players would eventually fill the room by the time registration closed, one player fewer than yesterday. At the end of five levels, 62 players remained, also one less than on Day 1a. The two flights combine to form a field of 181 runners generating a total prize pool of $1,755,700 of which $579,165 will go to the eventual champion.
Amateurs who chose to play Sunday had the right idea because the pros were out in full force on Monday. As sponsor of the event, Full Tilt Poker was well represented with team members Howard Lederer, Chris Ferguson, John Juanda, Phil Gordon, Andy Bloch, Allen Cunningham and Patrik Antonius all making the trip here to play on Day 1b. Mike Matusow joined the action late after catching a long afternoon nap on a couch in the tournament lobby. Full Tilt Red Pros Kelly Kim, Lee Markholt, Roberto Romanello, Eli Elezra and James Akenhead were in the mix today as well.
As the opening levels progressed, a few of the big names began to pull themselves away from the pack. Annette "Annette_15" Obrestad, Howard Lederer, Yosh Nakano, and former Survivor star Jean-Robert Bellande all got their days started moving in the right direction — chipping their way up over 50,000.
Matt Glantz was hovering around that mark for a while as well before he finally managed to make some further headway up the leaderboard. Just into Level 4, Glantz and one opponent went to battle in a hotly contested pot. After heavy betting action on a board of
, Glantz tabled
, and his two pair were good enough to move him very near the front of the pack with 75,000.
Chris Ferguson was also working his way up near that milestone, but a new chip leader would soon emerge from the cluster. With the blinds at 200/400/50, Albert Yakoub opened a pot with a raise to 1,600 and found action from Annette Obrestad. Yakoub would stick in a check-raise on the flop of
before getting in another healthy bet on the
turn. The river, the
drew a check from him again though, and Obrestad took the opportunity to fire a calculated 22,125 at the pot. Yakoub snap-called, and Obrestad snap-mucked, her opponent turning over pocket tens to earn himself a substantial pot and a stack of about 107,000.
Obrestad would be sent to the rail a short time later, and she would be joined by David Bach, Eli Elezra, Roberto Romanello and Alec Torelli as notables who would fail to survive opening day.
Another one to fall by the wayside was the ever-talkative Jean-Robert Bellande. On a board showing
, a young Czech, Jan Skampa, passed the ball to Bellande. With about 15,000 chips in the pot, the pro made an overbet of 20,000 only to see Skampa check-raise him all-in with a big stack of blue chips. Bellande launched into a verbal barrage that grew more heated over the course of several minutes as his quiet opponent sat statue-like. Jean-Robert actually narrated his own elimination as he tabled
and promptly announced that he had run into pocket aces. Sure enough, Skampa showed the two bullets for the bigger full house, earning him the knockout and the chip lead with 155,000.
Skampa would be your overnight chip leader if not for the final hand of the day. With the clock already paused, John Juanda looked down at pocket fives and open-shoved under the gun for his last 17,000 or so chips. The action passed safely all the way around to the big blind, but Phil Gordon looked down at two eights and made the call to put his fellow Full Tilter at risk. A board full of blanks meant the end of Juanda, nudging Gordon into the lead with 157,400.
At the end of the two Day 1 flights, here is how the overall top ten stack up:
1. John Tabatabai - 178,275
2. Phil Gordon - 157,400
3. Jan Skampa - 156,975
4. Ludovic Lacay - 140,780
5. Georges Hanna - 128,000
6. Andreas Hagen - 125,600
7. Tommy Vedes - 122,125
8. Joseph El Khoury - 121,350
9. Martin Kabrhel - 120,350
10. Antonio Esfandiari - 119,900
Those who were crafty enough to survive the first round of battle will return to the tournament room at high noon on Tuesday for the second day. They'll be looking to set themselves up for the arduous run to the final table, though it still seems a long way off. Tune into the Live Reporting Blog today to catch every flopped straight, turned flush, and rivered full house from the WPT Merit Cyprus Classic.
If you need up to the minute live updates away from your computer, follow our special Live Reporting twitter feed.