Asia Pacific Poker Tour Cebu, Day 2: Han, Willcocks Pull Away from the Field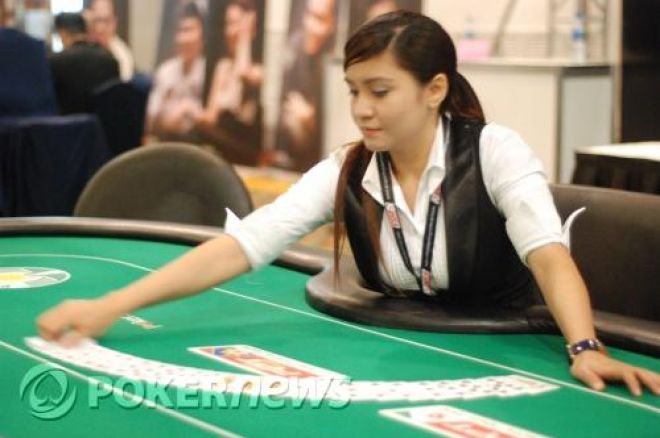 It was a third day in paradise for the 153 players who started in the Day 2 field for the 2009 PokerStars.net Asia Pacific Poker Tour, Cebu, Main Event. Bright sunshine, cooling sea breezes and luscious, overripe mangoes were the only rewards for the 113 players who busted by the time the chips were bagged. More than a few of them were dispatched by the overnight chip leaders, Dong-bin Han (478,000) and Phillip Willcocks (435,000).
The action was hopping from the initial call to "Shuffle up and deal!" Former paramours Tony Dunst and PokerStars Team Asia Pro Celina Lin found themselves seated next to each other on Table 8, the second time this year they have drawn adjacent seats at a major poker tournament. Dunst solved the problem by moving his short stack all-in with ace-jack and running into pocket kings. He was off to find more relaxing things to do before some players had even stacked their chips.
Most of the other notables in the field met a similar fate. Celina Lin, Raymond Wu, Ivan Tan, Jonathan Lin and Andrew Scott were all felled well short of the money. The most well-known of the remaining players is the ever-dangerous Nam Le, who will bring an above-average stack into play tomorrow.
While all of the well-known and familiar faces were hitting the rail, some up-and-comers were playing excellent, aggressive poker. Mike Gaertner, Chris Demers and Terry Fan all began the day near the top of the counts and used their chips to punish the players around them. Pontus Kers also made a startling climb through the counts, beginning the day with about 20,000 chips and ending well above average.
And then there was Johnny Hanes, who comes to Cebu from Alabama by way of Chicago. If his apparent choices are indicative of his fandom, he can claim allegiance to the University of Texas and Major League Baseball's now defunct Montreal Expos. He began the day with about 80,000 chips. He climbed to 100,000 before beginning a long burn to 16,000. Hanes was involved in a three-way all-in but managed to scoop the side pot to stay alive. He then churned his stack back up. At one point, he asked Tournament Director Danny McDonagh to assess a penalty against himself for making a fan angry. McDonagh eventually complied, doling out a one-hand penalty that Hanes used to calm and focus himself. It seemed to work; he ended the day in the top half of the counts.
The real tournament begins when the 40 remaining players return for Day 3 at 12:15 p.m. tomorrow. They'll all be jockeying for chips with one eye on each other and the other on the final table. Han has the pole position, with Willcocks nipping at his heels. The winner of this tournament will take home 7.4 million Philippine pesos, roughly $148,000 U.S. It's a sum worth fighting for, especially in an island nation that has its attention fixed firmly upon boxing this week with the upcoming Saturday night welterweight match between local folk hero Manny Pacquiao and Miguel Cotto.
Surely you don't want to miss out on the next APPT event so sign up for a PokerStars account and win your seat now. Don't forget to follow us on Twitter and Facebook too.