The Weekly Turbo: PokerStars Going Mobile, PartyPoker Wins Award, and More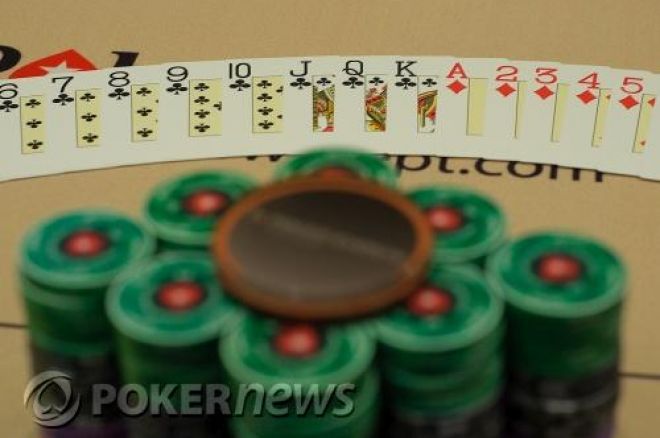 The work week can get overwhelming, and not everyone has the time every day to dive headfirst into the poker world's top stories. Weekend warriors rejoice! You've just flopped the nuts because the Nightly Turbo has introduced a special weekly edition. Prepare for a finger cramp after all the scrolling and clicking that you'll do, but unlike the Sunday paper, the Weekly Turbo won't be littering your living room for the next week.
And the Winner Is...
For the next year, PartyPoker has bragging rights as EGR's Poker Operator of the Year. According to EGR, in the face of the marketing onslaught and "reach of US sites taking full advantage of their bigger liquidities," PartyPoker "managed to maintain its position as the biggest non-US stand alone poker site in online gaming."
Upon accepting the award, PartyPoker poker director Moshe Davidovich said, "we work very hard to try and stay ahead of the game, and it's great to be noticed for that."
Online poker site, PKR was "specially commended" by the EGR awards for "augmenting its trademark 3D offering with a strong emphasis on 'player community' that has included social networking features, a vibrant forum, editorial, podcasts and an online TV station." We like to translate "specially commended" as "good but not good enough" award.
Read more at EGRMagazine.com.
He's Back
Jeff Madsen is back with his PokerRoad rapfessional. This time though, he has the self-proclaimed "most interesting man in the world," Layne Flack, spittin rhymes with him. This is one of those you have to watch. There's not much to say about it except maybe that Layne makes it rain, girls want to tip Madsen, and something about sno-cones.
Will the Real Isildur1 Please Stand Up
No one has taken claim to the screen name that has started to make a name in the nosebleeds on Full Tilt Poker. So, of course, people have started guessing who "Isildur1" could be. We've heard everything from Todd Brunson to even the other mystery Swede, "martonas".
In his blog on PokerNews, Tony G said that Isildur1 is Viktor Blom. Shaun Deeb said the same thing to a French journalist, Benjamin Gallen, and that furthermore, Blom lives next door to martonas.
Here comes the twist. In a recent interview with Bluff Europe, Blom denied being Isildur1, saying, "I am not the one you are looking for. Keep searching." So who is the real Isildur1? We're not sure. But we never figured out who martonas is, so we can only guess that we won't be wondering who he is when the next mystery nosebleeder rolls around.
Read more at BluffEurope.com.
Broken Record
Last week, we told you about the 22-year-old Russian pro who broke the world record for most hands played online in 24 hours. Well, that record of 40,088 didn't last long. "ChicagoJoey" beat "innerpsy's" record by over 10,000 hands. After 21 hours, ChicagoJoey called it quits, having played 50,470 hands and doing something else the previous record holder did not. He made a profit.
ChicagoJoey played $.10/$.25 no-limit and pot-limit hold'em and made $800. That's about $38 an hour but he was probably more excited about his side action. He made $33,000 for completing the challenge.
Congratulations to ChicagoJoey, for attempting and achieving something we here at PokerNews HQ would never dream of trying.
Read more at OnlinePoker.net.
Fight Fight Fight!
Last time we checked, the APPT Grand Final was a poker tournament, not a boxing match. Clearly, some guys didn't get the memo. A fight broke out in the Sydney's Darling Harbour Star City poker room during the APPT's high-roller event. Lucky for you our live reporting team was there to bring you all the action from the felt, and apparently, the floor.
From the PokerNews Live Reporting Blog: The unidentified man (we'll call him Mr. X) approached [Mark] Ericksen's table and initiated a verbal altercation in which he told Ericksen to (paraphrased): "Stay the f*** out of my business." The two exchanged a few more words before Mr. X took a swing at Ericksen, connecting with his face. Mr. X then walked away from the table and it appeared (to Chan) as though the situation had resolved itself until Ericksen stood up and told Mr. X he was a "f***ing rat." At this point, all hell broke loose. After throwing and landing several punches, the two hit the ground where Mr. X continued his assault on Ericksen. With each punch he threw, Mr. X yelled "Rat! Rat! Rat!"
Lynn Gilmartin caught up with Andrew Scott during the unexpected break from play to talk about the fight, which broke out at his table. Scott gives us his ringside account of the whole affair.
Don't Mess with Texas
OK, we know the economy sucks, but that doesn't give anyone the right to pick on poker players. An event last week reminds us of The Fast and the Furious. You know, where the truck drivers start taking matters into their own hands. That's just what happened in Texas during a hold up.
Two masked men wielding pistols attempted to rob a home game in Texas last week. They got away (for a little while) with about $7,000. The phrase "don't mess with Texas" just doesn't come out of thin air, though. Not only do you not mess with Texas, but you definitely don't mess with old-school Texas rounders.
The two men tried to get away with the cash, but according to Pokerati, "the wannabe bandits apparently spooked some horses … one thing led to another … and with sirens in the background getting louder, two players chasing after them had their own guns pointed at the armed robbers as they lay in a field. According to a source on the scene, the de facto table sheriffs disarmed their assailants in a hailstorm of expletives, pulled off their masks, and grabbed back the moneybag while waiting for police. (Half the cash was missing, and what was still there was soaking wet.)"
The police arrived soon after and arrested the two men. Apparently, after talking to the police, action resumed as if nothing had happened.
Read more at Pokerati.com.
MobileStars?
The largest online poker site may soon be coming to your phone. Yes, you read it right. PokerStars recently bought one of the leading mobile gaming software development companies, Cecure Gaming.
This year, the company struggled because of a "weak customer recruitment strategy in the difficult prevailing economic climate." When Cecure was established in 2000, the company received about $20 million to develop the "best and most secure mobile poker gaming technology in the world."
"We are delighted to have been able to secure a deal for the sale of these assets in such a secretive and clandestine market," said Paul Herman from Cavendish Corporate Finance, the company appointed to oversee the deal. "Accessing buyers and investors in the gaming market is notoriously difficult and we are delighted to have had the opportunity to meet and negotiate with many of the leading domestic and international players."
Yes, PokerStars only bought a mobile software development company. We haven't seen any statements to say that PokerStars is going mobile tomorrow, but one can only imagine that that would be the next step.
Read more at iGamingBusiness.com.
EPT Prague
Gloria Balding caught up with Luca Pagano at the European Poker Tour Prague. He's doing well in tournament and was named one of the most stylish men on the EPT by Team PokerNews.
If you're not following us on Twitter yet, you should be ashamed of yourself. Really.