The Nightly Turbo: PartyPoker Wins Award, Shronk Memorial Tournament, and a New SportStar?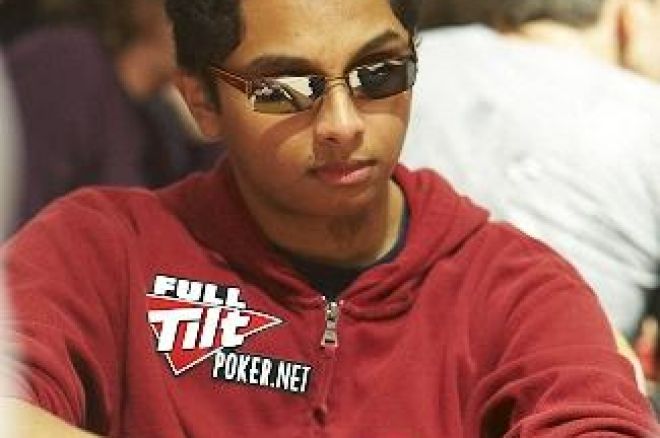 The Nightly Turbo has all your top poker news stories of the day. We're searching high and low for them, so you don't have to. Hopefully you're doing something productive with all that extra time on your hands.
In Case You Missed It
The PokerStars Asia Pacific Poker Tour Grand Final has wrapped up Day 1a in Sydney. The field began with 81 entrants. By the end of day, about 50 were left.
A very dapper gentleman was at the top of the chip counts for the first Day 1 flight, but if we told you who it was, we'd have to kill you. Find out who it is in our APPT Grand Final Day 1a recap.
The PokerStars European Poker Tour began its latest stop in Prague today. If you've never been, it's a must see. Maybe you're there for the tournament and you don't know what to do or where to eat, or maybe you're planning your next trip there and need some advice. The PokerNews Jet Set: Prague has you covered.
Trying to remain unknown is not easy to do when you're winning major tournaments. Andrew "Browndog19" Brown did his best though, but his recent Full Tilt Poker $25,000 Heads-Up Pot Limit Omaha Championship win might make it a little more difficult.We caught up with him to talk PLO, "Isildur1," and more in Five Minutes with Full Tilt's $25,000 PLO Heads-Up Winner Andrew "Browndog19" Brown.
Day 1a of the European Poker Tour Prague is in the books and out of the 219 players that entered Day 1a only 158 are left. Marc Gork is overnight chipleader. Find out who else is left in the field in the EPT Prague Day 1a recap.
Justin Shronk Memorial Tournament
This past April, a beloved member of the poker community passed away. This Sunday, the poker community will have a chance to honor Justin Shronk's memory and give to a good cause as well.
Full Tilt Poker is hosting the Justin Shronk Memorial Tournament on Sunday Dec. 6 at 18:00 (Full Tilt time, which also translates as 6:00 p.m. EST). The buy-in for the tournament is $5 + $5 and the password is "Justin Shronk." Half of the buy-in will go to the Justin Shronk Memorial Fund at the Temple University School of Communications and Theater.
You can find the tournament by searching for the this tournament ID: 121607004. Pokerati.com has more.
Full Tilt $1K Monday
Obviously we love poker here at PokerNews HQ. We love football, too, so playing poker on a Monday night during football season is pretty much one of our favorite things. Vivek Rajkumar had a pretty good Monday. He beat out 370 entrants to take down the Full Tilt $1K Monday, good for around $92,000.
Full Tilt $1K Monday Results
Buy-in: $1,000 + $60
Guarantee: $300,000
Prize Pool: $371,000
Entrants: 371
1. Vivek Rajkumar - $92,750
2. roshizzle - $59,360
3. Rick W_88 - $44,520
4. zenbj123 - $34,317.50
5. fightingchicken - $25,970
6. STJEAN81 - $18,550
7. th_IN_kB4Urail - $12,057.50
8. gho12- $9,275
9. Christian "da_professional" Iacobellis - $7,420
Notable Finishes: Joshua "pbdrunks" VanDuyn (11th — $4,637.50), Dan "imabigkidnow" Kelly (20th — $2,040.50)
You can't have a Vivek kind of Monday if you don't play. Sign up for a Full Tilt Poker account today.
Rumor Mill
PokerStars Team Pro Johnny Lodden sure knows how to get people talking. According to a thread on TwoPlusTwo, Lodden (on his PokerStars Blog) recounted a night out with a few of the PokerStars SportStars. That wasn't what got the forum talking, it was what he said next: "I've also heard some rumors that Team SportStars is about to sign a new HUGE star, a guy I'll probably follow around everywhere he goes. But I can't tell you any more about it before its public, but the guy is a major star."
The thread is now 19 pages and will probably only get longer until PokerStars names the new member. We have our guesses, but we won't humor you with them.
Check out what the members of TwoPlusTwo think or hit our forum with your own guess.
And the Winner Is...
For the next year, PartyPoker has bragging rights as EGR's Poker Operator of the Year. According to EGR, in the face of the marketing onslaught and "reach of US sites taking full advantage of their bigger liquidities," PartyPoker "managed to maintain its position as the biggest non-US stand alone poker site in online gaming."
Upon accepting the award, PartyPoker poker director Moshe Davidovich said, "we work very hard to try and stay ahead of the game, and it's great to be noticed for that."
Online poker site, PKR was "specially commended" by the EGR awards for "augmenting its trademark 3D offering with a strong emphasis on 'player community' that has included social networking features, a vibrant forum, editorial, podcasts and an online TV station." We like to translate "specially commended" as "good but not good enough" award.
Read more at EGRMagazine.com.
EPT Prague
The PokerNews Live Reporting Team is covering both sides of the globe this week. The European Poker Tour Prague kicked off today, but with the event being the last before the holiday season, the welcome party was spreading some holiday cheer. Gloria Balding caught up with some of the partygoers to find out what they want for the holidays.
You should be following PokerNews on Twitter by now. Why? Because, we said so and because it's the best way to get up-to-the-minute news.
Fight Fight Fight!
Last time we checked, the APPT Grand Final was a poker tournament, not a boxing match. Clearly, some guys didn't get the memo. A fight broke out in the Sydney's Darling Harbour Star City poker room during the APPT's high-roller event. Lucky for you our live reporting team was there to bring you all the action from the felt, and apparently, the floor.
From the PokerNews Live Reporting Blog: The unidentified man (we'll call him Mr. X) approached [Mark] Ericksen's table and initiated a verbal altercation in which he told Ericksen to (paraphrased): "Stay the f*** out of my business." The two exchanged a few more words before Mr. X took a swing at Ericksen, connecting with his face. Mr. X then walked away from the table and it appeared (to Chan) as though the situation had resolved itself until Ericksen stood up and told Mr. X he was a "f***ing rat." At this point, all hell broke loose. After throwing and landing several punches, the two hit the ground where Mr. X continued his assault on Ericksen. With each punch he threw, Mr. X yelled "Rat! Rat! Rat!"
Lynn Gilmartin caught up with Andrew Scott during the unexpected break from play to talk about the fight, which broke out at his table. Scott gives us his ringside account of the whole affair.