The PokerNews Jet Set: Prague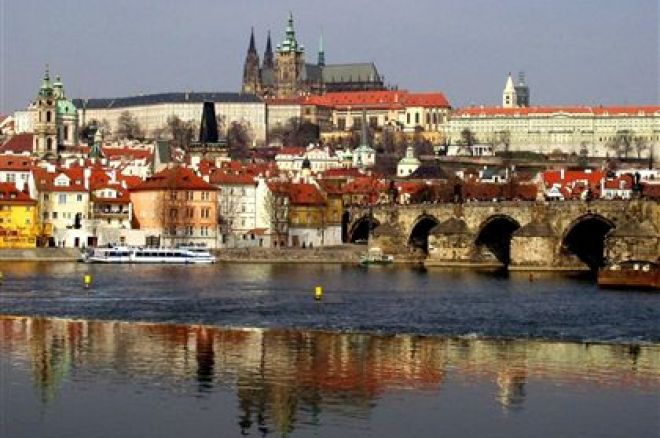 "You've got to go to Prague." Ask anyone who has been and that's what you'll hear. The Czech capital consistently gets high marks from poker players and media alike, and it has quickly become one of the more beloved stops on PokerStars' European Poker Tour.
The great dividing line of this city, and one of its great sights, is the Vltava River, which separates "old town" from "new town." Home to over a million people, Prague has evolved into one the great European destinations of the 21st century. It is surprisingly cosmopolitan, breathtakingly beautiful, and simply not to be missed. For those of you heading across the pond, here are a few of our suggestions for how to make the most of your trip.
Getting acclimated:
The Czech Republic has its own currency, the Czech crown. Present exchange rates will give you approximately 17.5 crowns for every U.S. dollar. Your best exchange rate will likely be found inside the casino or at your hotel as opposed to the currency exchanges at the airport, which will leave your wallet feeling violated. Exchange only as much as you'll need for taxi fare to your hotel and worry about changing the rest of it once you're in the city.
Prague is easily walkable and many of the streets in the city center (Old Town) are walk-only. Wear comfortable shoes and be mindful of the uneven cobblestone roads. Longer distances can be easily traversed on the public rail system or by a short taxi ride.
About the Venue:
The EPT Prague is hosted at the Golden Prague Poker Room located inside the Hilton Prague Hotel. Situated right alongside the Vltava River, the Hilton is only a 15-minute walk from both Old Town Square and Wenceslas Square.
If you've played poker in Europe before you likely know the drill, but for all the rookies out there — don't forget to bring your passport with you to the casino each day. You'll need it to gain entrance, and if you leave it back at your hotel, well, you'll be running all the way back to fetch it before you can take your seat in the tournament. Needless to say, that's not exactly the best way to start a long day on the grind.
Typically, the Golden Prague Poker Room opens at 7 p.m., but during the EPT its hours are extended. The tournament starts at noon each day, and special cash game tables will be running around the clock. Don't worry about turning the dollars or euros in your cash-game bankroll in for Crowns — both currencies are accepted at the casino.
Places to Hang Your Hat:
The most convenient option for tournament players is to stay at the venue and in this case, the Prague Hilton does not disappoint. The rooms are spacious by European standards and many offer views of the Vltava River.
The hotel's Zest Bar is the social epicenter of this EPT stop, but the traditional PokerStars "welcome party" will be held at the Cloud 9 Sky Bar on the hotel's top floor. Grab one of those complimentary cocktails, meet some new friends, and take in an unparalleled view of the city.
For those looking to splurge, check out the Art Deco Imperial Hotel. Epitomizing old-world luxury, the Imperial boasts plush rooms, complimentary breakfast each morning, 24-hour room service, free wireless internet, a fitness center, and an award-winning spa. Rooms start at $335/night and it's about a 15 to 20 minute walk (or a very short cab ride) from the casino.
Another splurge-worthy option is the Buddha-Bar Hotel, centrally located in Old Town. Like its name would suggest, the five-star property is bathed in an Asian-themed motif with red walls, ebony furniture and gold Buddhas everywhere.
Thoughts of that cramped airline seat will melt away once you slip into your own fluffy white robe and slippers, and sink into the comfort of your king-sized pillow-top bed.
Rooms start at $400/night and come with wi-fi, two flat-screen TVs (yup, one is in the bathroom), DVD players, and fantastic city views.
For players on a budget, both the Art Hotel Embassy and the Hotel Opera are excellent options. Located across the street from one another, they're less than 1 km from the casino and rooms start at only $90/night.
The Local Cuisine:
The Gate
A popular spot with a young, trendy vibe, this gastro-pub serves a mix of traditional Czech dishes like ghoulash and dumplings alongside classics like steak tartare, burgers, pasta, and gnocchi. Almost every entrée is priced under $10 USD, and it's only a short walk away from the casino.
Palanda
Road-weary Americans will love this casual French bistro. Not only do they make a killer bacon burger, but they serve up chicken wings that will have you thinking about your grandma's kitchen rather than Eastern Europe in December.
If you're looking for healthier eating options, Palanda also has a large selection of salads and several grilled fish dishes. Every entrée on the menu, even the largest steak, is under $20 US with most coming in between $7-$10. An additional bonus? They're also open for breakfast.
La Boca
Spanish food in Prague? Believe it. Build your own meal from the tapas menu featuring balsamic marinated mushrooms, tiger prawns, calamari, and grilled eggplant. Or, explore the grill menu and indulge in chimichurri-rubbed steaks, dijon pork tenderloin, or chicken filets wrapped in parma ham. La Boca also serves made-to-order pastas and has a full bar.
Siam Orchid
Siam Orchid serves up surprisingly authentic Thai cuisine and if you're in a hurry to get back to the tournament (or just up to your hotel room to play online) they also have take-away. Try the Tom Kha soup, some chicken satay, and finish off with a little Pad Wun Sen for a delicious (and inexpensive) feast.
Fun off the Felt:
Head out of your hotel and make your way to Old Town Square. If you arrive near the top of the hour, you'll be able to watch the Astronomical Clock chime. Take a walk around, have a beer in one of the cafes that line the square or grab a steaming cup of hot mulled wine from one of the local vendors.
With the holiday season upon us, Christmas markets will be open every day in Old Town Square offering fresh fish, roasted meats, Czech beer, crafts, gifts, a nativity scene with live animals, and plenty of Christmas lights.
From the square, head for the Charles Bridge. Equally as lovely by day or night, it, too, is lined with vendors selling everything from trinkets to jewelry to artwork.
If you bust out early or find yourself with a few extra hours, hit up Prague Castle. This is no ordinary castle, it's a complex of museums, churches, smaller palaces, and park-like grounds so massive that one could easily spend a day there. For a "best of" version, check out the exquisite art collection at Lobkowicz Palace. Its music room contains the original score for Beethoven's Fifth Symphony and hand-written scores by Mozart.
Are you ready to take your game on the road? Sign up for an account on PokerStars where EPT and LAPT satellites are running daily.