European Poker Tour Vilamoura, Day 5: António Matias Keeps the Title in Portugal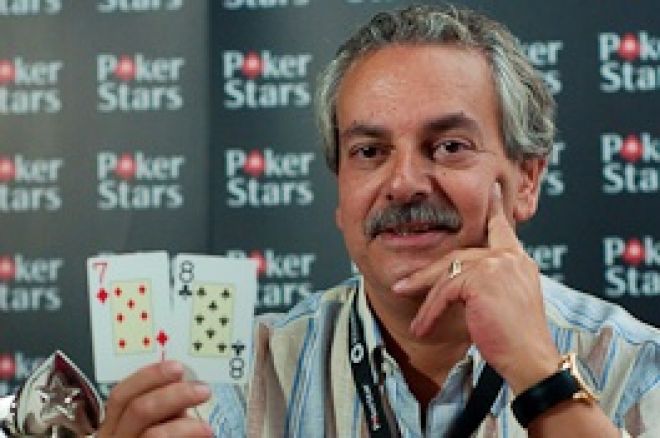 The final day of the first-ever PokerStars.com European Poker Tour Vilamoura is in the books after a thrilling and successful Main Event. Fittingly, it was a local amateur from Portugal that rose through the field of 322 runners to claim the title. António Matias — a 54-year-old businessman from just outside of Lisbon — ensured that the EPT trophy would stay right here in his home country when he parlayed his day-long chip lead into a big payday and a championship title.
The final table commenced at noon local time this afternoon with eight players still in contention. Matias had a chip lead of more than 1 million over his nearest rival, and he held that top spot nearly wire-to-wire today. The Portuguese came out in droves to cheer on both he and João Silva, the other Portuguese who made it to the final day.
Pocket pair showdowns factored heavily over the course of the last two days, and today's action saw that trend continue. About a half hour into play, Russian real estate entrepreneur Andrei Vlasenko became the first casualty, running his
into Ryan Franklin's
. When neither player improved, Vlasenko was handed a check for €31,234 and whisked out the door.
Seven-handed play progressed for more than two hours as the players traded body blows back and forth but failed to send each other to the mat. Finally, the pocket pairs struck again, and this time it was Franklin on the wrong end. After Pierre Neuville opened with a raise, Franklin moved in with
. If not for Jeff Sarwer's
, he may have taken down the pot with no flop. But Sarwer looked him up and flopped a set, and that was that for the 18-year-old. Just fresh out of high school, Franklin has already had considerable success playing online as HITTHEPANDA, and now he's earned another €46,851 for taking 7th place in his very first live tournament.
After a volitile day, Michel Abecassis was the next to fall in 6th place (€62,468). The French pro got his chips in with
against Matias'
. With everything working his way today, the eventual champion found a queen right on the flop to pick up the knockout and increase his chip lead. Shortly thereafter, the Portuguese lost half of their hopes when Silva became a spectator as two big pairs collided yet again. In a three-way pot, Jan Skampa made his move with
after a raggy flop, and Silva put himself at risk with
. Both players made threes full on the river, but Skampa's was the bigger boat, big enough to knock Silva out in 5th (€78,085).
Skampa didn't hang on to those newfound chips for long, though. On the very next hand, Jeff Sarwer opened to 90,000 under the gun. When the action folded to Skampa's big blind, he three-bet to 265,000, and Sarwer popped it right back up to 695,000. Not to be out-done, the Czech student moved all in on a five-bet shove. Sarwer couldn't have called any quicker with
, and Skampa tabled
with a gulp. He flopped a second nine, but no further help relieved him of the majority of his stack. Sarwer finished the job on the very next hand, and Skampa collected his six-figure paycheck (€117,128) for a 4th-place showing.
Another two-and-a-half hours of intense three-handed poker ensued with the players taking more big swings at each other. Finally, Sarwer was the one knocked down and out in 3rd place (€156,170). On a nine-high flop, the Canadian made a big all-in call for his tournament life with
. Matias held
, and Sarwer could not overcome the defecit. Cheerful but clearly disappointed, the former child chess prodigy concluded another fine EPT finish here this week, his second-consecutive top ten.
That left Neuville and Matias heads-up for the trophy, the latter starting with a seven-to-one chip advantage over the Belgian retiree. Neuville (2nd place, €257,681) battled valiantly and even managed to double up once. But Matias' stack was just too much. The final pot saw the two men go to a flop of
. A raising war ensued, and Neuville got himself all in with top pair and a gutshot;
. Matias tabled
for bottom two, and the
that hit fourth street locked up the pot and the championship right there.
And so concludes another EPT. There's going to be a party in Vilamoura tonight, and António Matias is buying the drinks. The local says he doesn't play tournament poker, and he only bought into this one for fun. No doubt fun was had when he received an oversized check for €404,793, a coveted trophy, and the satisfaction of outlasting a pro-heavy field. All that's left is to congratulate António Matias, 2009 EPT Vilamoura champion!
PokerNews' Live Reporting team will be back at the next EPT stop in Prague, December 1-6. You can be there too, and for just pennies! Sign up now and register for a satellite on PokerStars.