Five Minutes with Full Tilt's $25,000 PLO Heads-Up Winner Andrew "Browndog19" Brown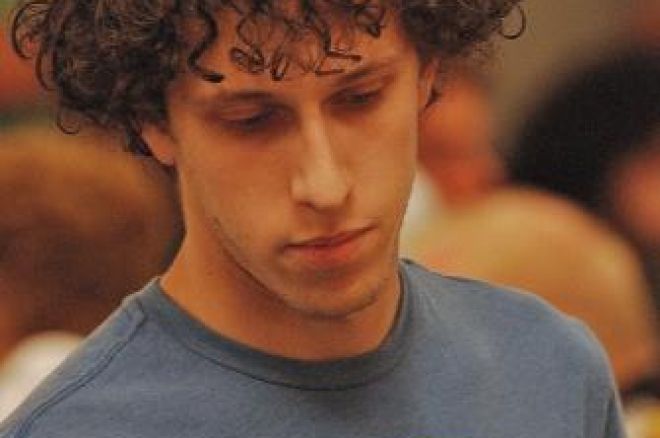 Although his name may not sound familiar to many players, Andrew "Browndog19" Brown continues to make a name for himself among the game's elite Omaha players.
Despite having won a World Series of Poker bracelet in the 2008 $2,000 Omaha Hi/Lo tournament, Brown has stayed under the radar, but his recent win in the $25,000 Heads-Up Pot Limit Omaha Championship on Full Tilt has pushed him to the top of the list of up-and-coming players.
According to Brown, his win on Tilt meant more than his WSOP feat. "I think logging the heads-up PLO win might be better," he said. "I consider myself a PLO player, so I think it means more to me. Although I'm not sure I want to remind people, because it seemed cocky at the time when I won my bracelet, I filled out my media form and wrote that I was the one of the best unknown PLO players, so it was nice to be able to score the win."
According to Brown, a lot of his friends don't think much of limit games. They think limit games "are BS," he said, but they give him credit when he wins at PLO.
Although Brown has reveled in his anonymity thanks to being a predominantly East Coast player, life is changing for him because of his growing poker résumé. "I play live mostly on the East Coast but I try to make it out to Las Vegas once a month or at least every other month. I pretty much go to play tournaments, so I'm still somewhat unknown. If I went down to Atlantic City, people might know who I am at the higher stakes tables. When I'm in Vegas, no one knows me. I kind of hoped I would remain an unknown for a while, but I think I've won a few too many tournaments now," Brown said.
Thanks to the $25,000 buy-in for the heads-up tournament, Brown felt comfortable with the format because he believes he has found the right combination of playing styles. "It's funny, I didn't think I would have an advantage playing heads up, but I know that in PLO, I don't have a real minus edge against anybody," he said. "Even if it is Phil Ivey or Isildur1, I'm going to give them a match. I'm not a pushover when it comes to PLO. I do consider myself a solid player, and I've been trying to work on my heads up game a lot lately."
According to Brown, his game has been elevated to new levels thanks to everyone's favorite high-stakes-playing Swede, Isildur1. "One of the things I've been doing that has improved my game has been watching Isildur1 play on Full Tilt. Everyone thinks he is this one-time wonder, but I don't think that way. I think he is an excellent player."
Brown said he has been incorporating some of what he learned from his mentor Jared "Harrington25" Bleznick with tactics he has learned while watching Isildur1 "during hands that were shown down." By combining some of Isildur1's game with his own, it helped him during the tournament.
"Playing my regular PLO style in that tournament might not have been aggressive enough to win," he said. "Playing a little bit like Isildur1 added to my aggression factor, and I think it helped give me the win."
Fortunately for Brown, he managed to avoid drawing the likes of Isildur1 or Ivey on his way to victory in the $25,000 tournament. "I got lucky and I really didn't have to bump into anybody that was a complete monster," he said. "Luckily, I didn't have to play people like Isildur1, Ivey, or Patrik Antonius.
"I ended up playing a couple of guys who I had played cash games with who were good but not amazing," he said. "Then I playedJustin Smith, who overplayed some hands. Don't get me wrong, they are all good players, but I didn't face the toughest of the tough."
In the end, he beat the guys who beat the game's best. "The guy I played in the finals, Harry "UgotaBannana" Kackza, was definitely my toughest opponent," he said. "I play with him in cash games all of the time."
Despite nabbing one of online poker's most coveted titles, Brown has no desire to enter the high-stakes fray of the big games that run on Tilt. "I don't plan on playing the nosebleeds games in the near future,but I'll be giving some new guys a shot at times." he said. "It doesn't make sense to play against the best players when it comes to game selection.
He said he thinks the style he has been using is effective and he said "I'm going to give other players a shot in the future, but I'll stay away from the big games that I know are solid. I'm not interested in playing in the big names. I'm not interested in playing when there is someone like Brian Townsend playing $400/$800 unless it is a mixed-game format."
According to Brown, people can expect more PLO victories from him because he loves the game and recognizes that he has an advantage over other players. "Why do I love the game? I could give you the answer that I want people to read, which is that there are four cards, giving you more opportunities to win and that makes it more fun, but I think the real answer is that poker is my job, and I've got to do what will make the most money. People on average play Omaha worse than they do other games because they get four cards and because there are more possibilities. They just don't play hands correctly and it gives me an edge. When you see certain cards in your hand that you would traditionally play in a no-limit hand, that doesn't make them good cards in PLO and because a lot of players are trying to transition from no-limit to Omaha, that plays to my advantage."
Want to learn how to play PLO? Sign up for an online poker account and give it a shot.