The Online Railbird Report: Phil Ivey and Ilari Sahamies Flip for Close to a Million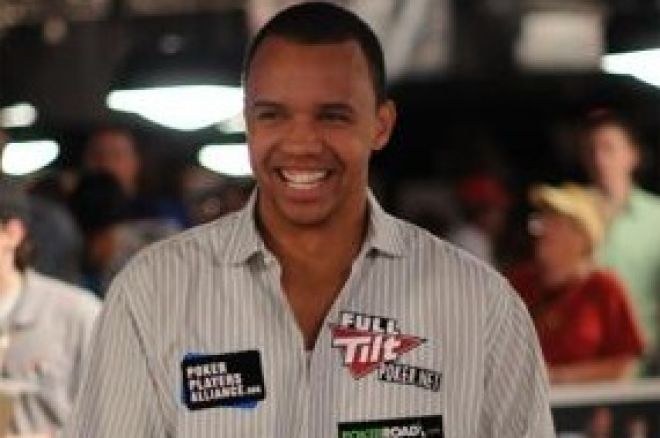 Although nowhere near where it was last month, action in the high-stakes cash games on Full Tilt Poker was kicked up a notch this week, with $500,000 pots, $400,000 "flips" and some heavy losses for Ilari "Ziigmund" Sahamies. Meanwhile, Ashton "theASHMAN103" Griffin continued to ride a hot streak for the ages, while David Benyamine banked over $430,000 in earnings thanks to his success at Full Tilt's new mixed hold'em tables.
Benyamine scores against Sahamies in mixed-limit hold'em
Although these two typically meet at the pot-limit Omaha tables, Ilairi "Ziigmund" Sahamies sat in with David Benyamine for a session of mixed-limit hold'em this week but ran into some serious turbulence against the Frenchman. The two played a 600-hand session of $2,000/$4,000 limit hold'em and $500/$1,000 no-limit hold'em, Benyamine finishing the session a $387,000 winner. Most of those earnings came from two massive no-limit hold'em pots, both cracking the $200,000 mark.
In the first monsterpotten, Sahamies opened for $3,000 and Benyamine called. Benyamine checked the
flop over to Sahamies, who bet $6,000. Benyamine called and they went to the turn which saw the
fall. Benyamine led out for $44,000, Sahamies moved all-in for $124,982, and Benyamine called, having him covered. Sahamies had turned two pair with
, but Benyamine had the better two pair, flopping aces up with
. The river was the
and Benyamine raked in the $292,000 pot.
Later on, Benyamine limped in on the button and called Sahamies' $3,000 raise from the big blind. The flop came down
and Benyamine called Sahamies' $6,000 lead bet. The turn came the
and Sahamies fired again, this time for $18,000. Benyamine looked him up and they went to the river, which saw the
fall. Sahamies moved all-in for $76,000 and Benyamine made the call, having rivered a flush with
. Sahamies'
was toast and the $206,000 pot was shipped to Benyamine, leaving Sahamies felted yet again.
No end in sight for Ashton Griffin's hot streak
Twenty-year-old Ashton "theASHMAN103" Griffin has been on a massive heater all summer, earning more than $3.5 million over the last two months. This week, he managed to add another $609,000 to the till, the majority of it coming from a successful night at $100/$200 and $200/$400 pot-limit Omaha, where he banked over $366,000. Although the pots were nowhere near the size of some we witnessed this week, a few cracked the $100k mark, including this $122,000 pot Griffin played against "FakeMonies."
Playing three-handed $100/$200 pot-limit Omaha, Griffin opened for $790, "FakeMonies" called from the small blind, and "OnTheRize" raised to $3,250 from the big. Griffin called, only to have FakeMonies four-bet to $13,090 behind him. "OnTheRize" called and Griffin called. With $40,000 already in the pot, the flop came down
. FakeMonies made a pot-sized bet of $39,360, OnTheRize folded, and Griffin moved all-in for $41,148. FakeMonies called, turning up
for kings and tens, while Griffin showed
for a flush draw and a backdoor straight draw. The turn was the
, the river was the
and FakeMonies took down the $121,655 pot.
Griffin was able to reclaim some of those lost chips in a later pot against Ilari Sahamies. Playing heads-up $200/$400 PLO, Griffin opened for $800, Sahamies raised to $2,400, Griffin four-bet to $7,200 and Sahamies called. The flop brought the
and Sahamies check-called a $14,400 bet from Griffin. With the turn came the
and Sahamies led out for $43,200, setting Griffin all-in. He made the call, turning over
for top set while Sahamies showed
for two pair and a gutshot. Griffin hit the case king on the river, making quads (always the best revenge) and taking down the $108,000 pot.
Antonius scores a $581K pot from Dwan
On Monday night, the high-stakes regulars were gathered around three tables of $500/$1,000 no-limit hold'em — Tom "durrrr" Dwan, Di "Urindanger" Dang, Phil Ivey, and Patrik Antonius — all taking shots at David "POKERBLUFFS" Eldar and newcomer "kingsofcards." Antonius emerged as the session's biggest winner, due in no small part to a $581,000 pot he won off Tom "durrrr" Dwan. After Antonius opened for $3,500, Dwan smooth-called from the button and they saw a
flop. Antonius led out for $7,000 and Dwan called. Antonius fired again when the turn came the
, betting $18,000. Dwan raised to $52,200, Antonius three-bet to $116,000 and Dwan called. Antonius shoved for his remaining $167,936 when the
hit the river and Dwan made the call. Antonius had flopped the nut flush with
and dragged the $561,000 pot as Dwan mucked his hand.
Dwan was able to reclaim some of those chips in a $334,000 pot that unfolded a short time later. After Antonius opened for $3,500, Dwan three-bet to $12,800 and Antonius made the call. Dwan checked the
flop to Antonius, who bet $15,000. Dwan raised to $41,300, Antonius moved in for $168,970, and Dwan called for less, turning over
, crushing Antonius' top pair with
. The turn was the
, the river was the
and Dwan took down the pot.
Sahamies and Ivey "flip" for over a million
When Ilari Sahamies is on a downswing, it's not uncommon to see him "flip" other players for their stacks—getting them all-in before the flop and letting the cards fall. After a heads-up session with Phil Ivey in which he lost two massive pots, both of them clocking in at over $200k apiece, Sahamies asked him for a few flips and Ivey, ever the gambler, obliged. The largest of the flips came in at $400,000, Sahamies and Ivey putting in $200k each before the flop. Sahamies held
while Ivey showed
, the board running out
to make Ivey an eight-high straight. Sahamies won a bit back in a $200,000 flip when he hit a ten-high straight, but lost another when Ivey hit two pair over Sahamies' pair of aces. By the end of the session, Sahamies had lost $835,000 to Ivey, including the flips.
Who's Up? Who's Down?
This week's biggest winners (9/10-9/16): Ashton "theASHMAN103" Griffin (+$609,000), David Benyamine (+$431,000), Phil "OMGClayAiken" Galfond (+$334,000)
In the red: Ilari "Ziigmund" Sahamies (-$339,000), Tom "durrrr" Dwan (-$260,000), Chau Giang (-$245,000)
The highest-limit online games are playing out every night on Full Tilt Poker. Sign up for an account and see for yourself.