The Online Railbird Report: Tom "durrrr" Dwan Wins a $600,000 Pot from Who?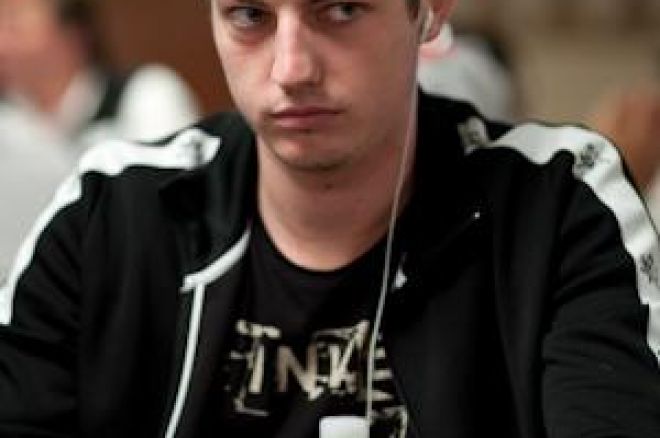 Over the last year, pot-limit Omaha emerged as the game of choice amongst the online high-stakes elite. If no-limit Hold'em was in the picture at all, it was in the $500/$1,000 mixed HA games on Full Tilt Poker frequented by the likes of Patrik Antonius, Gus Hansen, Phil Ivey, Tom "durrrr" Dwan, Ilari "Ziigmund" Sahamies, and Sami "LarsLuzak" Kelopuro. Inside of the last week, all of that has changed, with the arrival of a single new screen name on the high-stakes scene, a Swedish player known only as "martonas." The bulk of the speculation surrounding his identity has focused on WPT Champion Martin De Knjiff and his prodigy, Jonas "Nebuchad" Danielsson, though it is important to note that nothing has been confirmed as of yet. Whomever he is, his presence has lit a four-alarm fire under the high-stakes action on Full Tilt and for the first time in seemingly ages, full-ring and six-handed purely NLHE games have been running at the $500/$1,000 level in addition to the continued four-card madness at the $200/$400+ PLO games.
Martonas is not a complete stranger to the high-stakes action, having played at these levels on Full Tilt in the past. Before this month he hadn't been seen around in some time, however, when he began annihilating at the $500/$1,000 level, sustaining multiple seven-figure swings. His presence drew appearances from Phil "OMGClayAiken" Galfond, Aaron "aejones" Jones, Cole South, and Ashton "theASHMAN103" Griffin. On Friday night, martonas scored a $900,000 win, primarily against Phil Ivey and "mastrblastr," with three pots breaking the $200K mark. That little swing, however was merely peanuts compared to what has unfolded over the last 48 hours.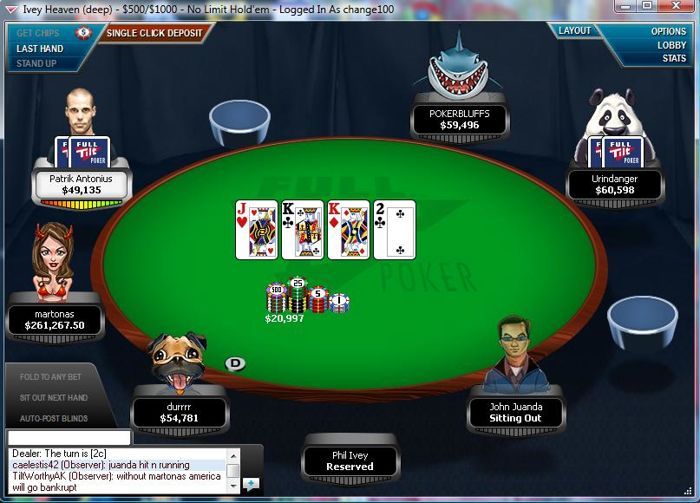 During the $500/$1,000 NLHE games that ran from Monday afternoon into the wee hours of Tuesday morning, martonas, at one point, had over $1.8 million spread across four tables. Tom "durrrr" Dwan, Di "Urindanger" Dang, and Patrik Antonius all got in on the action and the pot sizes soared to record levels with two coming in over $400,000 and one $585,000 monsterpotten. Playing heads-up with Dwan, martonas opened for $3,000 with
on the button. Dwan picked up
and reraised to $11,200 only to have martonas come back over the top for $34,000. Dwan five-bet it to $71,600 and martonas called. Dwan shoved for $221,376 on the
flop and martonas made the call, having him covered. The turn was the
, the river fell the
and Dwan's stack soared to over $585,000. Martonas, however would get much of it back in the $450,000 pot he won from Dwan an hour later into their match, where Dwan three-barrel bluffed at a
board, martonas calling him down the whole way, having flopped the nut boat with
. Martonas came away from the night with nearly $250,000 in profits, but when it came to playing Dwan, he was only getting warmed up.
In a truly epic, nearly 24-hour session that concluded this morning, Dwan and martonas played primarily heads-up (though a few guest stars drifted in and out making it short-handed), logging over 6,000 hands across as many as four simultaneous tables. To say their stacks got deep would be a massive understatement, as more than half a dozen pots topping $400,000 unfolded, the largest coming in at a mind-boggling $603,000. At one point, Dwan was up $2.4 million when it came to the no-limit Hold'em portion of their games, while martonas was down $2.7 million. At that point, martonas switched it up a little and added some PLO to the mix, where he was able to recover nearly $1 million in losses.
So, about that $603,000 hand? The game was five-handed as the west coast headed toward the lunch hour, with Patrik Antonius, Cole South, and "pokerhontas2k6" sitting in. South opened for $3,000 from the cutoff, Antonius folded the button, and martonas three-bet to $12,000 from the small blind. Dwan made it $35,600 to go from the big blind and after South got out of the way, martonas made the call. Both players checked the
flop. When the
hit the turn, martonas led out for $78,000 and got a call from Dwan. The river was the
and martonas moved in for $268,860. Dwan quickly called and turned over the bad news—he'd rivered a six-high straight with
, snapping off martonas' top set with
. Ship the $603,752 to durrrr.
Dwan finally went to bed this afternoon with $1.35 million in winnings sitting in his Full Tilt account while martonas continued to battle it out with the likes of Antonius, Ivey, Di Dang, and Brian Hastings throughout the afternoon. After going a long way to erase his losses, martonas ended up dropping $690,000 to Hastings in a heads-up $300/$600 session before finally deciding to take a break.
Despite his $3 million swing today, martonas is still up over $1.5 million for the month of August and over $400,000 for this week alone.
Who's Up? Who's Down? (Week of August 12-18)
Biggest winners:
Aaron "aejones" Jones (+$898,000)
Cole South (+$538,000)
martonas (+$413,000)
In the red:
Patrik Antonius (-$1.33 million)
Phil Ivey (-$839,000),
Ilari "Ziigmund" Sahamies (-$463,000)
2009 to date
Biggest winners:
Patrik Antonius (+$3.05 million)
Cole South (+$2.56 million)
Hac "trex313" Dang (+$2.32 million)
In the red:
Sami "LarsLuzak" Kelopuro (-$3.39 million)
Gus Hansen (-$2 million)
papa ninja (-$1.24 million)
Improve your game enough and you can jump into the action yourself; Sign up for a Full Tilt Poker account now.