The Online Railbird Report: Million Dollar Surge for Tom "durrrr" Dwan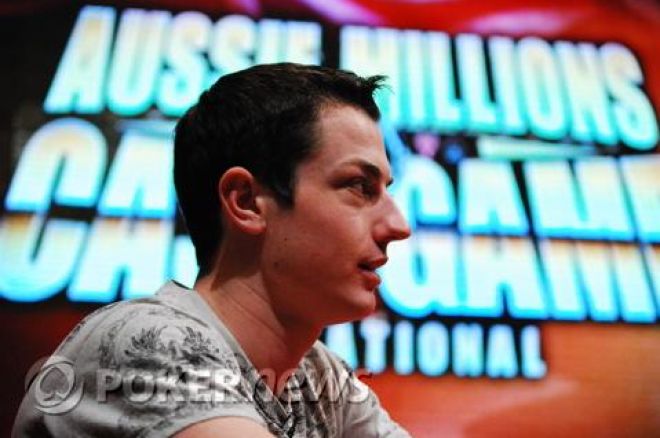 Everyone's favorite Swedish mystery man "martonas" continued to drive the high-stakes action on Full Tilt Poker this weekend despite a sharp downswing that saw much of the $2.4 million in winnings he booked in the first half of August all but evaporate. While martonas has thus far stuck primarily to $500/$1,000 No-Limit Hold'em when playing against the nosebleed-stakes crew, he shifted over to Pot-Limit Omaha this weekend. By Saturday afternoon, as many as eight simultaneous $300/$600 PLO games were running (with martonas on four of them), attracting Phil "OMGClayAiken" Galfond, Patrik Antonius, Richard Ashby, Hac "trex313" Dang, Di "Urindanger" Dang, Ilari "Ziigmund" Sahamies, Rafi "howisitfeellike" Amit, "HarrisMP", and "Sirens". The primary recipients of martonas' greenbacks? Why Tom "durrrr" Dwan, of course, who racked up more than $1.1 million in winnings in this weekend's online action.
Dwan wins a million, martonas loses a million
On Friday night and early Saturday morning the action was already thick at the $300/$600 PLO tables and the slightly smaller stakes did nothing when it came to the size of the pots, with nearly half a dozen topping $200,000 and one $461,000 monster developing between martonas and Dwan. Playing five-handed, Patrik Antonius opened for $2,700 from under-the-gun, martonas raised to $9,600 from the button, Dwan flat-called from the big blind and Antonius called as well. Dwan and Antonius checked the
flop over to martonas, who bet $22,800. Dwan came in with a raise to $98,100, Antonius folded, and martonas three-bet-shoved for $215,690. Dwan made the call, turning over
for a pair of deuces and the nut flush draw while martonas revealed
for a wrap draw, a smaller flush draw, and a gutshot straight flush draw that was no good, as Dwan held the
. The turn was the
, martonas picking up a club flush draw, but the
on the river made Dwan the nut flush in diamonds, earning him the $461,076 pot. That pot, as well as a $283,000 monster where martonas got all in on a
flop holding a set of sevens and Dwan called having flopped the nut straight and a flush draw, went a long way toward the $1 million in profits Dwan racked up that night. Phil Galfond was close behind him with over $821,000 in earnings. That night alone, martonas lost over $961,000, putting him close to break-even for the month of August after being up more than $2.4 million at one point.
Ashton Griffin picks up $1.3 million in Saturday's action
A loss like that might lead some players to take a break, but not martonas. He was immediately back in action on Saturday afternoon and in a sharp change of strategy, bought in for a short stack on four different $300/600 PLO tables. The big winner in those sessions, though, was Ashton "theASHMAN103" Griffin, who came away with close to $1.3 million in winnings including a $239,000 pot from Patrik Antonius. Playing seven-handed, Griffin opened for $2,800 from UTG+1, Antonius flat-called from early position, and Andy Bloch called from the big blind. Bloch checked the
flop over to Griffin, who bet $9,400. Antonius raised to $37,600, Bloch ducked out of the way, and Griffin moved in for his remaining $122,200. Antonius called, having him covered. The Finn was a 2-1 favorite on the flop, holding top set with
, but Griffin had outs with
for an overpair and a flush draw. The turn was the
, a blank for Griffin, but the
on the river made his flush, giving him the $239,319 pot. Though martonas finished his $300/600 PLO sessions with just over $350,000 in profit, he shifted over to heads-up play where he lost $250,000 to Phil Galfond.
POKERBLUFFS takes a shot at the nosebleeds, wins half a million
Add another screen name to the growing list of mystery men in Full Tilt's high-stakes games. A player going by the name "POKERBLUFFS" took a shot at $500/$1,000 No-Limit Hold'em and came away with $500,000 in winnings, most of it coming at the expense of Di "Urindanger" Dang, who dropped $236,000, Rafi "howisitfeellike" Amit, who shed nearly $200K, and David Benyamine, who left the tables $155,000 lighter in the wallet, a good portion of it coming from the following hand.
Playing heads-up, Benyamine limped in on the button, POKERBLUFFS raised to $4,000 from the big blind, and Benyamine made the call. POKERBLUFFS led out for $6,000 on the
flop and Benyamine smooth-called. The turn came the
and POKERBLUFFS fired out another $15,000, earning another call. The river fell the
and POKERBLUFFS went for it, shoving for $75,494. Again, Benyamine called. POKERBLUFFS turned up
for the rivered set and one can only wonder what Benyamine mucked as the $198,977 pot was shipped the other direction.
Blue Monday for martonas as Sahamies gobbles up $390,000
As we were waking up here on the west coast on Monday morning, it was already early evening in Europe, where Ilari "Ziigmund" Sahamies, Patrik Antonius, and martonas led the action at $300/$600 PLO. Joining them were Di "Urindanger" Dang, Hac "trex313" Dang, Richard Ashby, "HarrisMP" and John Juanda. Nearly every player who stopped in enjoyed a profit, with martonas absorbing nearly all of the losses, dropping over $623,000. Sahamies was the big winner, pocketing $390,000 after winning three of the session's biggest pots including this hand against martonas. Sahamies opened for $2,600 from UTG, and martonas three-bet to $9,200 from UTG+1, chasing away HarrisMP, Antonius, and Dang. Sahamies called and they saw a
flop. Sahamies checked to martonas, who bet $16,800, then raised to $70,200. Martonas moved in for $98,496 total and Sahamies called the balance, turning up
for top set while martonas revealed
for a straight draw. The turn was the
, the river was the
, and Sahamies picked up the $183,910 pot with tens full.
Ready to take a shot at martonas yourself? Sign up for a Full Tilt Poker account.