The Online Railbird Report: Sahamies Stings Ivey, Dwan Weathers a Downswing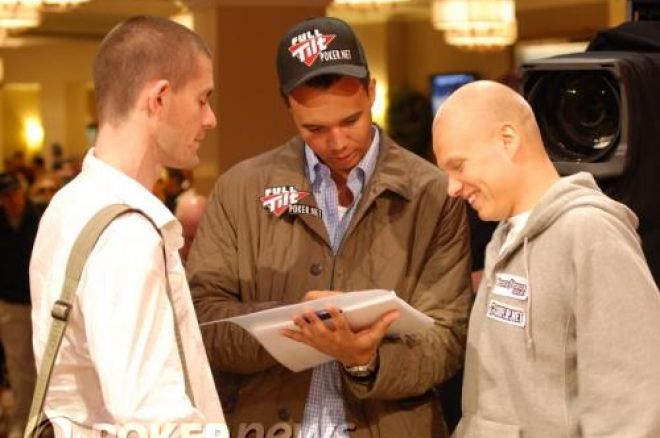 It's been over two weeks since "martonas" departed the high-stakes scene, ending one of the wildest stretches in online poker history. The games have settled down, way down, and the action at a trickle as the dog days of summer slip away. Many of the usual suspects made appearances at the virtual tables this week, albeit playing far below their usual volume. Even Ilari "Ziigmund" Sahamies' $1.1 million profit, the week's largest from any player, was turned within fewer than a thousand hands.
Tom "durrrr" Dwan had a rough go of it this week, weathering a brutal session in which he sustained over $885,000 in losses. Playing a mix of no-limit hold'em and pot-limit Omaha, Dwan took on a rotating cast of players including Phil "OMGClayAiken" Galfond, Di "Urindanger" Dang, Steve "Zugwat" Silverman, David Benyamine, David "POKERBLUFFS" Eldar and Patrik Antonius. Dwan could hardly get a hand to hold up all evening. In the Omaha games, Sahamies was Dwan's largest benefactor and Galfond earned those honors on the hold'em tables. Galfond also picked up the $104,000 pot when Dwan overplayed his pocket pair and hit the flop hard.
Playing four-handed $500/1,000 no-limit hold'em, Galfond opened for $3,000 from the button. Dwan three-bet to $9,200 from the small blind and Galfond called. Dwan shoved after the flop came down
, betting $42,300 into the $19,400 pot. Galfond insta-called, rolling over
for top pair and a king-high flush draw while Dwan was in poor shape with
. The turn was the
, the river was the
and Galfond took down the pot, leaving Dwan to make yet another rebuy.
Dwan was able to grind out about $100,000 in winnings the next day, leaving him just over three-quarters of a million in the red for the week. He was involved in one of the night's more peculiar hands, a $207,000 monsterpotten against a newcomer on the nosebleed-stakes scene, "kingsofcards."
Again, the game was four-handed $500/1,000 NLHE, "POKERBLUFFS" and Patrik Antonius folding to "kingsofcards" in the small blind. He raised to $3,500 and Dwan defended his big blind. "Kingsofcards" led out for $5,600 on the
flop, Dwan raised to $16,300, and "kingsofcards" came back over the top for $35,200. Dwan moved all in for $100,278 and "kingsofcards" called, turning up
to Dwan's…
? Kingsofcards avoided mega-tilt (and perhaps a few sessions of therapy) when Dwan missed his outs, the
and
falling on the turn and river to earn him the pot.
Another highlight of this week's online action was a two-night heads-up match between Phil Ivey and Ilari "Ziigmund" Sahamies. On Saturday night, the two sat down at the $500/1,000 pot-limit Omaha tables and dueled for close to 200 hands, Sahamies emerging as a $270,000 winner. Ivey came back for more on Sunday, but dropped two $100,000 buy-ins in short order, electing to quit $200,000 lighter rather than drop any more money. In the largest pot of that short session, Ivey saw his aces snapped off when Sahamies spiked a lucky turn card, costing Ivey his entire stack. Here's how it played out.
Holding
on the button, Sahamies opened for $3,000. Ivey three-bet to $9,000 with his
and Sahamies made the call. Ivey led out for $14,000 with his overpair on the
flop and Sahamies smooth-called with top pair. The
on the turn was gin for Sahamies, making him trips, and even better, Ivey led into him with a $37,000 bet. Sahamies raised to $74,000, and Ivey called all in. No miracle for Ivey on the river was the
fell, Sahamies raking in the $165,000 pot.
Who's Up? Who's Down?
This week's biggest winners (9/3-9/9): Ilari "Ziigmund" Sahamies (+$1.1 million), Di "Urindanger" Dang (+$430,000), David "POKERBLUFFS" Eldar (+$178,000).
In the red: Tom "durrrr" Dwan (-$756,000), Phil Ivey (-$375,000), David Oppenheim (-$257,000).
The biggest online action happens every day on Full Tilt Poker. Sign up and see for yourself.