Why Espen Jorstad Wants to Be a Health Ambassador and Grow Poker in Norway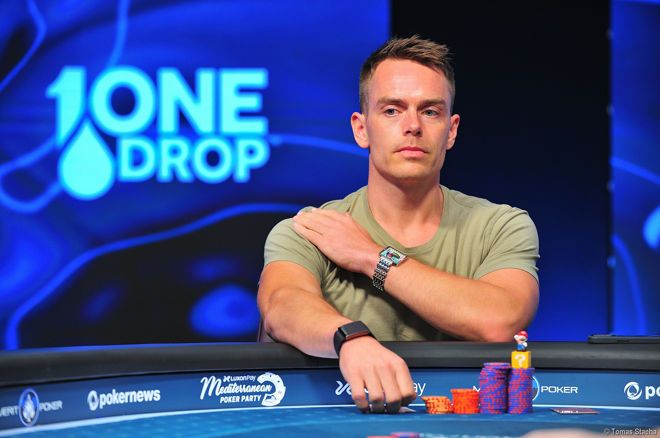 Now that he's a world poker champion, 2022 World Series of Poker (WSOP) Main Event winner Espen Jorstad hopes to be a positive ambassador who encourages a healthy lifestyle and helps grow the game.
Jorstad spoke with PokerNews' Jesse Fullen in a lengthy one-on-one conversation that can be heard on the PokerNews podcast.
Drawing from that interview, the second installation of this two-part Norwegian Gold series explores Jorstad's life after becoming Norway's first poker champion. Part 1 looked at the time leading up to Jorstad's $10 million score and his incredible run this summer that brought him two bracelets.
Read about Espen Jorstad's run at the 2022 WSOP!
Still Sinking In
When Jorstad spoke with PokerNews a month after his bracelet win, he said the time after the victory had been a bit of a blur.
The first night after winning $10 million, Jorstad was put up in a Bally's suite and, after two months of sobriety — "not a single drop of alcohol; I was (in) full grind mode" — partied with a bunch of friends and "got pretty out of line."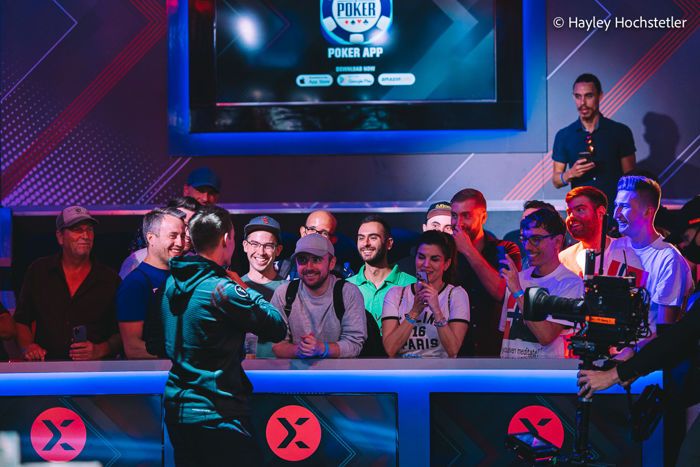 Jorstad only got two hours of sleep that night and three hours the next night "because we were partying."
"So it was not good," he laughed. "After that, I was totally exhausted. I was just totally drained. And I still don't think it's sunken in properly yet. I still feel like ... it hasn't really sunk in, I think. Maybe when I get somewhere and can settle down."
In the days following his Main Event triumph, Jorstad said he was bombarded with interview requests and "people just asking for a lot things, like people asking for money, people asking for attention, people send(ing) me infinite hand histories they want me to review."
"I put my phone away for like six days or something," he remembered. "After Day 7 of the Main, I just turned my phone off, basically."
"I Have Everything I Need"
Did Jorstad make any grand or luxurious purchases after getting the life-changing score?
"Nothing," he told PokerNews. "Absolutely nothing. And I don't have anything on the list, either."
Jorstad, who eventually came clean that he "bought some small things that will increase my life quality; just small things ... nothing flashy," said he "would prefer to have as little material possessions as possible."
"I'm very happy with my life," he said. "I have everything I need. I think material possessions are a bit of a drag."
Jorstad said he does plan to purchase a living space in London after spending the last year "living out of a suitcase" and will "invest most of the money ... probably be a good mix of stocks, real estate (and) crypto."
"I'm very happy with my life. I have everything I need. I think material possessions are a bit of a drag."
"I just want to set myself up for (the) future," Jorstad said. "Showing off, like flashy cars and watches and stuff, it's not really for me. I come from a small city in Norway, like 20,000 people. You can't walk up there with like, a Rolex and Gucci shoes."
Striking With a Hot Iron
After two weeks of "try(ing) to get my head straight and try(ing) to get organized" after the Main, Jorstad was ready to get back into the poker grind.
"A lot of people ask me, 'Aren't you just going to take some time off? Chill out, go to the beach, go to Hawaii, chill for a month?' I'm like, 'No. This is it.'"
"A lot of people ask me, 'Aren't you just going to take some time off? Chill out, go to the beach, go to Hawaii, chill for a month?' I'm like, 'No. This is it. We have a bunch of momentum now, we need to ride the wave and strike while the iron is hot,'" he said. "Like, I'm relevant now. People want my attention and whatever now. In 12 months or whatever, not so much. So I think it's a good opportunity to go really hard and try to build a big personal brand in poker, and also help grow poker a lot."
He flew to southern Florida for the Seminole Hard Rock Poker Open and played "some big tournaments," including $50,000 and $25,000 buy-in events, and finished 29th in the $5,300 Main Event for $23,255.
"It was good, it was a fun trip and nice to get back into playing poker again," Jorstad said.
Then, Jorstad headed to the West Coast as he competed in the biggest cash games of his life on the Hustler Poker Live stream.
"Those are not super serious games, event though one of them was really f***in' big," he said. "It was like $100/$200/$400/$800, which is like the biggest I've played, ever. So that was big. But those were fun games. A lot of recreational players and a lot of banter."
Jorstad ended up losing $100,000 in the big game but was able to win some of it back in a $5/$5 meet-up game and a $10/$20/$40 game.
"And it was a bit annoying because I didn't feel like I played my best," he said. "I didn't adjust enough, the table was quite crazy. I haven't played that much cash live ... 70% of the table were like billionaires that were just like doing crazy sh**. So I made some pretty bad adjustments, I think."
A Health Ambassador
Jorstad's interview with PokerNews' Jesse Fullen took place at Binon's Gambling Hall in Las Vegas, the birthplace of the World Series of Poker and the venue where Main Event champs like Doyle Brunson, Stu Ungar and Johnny Chan made names for themselves.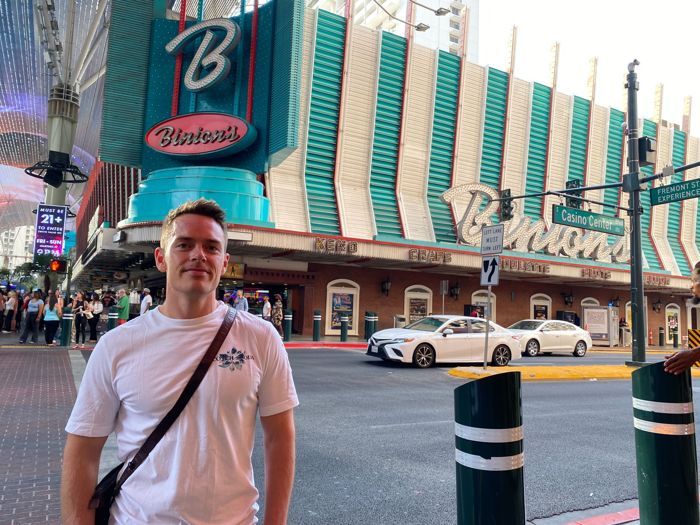 It was Jorstad's first time visiting the poker landmark and he took a moment to think about what he wants his impact on the game to be now that he has been launched into poker stardom.
"I haven't thought too much about legacy," he admitted. "I'm thinking kind of more short and medium-term. I kind of just want to be a good ambassador (and advocate) for poker players to be healthier. I feel like there are a lot of poker players who don't care too much about their health."
Jorstad continued: "Poker in general, it's hard to combine playing professional poker with being healthy, I feel like. Because you're sitting all day, especially if you play a lot of live poker the food options are not great. So I felt it as well during this WSOP. It hasn't been great, health-wise."
Jorstad said he believes his strong mental game and lifestyle, which includes "eat(ing) healthy, exercis(ing), do(ing) some gratitude journaling, meditation and all that," is what sets him apart from his opponents.
"I think that's my main strength in poker, that I have a super strong mindset. I don't get tilted, I don't get annoyed. I'm kind of just baseline all over the place, which is a good thing and a bad thing," he laughed.
Jorstad said the players he looks up to in poker and who "inspire me the most" are those "who have it all together," listing Jason Koon as one such player.
"I Do Feel Some Form of Responsibility"
While some Main Event champs have taken their life-changing score and disappeared from the public eye, Jorstad said he plans to spend the next year being an active ambassador, traveling to poker stops around the world and vlogging all of the action on his YouTube channel.
Shortly after his interview with PokerNews, Jorstad headed to Cyrpus and played a full slate of high rollers as part of the 2022 Luxon Pay Mediterranean Poker Party and Triton Poker Cyprus, including a One Drop event where he finished runner-up to Dusk Till Dawn founder Rob Yong.
A few days later, Jorstad was slapping the British casino owner in the face with a flour tortilla as part of a high-stakes Tortilla Slap Challenge organized between himself and a handful of other high rollers at the Mediterranean stop, the winner of which would win a seat into a $25,000 Triton event.
Who emerged victorious in the viral video-inspired high-stakes slap satellite? None other than Jorstad, who is proving himself to be both an active and amusing ambassador.
"If they (other Main Event winners) don't want to be an ambassador for the game or they're happy with their $10 million or whatever, they can go do something else," Jorstad said. "That's fair, I don't think there should be requirements. But for me, I do feel some sort of responsibility to be a good ambassador now."
"I don't think there should be requirements. But for me, I do feel some sort of responsibility to be a good ambassador now."
Jorstad has already experienced some of the downsides that come with being in the poker spotlight. In August, Jorstad had to address a swap dispute between himself and Alex "Pwndidi" Theologis, who had claimed the two exchanged 3% in the Main Event and that he was owed $300,000 of Jorstad's score, after he was approached and threatened in Cyprus by a "clearly intoxicated" man.
Neither player has any record or recollection of when the swap took place and Jorstad said he doesn't remember it ever happening. Theologis, who said he doesn't know the man who approached Jorstad in Cyprus, maintains that a verbal swap took place, though he can't remember when or where, but told PokerNews he accepts that Jorstad does not believe there was a swap.
Much of the poker community sided with Jorstad in the dispute.
Growing Poker in Norway
In addition to building a personal brand, Jorstad aims to more broadly help grow the game of poker, particularly in his home country of Norway, where poker and gambling are heavily restricted.
"Especially in Norway, the legislation for poker is quite bad," Jorstad said. "It's not easy now, playing poker in Norway."
Jorstad hopes his Main Event victory will help Norway's lawmakers see the positive side of the game. He noted that "there's been some discussions (among lawmakers) after the Main now, so if something can happen there, if me winning the Main can actually influence the politicians (to revisit poker laws), that would be amazing."
"So I'm going to use this next year to try to be a good ambassador, play everything and do a lot of content," he said.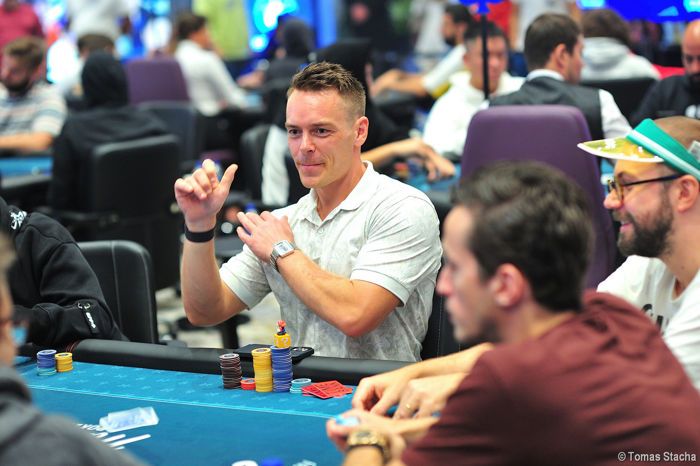 What's next for the newest world poker champion? Jorstad said he plans to play just about everything, including the upcoming EPT London and WSOPE Rozvadov festivals and possibly the WPT World Championship at the Wynn in Las Vegas in December.
"But at least now, I'm going to have my own place in London where I can unpack and rest and recover in between," he said.
Be sure to read about how Jorstad defeated Australia's Adrian Attenborough to win the 2022 Main Event.