Norwegian Gold Part 1: Espen Jorstad's Road to Winning the 2022 WSOP Main Event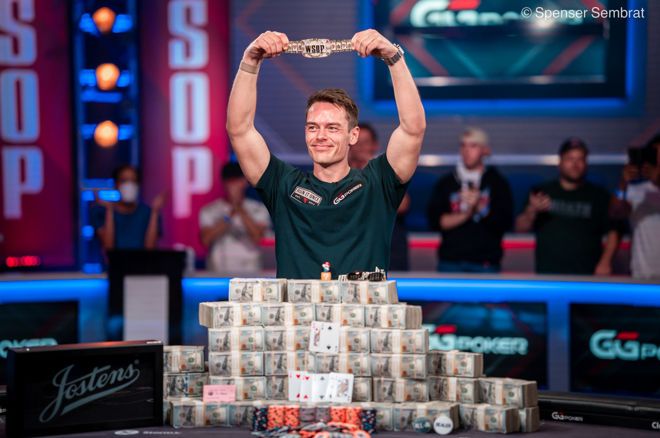 Before he was Norway's first World Series of Poker (WSOP) Main Event champion, Espen Uhlen Jorstad was a gamer and part-time poker player who cared more about playing video games and partying than he did chasing his dreams and aspirations.
Now a world poker champion, the 34-year-old says he wants to be a good ambassador for the game, encourage a healthy lifestyle, and show his country the positive aspects of professional poker.
PokerNews' Jesse Fullen recently interviewed the 2022 WSOP Main Event champion one-on-one in an intimate conversation that can be heard on the PokerNews podcast.
Drawing on that interview, this two-part series will look at Jorstad's life before and after the $10 million score that made him a household name and catapulted him to the top of Norway's all-time money list according to The Hendon Mob.
Listen to Espen Jorstad on the PokerNews podcast here!
Poker "Dinosaur"
The Norwegian's poker journey began in 2004, when he was still a teenager, in the midst of the poker boom sparked by Chris Moneymaker winning the 2003 Main Event. He remembers the Moneymaker feat and "watch(ing) all the poker religiously, like the EPT, the WPT, the WSOP, I would watch it all; High Stakes Poker was my favorite."
"So I'm a dinosaur, I've been in it forever," Jorstad said. "But I didn't play full-time for all those years."
Between 2006 and 2008, Jorstad "had a bout of playing semi-pro" but "wasn't too serious" about his poker endeavors.
"I was like, playing a lot of World of Warcraft, partying a lot, just like making enough money to live the life that I wanted to live, basically," he said.
"I'm a dinosaur, I've been in it forever"
The young grinder primarily played heads-up cash games online and eventually got sick of it. "At some point, that was just like bum-hunting to make money. And I wasn't really studying anymore."
"At some point, that was just like bum-hunting to make money. And I wasn't really studying anymore."
Finding himself unfulfilled by poker, Jorstad focused on school for six years and ended up earning a master's degree in brewing science, a branch dealing with the science and business of beer manufacturing, and worked in the industry for a year.
"And then poker sucked me back in."
Treating Poker as a Career
When he left his job to play poker full-time in 2017, Jorstad vowed to take poker more seriously. "I've treated it more as a career, pretty much. Looking at it more professionally."
For Jorstad, that meant focusing on "the financial aspect of it and securing myself for future, and setting myself up and my family up for life," not chasing bracelets or accolades.
"I thought it was cool, but it wasn't like, 'Oh, this is like a lifelong dream. I want a bracelet," he said. "It's never been about that for me."
But thinking back on his two bracelet wins and eight-figure score over the summer, Jorstad reconsidered his approach. "Now that I am quite financially secure, I would say maybe I'll go back to chasing some accolades and trophies and stuff."
Winning a Bracelet with "Pads"
After years of results online and at overseas poker tours, Jorstad decided to make his first pilgrimage to Las Vegas to play at the 2022 World Series. The year before, Jorstad finished sixth in the GGPoker WSOP Online $5,000 Main Event Championship for $603,058, giving him a small taste of the Main Event glory to come.
His first WSOP started off well enough with a few cashes. But then "I had like 19 bullets in a row that I bricked, so like a long dry spell in the middle, basically."
In late June, Jorstad found himself heads-up for a bracelet in the $1,000 Tag Team event with his partner, British pro Patrick "Pads" Leonard, against opponents Jamie Kerstetter and Corey Paggeot. The European duo defeated the Americans to earn their first bracelets and save Jorstad's summer with a $148,067 score.
Looking back at it, Jorstad remembers the Tag Team victory as his biggest highlight of the summer, even though he would go on to win the World Championship for an astronomically bigger score.
"Honestly, winning the Tag Team event was probably better emotional(ly) ... I enjoyed that more than winning the Main Event," he said. "Because I won it with my friend, Pads, it was a really f***ing cool experience. We were talking hands in between breaks, we were studying together. It was like a bonding thing, and it was very cool ... The Main Event win was, of course, huge, but it was so overwhelming. It was so much stuff and I just couldn't grasp it, pretty much. It was too big. So I wasn't able to fully enjoy it, or whatever."
Road to $10 Million
Despite having won a bracelet, Jorstad said he felt "rusty" by the time the Main Event came around, noting that "during the WSOP, it was such a grind and marathon that I felt like I was falling behind on the studying."
"I think my confidence was getting worse and worse throughout the series, basically," Jorstad admitted. "I don't know how much (winning the Tag Team bracelet) did for my confidence."
With his Mario Mystery Block card protector in front of him, Jorstad tried to keep a clear mind and had a good start to the Main, ending Day 2abc 40th in chips out of the more than 1,200 players who bagged. Jorstad continued to run well in the middle stages of the tournament until he made "quite a punty play" deeper in the event and managed to fade disaster.
The hand started with an open by Jorstad with queen-jack before he was three-bet by an opponent who "was a reg and he was quite aggro." Jorstad wasn't believing it and four-bet all in with a stack of 41 big blinds, a move that he admitted with a laugh is "questionable."
But the opponent had it this time and snap-called with pocket kings. The king-high flop kept his opponent ahead with a set but gave Jorstad a flush draw. Jorstad made his flush on the turn and managed to avoid a board-pairing river to double up and "have heaps."
In another pivotal hand, the eventual champion flopped a set of fours and put chips in on each street before improving to quads on the river and moving all in. To Jorstad's surprise, he had been behind the whole time as his opponent had flopped a set of sevens only to be outdrawn by the eventual champion, who would've been left with crumbs had he not hit his single out.
"So, of course, there's a lot of hands like this where it would be over (for me) or close to over," he reflected.
Spoiling It for His Mom
By the end of Day 7, Jorstad led the unofficial final table of ten players with a stack of 69 blinds. The Norwegian never took his foot off the gas and ended Day 8 with a commanding chip lead over his two remaining opponents.
Behind a pair of Matrix sunglasses, Jorstad sat motionless in the Mothership on Day 9 and took his time as he made his decisions with life-changing money on the line.
American Michael Duek went out in third place for $4 million when his top pair was no good against the nuts of Australia's Adrian Attenborough with a Broadway straight. Attenborough entered heads-up play with a slight chip advantage but lost most of his stack in the very first hand where he folded his bluff-catcher.
Not long after, Attenborough ended up with another bluff-catcher and couldn't find the fold button this time. He called off for his tournament life with just a pair of fours and was greeted by the full house of Norway's first world poker champion.
A month later, Jorstad said in his interview with PokerNews that he is still processing the victory. But he added that it all became real the moment he called his mom, who was "at home watching the stream and I had to spoil it for her."
"She was crying really hard and I started crying a bit as well," he said. "I was a bit emotional."
To find out what Jorstad has been up to since his 2022 WSOP Main Event win, including traveling to Cyprus to play at the Luxon Pay Mediterranean Poker Party, where he hosted his own meet-up games and finished second in The One Drop to British casino owner Rob Yong, stay tuned for Part 2 of this two-part series.
Poker Community Backs 2022 WSOP Main Event Champ Espen Jorstad in Swap Dispute
Photo courtesy Espen Uhlen Jorstad