Vegas-Averse Daniel Dvoress Ready for 'Unique' Bracelet Opportunity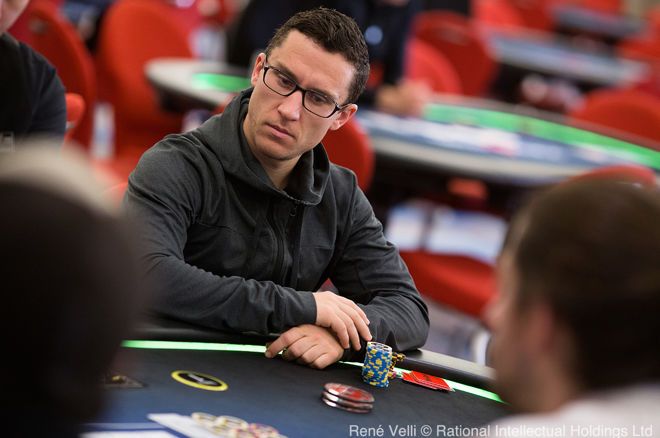 Table Of Contents
One of the best tournament poker players in the world has never played a single World Series of Poker event in Las Vegas. No, fans whose following of the game centers around the summer bracelet grind may have never even heard of Daniel Dvoress.
But make no mistake — he is among the elite. Respected by his peers and those in the know for both his skills and his results, Dvoress has been a winning presence in the live and online scenes for several years. In the former, he's racked up $15.6 million in cashes according to The Hendon Mob. In the latter, Pocket Fives has him with almost $2.7 million, and he can regularly be found participating in the toughest high rollers offered on a slew of different sites.
To those fans following Dvoress' exploits on the global high-roller circuit, it was no surprise to see his name at the top of the chip counts in the paused $1,500 Millionaire Maker on GGPoker. Of course a player who probably has an average buy-in of five figures over the last five-ish years is going to dominate a big-field $1,500 event.
But the other subset of fans, those who focus on the WSOP and other stateside events, likely just scrolled past the odd-looking name with the D and the V next to each other without a second thought.
If he's one of the best, why don't they know who this guy is?
Follow all the latest from the WSOP - LIVE!
The cards are in the air in the GGPoker portion of the event. The PokerNews live reporting team is on top of all things WSOP. Don't miss a beat!
Zigging While His Peers Zag
Start with the obvious, the factor that keeps many a Canadian away from the Rio during the summer: the taxes. An unfavorable tax treaty between the U.S. and Canada leaves a heavy financial burden on the Canadian grinder, seriously hindering his or her expected value in a WSOP event. Dvoress, originally from Moscow but living in Toronto, touched on that back in a 2017 interview with PokerNews, and it's well-known to be a major roadblock to some of the stars from up North.
However, unlike many of his peers, Dvoress might still be steering clear even if he enjoyed a U.K.-style tax situation.
Other grinders circle the summer months as the time they'll buckle down and play heaviest volume. They'll sacrifice sleep, a good diet, time with friends and family, and the chance to enjoy the sunny weather that blankets most countries in the Northern hemisphere. There's value to be reaped, after all, value that doesn't necessarily exist any other time of year as thousands of recreational players flock to Las Vegas to chase bracelets and other poker dreams.
Dvoress takes the opposite tack.
"I'm likely missing out on some EV, especially with the Main Event, but have been enjoying taking previous summers off and focusing on things outside poker," he says. "Between other live events and the usually packed online schedule right before the summer with SCOOP and everything surrounding it, I'm usually pretty burned out by the summer and welcome the time to focus on health, fitness, and doing things outdoors."
Dvoress says the latter typically dominates his time away from the game. In nature, he enjoys all manner of activities, including but not limited to fishing, hiking, canoeing and mountain biking.
And his time in the outdoors is by no means limited to summer. Followers on his Instagram can watch him rig up an ice fishing set up, pile up a freezing catch, then prep and cook a meal out of his haul.
Of course, it's a little easier to take a few months off when you've raked in $18 million in your working hours. And outside of the summer, few have the drive and results to match Dvoress.
The Lunch Table to the Nosebleed Tables
While Dvoress participates in nosebleed buy-in poker tournaments around the world these days, he started at a much more humble locale: his high school cafeteria. There, he heard about online poker, which he decided he'd like to try.
He spent some time bouncing around between different sorts of games online, trying heads-up games, cash games, and sit-n-gos, all at micro- and small-stakes. By 2009-10, he had advanced to the mid-stakes cash games in a "gradual build" and dabbled in some high stakes.
Around 2013, he says he found out about the live global scene and specifically started following the EPT.
"I started traveling to that, and my peers basically told me that I should be playing the high rollers," he says. "So I did, and years later I'm still here."
"For me, consistent results in tough fields as the game continues to evolve is the true goal."
He didn't exactly sit down and start piling up trophies, though. Quite the contrary, in fact. While Dvoress put together plenty of solid results — he racked up 26 cashes for at least six figures — a major win eluded him for years.
If there was any frustration, he didn't let on. He joked with PokerNews in 2017 that he was "the master of coming second to seventh." Rather, Dvoress focused on enjoying the battles and the camaraderie that the high-stakes scene offers.
"Specifically when it comes to the high roller scene, I enjoy that particular environment," he says. "It's obviously super competitive, which I'm automatically drawn to, yet at the same time it's a very relaxed and ironically casual atmosphere.
"It also seems to be the case that at the highest stakes, everyone is gambling responsibly and respectfully — you don't really see bum-hunting happening as much as you would at lower stakes, and you don't see people gambling with money they shouldn't gamble with or be tricked or deluded into playing in some games. The recreational players for the most part know they might be a bit of a dog, but they want to play with the best, improve, and have a chance to win."
Dvoress has built a particularly close friendship with fellow Toronto native Timothy Adams. They could often be seen traveling and working out together on the road, though that's less common now that Adams has relocated to Finland.
"We're great friends, both in the poker context and outside of it," Dvoress says. "When it comes to poker there's definitely a lot of bouncing ideas and strategies off each other. Off the felt we have similar interests and values as well, so we have a lot of fun during the good times, and have full support and keep each other going during the less good times."
The two maintain a friendly rivalry when it's time to battle, and Dvoress says it's extra rewarding when he's able to get the better of Adams.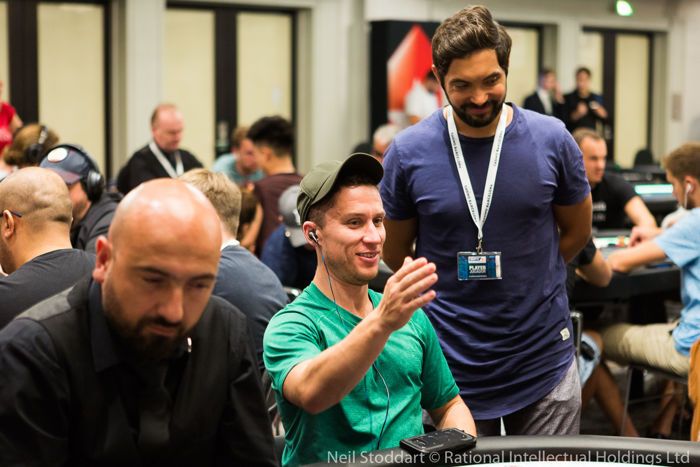 Naturally, when Dvoress' breakthrough finally came with a $4 million win in the Super High Roller Bowl Bahamas last November, Adams responded in kind by winning the next two SHRBs.
Regardless, Dvoress didn't let the win to go his head. He maintains a mindset focused on process, immune to the allure of short-term results.
"I generally stay away from tournament specific goals, or other shorter-term or specific goals that tend to be entangled in variance," he says. "My poker goals tend to be longer-term — my objective with tournament poker is to be the best, or one of the best over a long stretch — measured in years. So for me, consistent results in tough fields as the game continues to evolve is the true goal."
Battle for bracelets on GGPoker by signing up through PokerNews!
A Unique Opportunity
In that vein, and given that he doesn't frequent tournaments in the U.S. including the WSOP, it's no surprise that Dvoress doesn't count himself among the legions of players who covet a bracelet.
"Having said that, this event is quite special," he says. "It of course turned out to be massive, but it's also not an event I would have played in were it not for the special COVID-related circumstances this summer."
Massive indeed as it drew just shy of 6,300 runners for a prize pool just south of $9 million. However, this particular final table offers a bit of a unique challenge relative to other Millionaire Makers the past several years: the structure has resulted in a bunch of incredibly short stacks at the final table. Dvoress' chip lead is anything but secure has he has only 30 big blinds, while the average stack sits at just 11 bigs.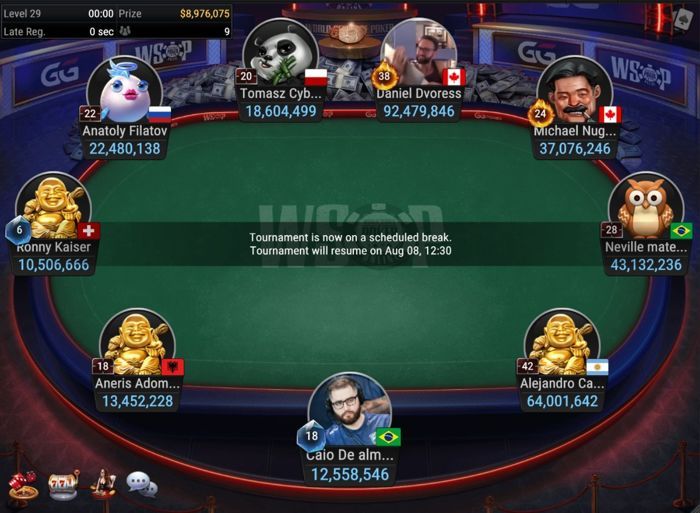 Even a brief run of bad luck could see Dvoress out in a flash. Luckily for the high-stakes vet, he can draw from some relevant experience, though he'll have to dust off skills he seldom uses these days. He specialized in hyper-turbo sit-n-gos several years back, which made him comfortable playing shallow-stacked poker.
Dvoress goes into Saturday's final table mentally prepared to accept the variance and let the results fall where they may. While he admits it's a bit frustrating to be playing super-shallow with seven figures on the line — the top payout is a juicy $1,489,228 — he's prepared to take the spots he needs to take and draw on his skills and solid mental game for what edges he can find.
The final table kicks off Saturday at 2:30 p.m. EDT with cards-up coverage on the GGPoker Twitch channel. Fans can tune in then and identify Dvoress by his real name, or his avatar poking fun at the recent frustrations of a certain famous Canadian player.
"It's nothing personal and I just thought it would be funny," Dvoress says. "Not something I would have done if I didn't think Daniel would take it in stride. I think he had a good laugh about it."
As for Dvoress, he admits that despite his aversion to short-term results, the chance for a bracelet presents a "unique and exciting opportunity" for someone who usually spends his summers paddling through the Canadian waters with three-bet frequencies and big-blind defense ranges the furthest thing from his mind.
"While a bracelet wouldn't be the difference between success and failure, it would be a way to leave my mark in the WSOP forever," he says. "And who doesn't want that?!"
Follow Daniel Dvoress on Instagram and Twitter. He's also a long-time coach for Run It Once training.