Daniel Dvoress: World's Best Poker Player Without a Trophy
He has $6,009,302 in live tournament cashes, but not a single win. $3,874,454 of that came in 2017, but still without a single winner's photo. Daniel Dvoress is arguably the best player in the world without a trophy on his mantle. We caught up with him in the first break of the €50,000 Super High Roller event at the PokerStars Championship Prague to talk about the best year of his poker career.
"2017 was kind of a blur for me actually, it's the most traveling that I've done for poker," Dvoress said. "It was just from one trip to the next."
Back in Barcelona, Dvoress was looking back at his year until then, and couldn't even distinguish between some of the events.
"Looking back on it now, it was a nice year obviously, but at the time it was happening, I didn't even realize what happened when," he said. "All the tournaments had kinda blurred together. I knew I was doing well, but it really never fully came together."
Yes, 2017 was a busy year for Dvoress, as he found himself constantly on the move, flying from one event to another. He didn't see too much of his home in Toronto; 2017 was the year he was in transit or playing just about all the time. Yet, he's not too tired of the traveling. He's not jaded like some others get after an intense year on the grind.
"I wouldn't say tired," he said. "It's definitely mentally draining but also very enjoyable. It's like playing poker for an entire day; it's very enjoyable but at the end of the day you just really want to go to bed."
"A casino in Vegas in the summer is just not necessarily where I want to be, you know?
Dvoress says he's become better at taking breaks from poker. The summer, when a lot of poker players gather in Vegas for the WSOP, is a time Dvoress moves away from the game for a bit.
"The WSOP is not really my thing," he said. "First of all, I really like Toronto but I'm never actually in Toronto. Toronto is really nice in the summer. It's kind of my time off poker where I just enjoy time with friends.
"Also, I wouldn't be playing any of the high stuff in Vegas anyway, because it's a little weird for Canadians in terms of how taxes work and the withholding."
He might visit Vegas this summer and play the Main Event, but that's about it.
"A casino in Vegas in the summer is not just not necessarily where I want to be, you know?" he said. "And I feel like I deserve some time off and the summer seems to be the best time to take a break."
While many poker fans might imagine a glamorous life of travel for high rollers, the reality of it is that time spent traveling adds up quickly. Dvoress estimated he's spent two weeks of his year on planes or in airports.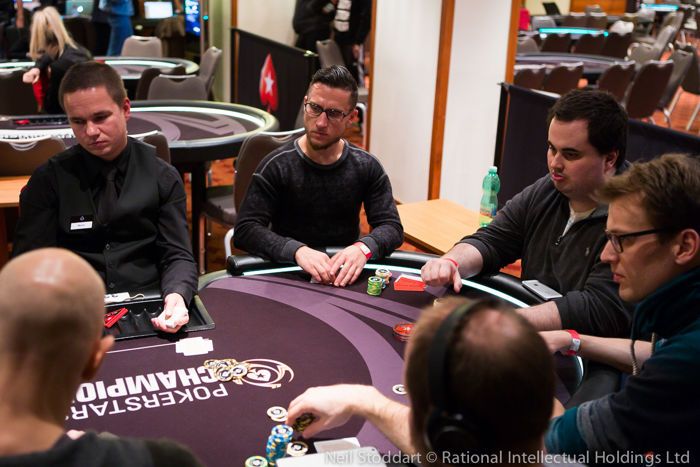 The PokerStars Championship Prague is just starting, but the year is almost ending. For Dvoress, though, there's no real difference. While January will be 2018, it doesn't change much for him. He's only looking ahead to the next tournament.
"I don't look at it like that," he said. "I don't really make plans. I know I'm going to the PCA. Beyond that I probably go to Barcelona in August, I'm assuming that's going to be a stop. And I'll go to Macau again, I'm assuming that's another stop. But other than that, I have no plans."
2017 was the best year of Dvoress' poker career, racking up millions in cashes. He scored seven $100,000+ cashes this year:
| Month | Tournament | Event | Position | Prize in USD |
| --- | --- | --- | --- | --- |
| January | PSC Bahamas | $100,000 Super High Roller | 4th | $576,300 |
| January | PSC Bahamas | $50,000 High Roller | 8th | $125,900 |
| March | PSC Panama | $50,000 Super High Roller | 2nd | $372,360 |
| April | PSC Monte Carlo | €100,000 Super High Roller | 3rd | $908,595 |
| April | PSC Monte Carlo | €50,000 High Roller | 2nd | $710,108 |
| April | PSC Monte Carlo | €25,000 High Roller | 7th | $108,998 |
| October | ACOP Macau | HK$800,000 Super High Roller | 4th | $766,114 |
"I'm the master of coming second to seventh," Dvoress laughed when looking back on the year that was. "I've actually had this sort of conversation with a few friends. I think, maybe if you discount some people that came second in the [WSOP] Main Event, I probably have the most cashes without a win."
"Accumulated, I've spent like two weeks in an airplane or airport this year."
Dvoress blames variance for his trophy cabinet being empty.
"The times that I got heads up I was usually pretty short stacked, it's kind of how final tables have run out for me," he said. "When you're playing tournaments with such high buy-ins, you're gonna rack up a lot in cashes, but a lot of the times you'll come sixth for like $300,000 or something."
With playing high buy-in events, stats like the ones above might easily skew once's perception of who's doing well. While Dvoress and a lot of his peers have millions behind their names in cashes, the costs of travel, accommodations, and especially buy-ins shouldn't be underestimated.
Dvoress admits he isn't the most prolific bookkeeper.
"There's not really any accounting, I just play whatever stuff runs," he said. "It's not like there's that many choices in terms of where or what to play if you're playing live. I just play all the big stuff. I do pretty loose accounting but it doesn't really help figure out where you're at."
But don't get him wrong, Dvoress does keep track of what he's spending and what's coming in, just not on a day-to-day basis influencing his decision what to play.
"I do accounting to know how much money I have, but usually, it's done like two months after an event, summing up the last two months of play," he said. "I know what pieces I take of myself in tournaments and which tournaments I've played of course, but it doesn't influence what I'm going to play."
Some players grow tired of poker after a while, or have a pessimistic view of what's to come. Cullen "cumicon" Connors, who announced his retirement from poker not too long ago, was just the latest in a long list of players showing a bit of a negative view of the game after playing for years.
Dvoress, though, isn't among that number. He's as positive as they come as he sees nothing but growth for the particular domain of poker in which he's specialized and excelled it over the years: live high roller events.
"I think the environment is pretty good to be a professional playing the high rollers," he said. "It seems to be sort of the one niche in poker, the one part of poker that's not slowing down."
"I'm the master of coming second to seventh"
The high stakes cash games scene online has seen a steep decrease in tables running, and the same goes for high stakes sit-n-gos, according to Dvoress.
"But as far as the numbers the high rollers get, they've been pretty consistent," he said. "I think they're even increasing. If anything, the high rollers have been either stable or in an upward trend. For the next year or two, I hope that continues."
Dvoress realizes that with high stakes online decreasing, that might speed up high stakes online players transitioning to live high rollers events. Ben Tollerene, who won the Super High Roller in Panama this year, might be the most prime example of great online players devoting more time to playing live poker tournaments these days.
The move makes sense to Dvoress for a couple of reasons.
"Why people like Ben are making the transition from online to live, I think it's a combination," he said. "Yes, there's a lot of value, but also there's fewer games to play online. I'm sure that if $200/$400 PLO ran daily, Ben would be playing that. I'm sure there's a lot of people like that. These high roller events are the natural progression."
Still, that doesn't seem to worry Dvoress too much.
"They just might get a little bit tougher..."