Kassouf Back in Prague and Bringing "Fun Factor" After 2016 Win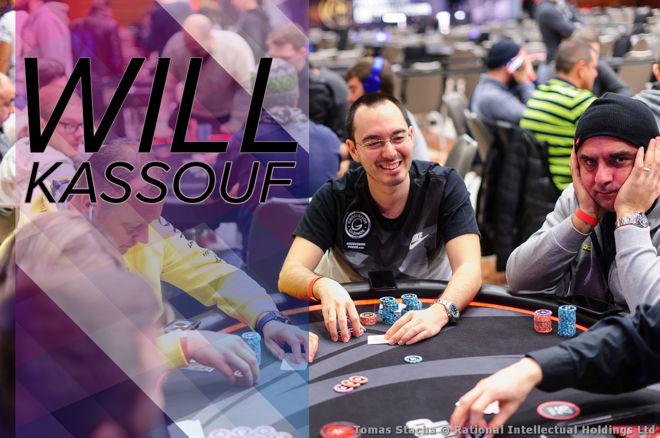 One year later, Will Kassouf has returned to the site of his arguably his greatest triumph. In true Kassouf fashion, of course, it didn't come without riling some people up.
This time last year, give or take a week, Kassouf navigated through a strong field of 407 entries in the European Poker Tour Prague €10,300 High Roller to get heads up with Canadian pro Patrick Serda. The two struck a deal that proved a bit controversial, spurring debate about what it really meant to win a tournament.
Kassouf, at a chip disadvantage but eager to claim the title of EPT High Roller champion and make a prestigious trophy his, negotiated an official first-place finish but ceded a majority of the money to Serda. The talkative Brit earned €532,500, while Serda's "second-place" finish paid €719,000.
"I've got to thank the haters for hating."
Some scoffed at Kassouf's win, accusing him of buying a trophy. However, few would argue that negotiating skills in deals are a part of the game, and Kassouf contends that he simply struck a bargain that made sense for him.
"I was more interested in the title and the trophy, from a business point of view," he said on break from the €1,100 PokerStars Championship Prague National Championship. "It made sense for endorsements and sponsorship deals, et cetera with the year I had to take a trophy to wrap up the year."
Indeed, Kassouf can now be found patched up at any tournament he attends. The money certainly wasn't peanuts either, especially considering Kassouf satellited in for €1,500.
"On my birthday, no less," he said of the score. "It was a sweet victory. I was short at the final table, too. Can't complain."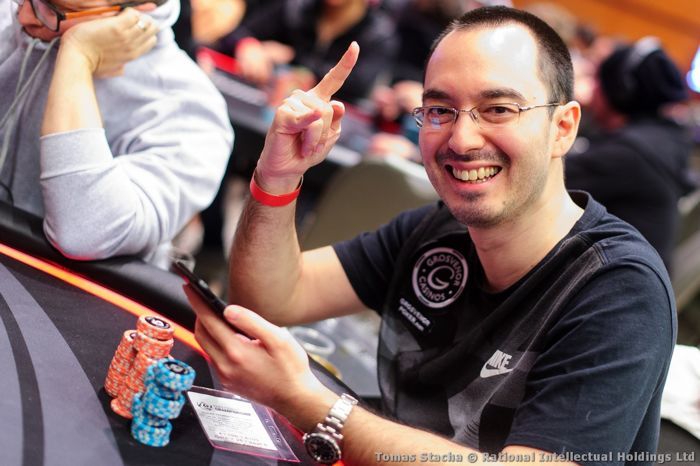 Serda, for his part, told PokerNews earlier this year he was happy pocketing an extra €10,000 over chip chop value, and he thought the deal was a good one for both players furthering their goals in poker.
Asked about the reaction the deal got in the poker world, Kassouf grinned and offered a typically Kassouf-ian response.
"Haters gonna hate at the end of the day," Kassouf said. "I've got to thank the haters for hating."
The outspoken Brit said, far from resenting those who scorn him, he embraces the controversy he brings. The game wouldn't be any fun if everyone played the same way, and the world would be a more boring place if people didn't have clashing opinions.
Kassouf particularly appreciated a poll from PokerStars Team Pro Daniel Negreanu's Twitter feed, wherein the famed Canadian asked whether players loved or hated Kassouf. The object of the poll himself recalls the split being tilted only slightly in his favor, and that's just fine by him.
Plus, he believes his table demeanor does the game of poker good in the long run.
"Poker needs characters in the game," he said. "It's a dying game if people wear hoodies and headphones and say nothing for 12 hours."
"It's good to bring the fun factor back."
Regardless of how one feels about the legitimacy of Kassouf's official first-place finish, there's no doubt that placing so highly in such a tough field as an EPT €10K is an accomplishment worthy of pride. Kassouf admitted it felt good to prove to himself and the world that his 17th-place finish in the 2016 World Series of Poker Main Event, which brought him such notoriety and celebrity in the poker community, wasn't a one-off fluke.
Here in Prague, he's in contention for a hefty prize of €338,000 prize in the National Championship, finding himself in contention with under 200 players remaining out of a massive field of 2,117. While that would certainly be a sizable score, and the upcoming €10K allows Kassouf a shot to defend his title, the Brit has his sights set squarely on a deep run in the Main Event.
No matter which events he finds himself playing, he can't let his guard down. His relatively newfound poker celebrity and motor-mouthing ways have made him a target.
"A lot of people try to bluff me with nine-high like a boss, show it," he said with a smile, referencing his famous line from the 2016 WSOP. "I embrace it, I love it. It's good for the game, to get recreational players into the game and enjoying the game.
"It's not great when you've got a bunch of nits playing solid poker and nobody's saying anything. It's good to bring the fun factor back."
The Stars Group is a majority shareholder in iBus Media