The Online Railbird Report: The 7-Game Renaissance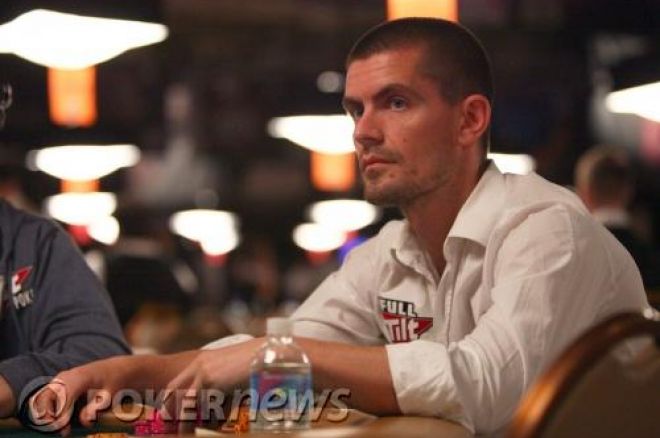 This week, the high-stakes action on Full Tilt Poker moved away from the regular crowd's usual haunt at the $500/1,000 pot-limit Omaha tables and onto the $2,000/4,000 7-Game tables. Perhaps in an attempt to exploit some players' weaknesses at the limit games, Gus Hansen led the charge toward the new format and was able to book some profitable sessions, erasing some of the $1.2 million in losses he accrued during the month of September. Also enjoying a winning week were Phil Ivey and Patrik Antonius, who both booked million-dollar wins as well as Brian Townsend, who successfully took on Tom "durrrr" Dwan at pot-limit Omaha.
Hansen, Ivey Score in 7-Game
This week's high-stakes migration to the 7-Game tables proved the most profitable for mixed-games master Phil Ivey, who raked in over $1.1 million in a single night. Though Gus Hansen served as the game catalyst, drawing action from Tom "durrrr" Dwan, Phil "OMGClayAiken" Galfond, Chau Giang, and David Oppenheim, he was the only player aside from Ivey to score a win, raking in a modest-for-these-stakes $68,000. Giang and Oppenheim sustained losses in the $250,000 range while Galfond and Dwan took the biggest hits, dropping $444,000 and $343,000 respectively.
However, Ivey's seven-figure surge turned out to be temporary; he dropped about $330,000 of those earnings back into the high-stakes economy the following evening. Picking up most of those crumbs was Ilari "Ziigmund" Sahamies, who booked a $336,000 win.
Hansen continued to pop on and off the 7-Game tables all weekend, luring in even more notables including John Juanda, Abe "EasyPeazy" Mosseri, Patrik Antonius and "DIN_FRU," who is widely believed to be Swedish pro Erik Sagstrom. A few more profitable sessions left the Great Dane with a nearly $220,000 win while DIN_FRU (-$363,000), Juanda (-$193,000) and "458854" (-$344,000) ended up deep in the red.
One of the larger (and more peculiar) pots of the day came during the pot-limit Omaha rotation, Ilari Sahamies opening for $3,000 from the button and Hansen three-betting to $9,000 from the big blind. Sahamies called and they saw a flop of
. Hansen led out for 18,000 and Sahamies smooth-called. The turn cames the
and Hansen moved all-in for his remaining $30,193. It didn't take long for Sahamies to make the call, his
in bad shape against Hansen's top pair and flush draw with
. The river was the
, Sahamies missing his straight draw as Hansen raked in $114,385 with two pair.
Townsend Takes $200k off Dwan
After a losing 2008 that saw him drop hundreds of thousands playing high-stakes pot-limit Omaha, Brian Townsend studied up, re-examined his game, and ground his bankroll back up at the $25/50 and $50/100 tables. Now, he's back taking shots at the nosebleed stakes, sitting in with Tom "durrrr" Dwan for a heads-up $200/400 match. The two duked it out for about 200 hands, and though Dwan won the session's largest hand at $144,000, Townsend pretty much wiped the floor with him, booking a $200,000 win. Townsend's reads seemed dead-on throughout their battle and were especially keen in this pot where he picked off a double-barrel bluff.
Townsend opened for $1,200 on the button, Dwan three-bet to $3,600, Townsend four-bet to $10,800 and Dwan made the call. Both players checked the
flop. Dwan fired out for $8,400 when the
hit the turn and Townsend smooth-called. The river fell the
and Dwan took one more shot at the pot, moving all-in for $22,995. Townsend snap-called, turning over
for the turned straight. Dwan's
added up to nothing more than two pair and Townsend took down the $84,391 pot.
Antonius Fleeces Galfond and Sahamies for a Half Million in PLO Battle
Though the vast majority of this week's action centered on the 7-Game tables, many of the nosebleed regulars still found time for a little pot-limit Omaha. Monday night saw Patrik Antonius, Ilari "Ziigmund" Sahamies, and Phil "OMGClayAiken" Galfond visit the $300/600 and $500/1,000 PLO tables for some heads-up and three-handed action, Antonius emerging as the night's big winner with a $538,000 haul. Though they didn't play for long (only 237 hands) five pots topped the $150,000 mark, the granddaddy of them all coming in at a massive $277,000.
In the aforementioned monsterpotten, Antonius opened for a $2,000 raise, Sahamies popped it to $6,200 and Antonius called. Sahamies led out for $12,600 on the
flop, Antonius making the call. The turn came the
and Sahamies fired a second bullet for $37,800. Antonius moved all-in for $142,189 and Sahamies made the call, turning over
for top pair, the nut flush draw and a gutshot straight draw while Antonius showed
for top two pair. The river blanked out for Sahamies, the
falling to give the $276,980 pot to Antonius.
Galfond and Akery Flip for $60k…26 Times
While the $2,000/4,000 7-Game tables filled up on Tuesday night with the likes of Tom Dwan, Phil Ivey, and David Benyamine, Phil Galfond and Rob "Vega_Lion" Akery decided to gamble it up instead. Sitting at a $500/1,000 no-limit hold'em table with a $60,000 cap, the two decided to take a series of "flips," each player putting in $30,000 before the flop and checking down each street. Galfond and Akery took 26 $60,000 flips in all, Galfond winning 17 of them for a tidy $120,000 profit.
Who's Up? Who's Down?
This week's biggest winners (10/7-10/14): Patrik Antonius (+$1.34 million), Phil Ivey (+$984,000), Brian Townsend (+$362,000).
In the red: Chau Giang (-$551,000), Slick Puppy (-$496,000), David Oppenheim (-$488,000).
Top 5 earners, 2009 to date: Patrik Antonius (+$4.99 million), Ashton "theASHMAN103" Griffin (+$3.6 million), Richard Ashby (+$3.18 million), Phil Ivey (+$2.74 million), Cole South (+$2.73 million).
Bottom 5 earners, 2009 to date: Sami "LarsLuzak" Kelopuro (-$3.87 million), Gus Hansen (-$3.27 million), David Oppenheim (-$2.01 million), David Benyamine (-$1.32 million), papa ninja (-$1.25 million).
Hungry for action? The highest-stakes games on the 'net all take place on Full Tilt Poker. Open an account today, and don't forget to follow us on Twitter for even more up-to-the-minute news.