2010 PaddyPowerPoker Irish Open Day 1: Hawkins Ascends Towards The Top of the Leaderboard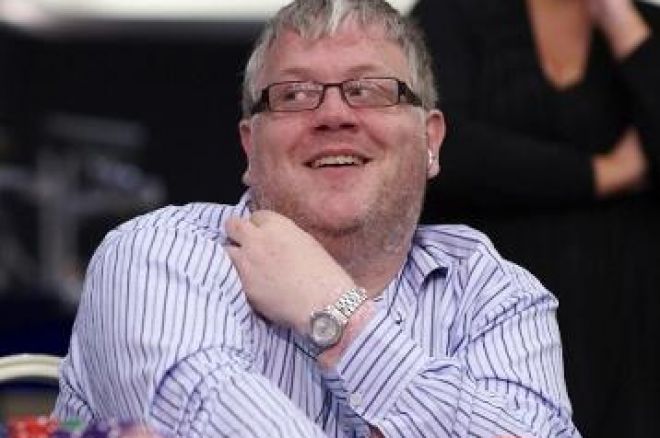 The 2010 PaddyPowerPoker.com Irish Open got underway today with a record tying 708 players, making this year's installment of the oldest poker tournament in Europe, the biggest ever. Today was Good Friday, but it was especially good for Keith Hawkins who finished the day, possibly as the chip leader with about 100,000 and toward the top of the leader board with 264 remaining players.
Hawkins built up slowly early on before really hitting his stride in the third level. With stacks starting out relatively shallow compared to European Poker Tour events, Hawkins' large stack was able to exude a lot of pressure on those who were stuck with their starting stack. Gradually he built himself up to 80,000 before getting into several battles with young English online player Marc Wright, the highlight being Hawkins four-betting Wright, prompting a fold from Wright who flashed a three. Hawkins reciprocated by showing a deuce! Hawkins then finished off the day in style holding the ace of spades, needing one more with the board showing three, and catching it on the river to add an extra 17,000 to his stack which put him over the 100,000 mark
Jen "Djinn" Mason, who has blogged for PokerNews in the past had a good day also, calling two streets on a
board with only
which was good, she also checked quads not once, twice but three times allowing her opponent to hit their straight on the river, and go broke.
Sorel Mizzi, Michael Greco, Ross Boatman and snooker player Ken Doherty all made it through to Day 2 with reasonable stacks, but the last players standing from last year, Christer Johansson and Kara Scott, both were eliminated. Scott was busted on one of the last hands of the day, pushing with an open-ended straight draw, and running into an opponent with a flush draw. The flush got there, and Scott was eliminated.
EPT champions also had mixed fates with Arnaud Mattern, Julian Thew and Will Fry making it through the day, while Sandra Naujoks and Jake Cody were both early exits. The feature table, it seemed was a table of death for some of the more famous participants as Padraig Parkinson, Teddy Sheringham and Brian Townsend all went out while under the camera's glare.
Day 2 will restart tomorrow at 2 p.m. at the Burlington Hotel in Dublin as the remaining players look to play possibly into the money. Keep your browsers locked on PokerNews for all your updates.
Be sure to follow us on Twitter and Facebook for up-to-the-minute news and updates.