2009 WSOP: Mizzi Leads Last 11 in PLO #35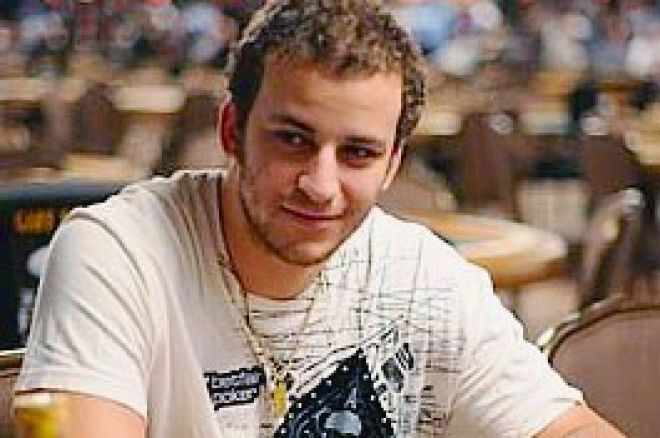 Day 2 of Event #35, $5,000 Pot-Limit Omaha, kicked off Thursday afternoon with 64 players looking to make their way to the final table. Jesper Hougaard entered Day 2 action with the chip lead at 208,500, but a strong field stood between him and the final table. Still in contention were Cliff "JohnnyBax" Josephy, Chris "Jesus" Ferguson, Fabrice Soulier, Sorel Mizzi, Isaac Baron, Van Marcus, Sandra Naujoks, and David "Devilfish" Ulliott. Sorel Mizzi will enter Day 3 as the new chip leader with 969,000.
Isaac Baron went on a rush early in the day. First, he eliminated Ryan Fee to move up to 190,000 in chips. After Baron raised the pot 42,000 preflop, Fee moved all in and was called by Baron. Fee held
and Baron
. Fee flopped a pair of tens, but the turn and river failed to improve his hand Fee was sent packing. A few hands later, Baron took another large pot to increase his stack. The board at the river was
and Baron's opponent bet 25,000 into a pot approaching 100,000. Baron made the call and his opponent mucked before Baron could show. Baron tabled
and his ability to pick off his opponent's bluff moved him up to 270,000.
Both Chris Ferguson and Padraig Parkinson failed to make the money in this event. Parkinson was all in on the flop of
with
. Rifat Palevic made the call, having flopped a flush with
. The board failed to pair and Parkinson was eliminated. Palevic later claimed another victim in Chris Ferguson. Ferguson was all in preflop against both Palevic and Jeff Lisandro. Palevic bet Lisandro out of the pot at the river and revealed queens full to send Jesus to the rail. After the two eliminations, Palevic moved up to 345,000 in chips.
Just 36 players finished in the money for this event. At the bubble, David Ulliott was all in but flopped a nut flush to double up to 58,000. Sandra Naujoks was not as fortunate. Naujoks and Clayton Newman were both all in against Richard Austin on the
flop. Naujoks held
for top set, Austin held
for a flush draw and open-ended straight draw, and Newman held
for a wheel. The turn fell the
and river the
to allow Newman to triple up and send Naujoks home three spots shy of the money.
Tex Barch was very active at the bubble and it resulted in his eviction as the bubble boy. First, he doubled up through Richard Austin with aces up to move up to 60,000. Rather than be content to squeak into the money, he decided to play another pot with Austin. This time, at the turn of the
board, Barch called all in with
for the nut straight. Austin held
for the sucker end of the straight and a straight-flush draw. The river fell the ultimate disaster card for Barch when the
peeled off to give Austin a steel wheel. At least Barch can go home saying he lost to a straight flush and not a missed draw.
Shortly after the bubble burst, Jonathan Cantor doubled up through Jeff Lisandro to leave Lisandro with just 2,000 in chips. Cantor moved in on the flop of
with
for top two pair. Lisandro made the call with
for a wrap straight draw. The turn brought another ace to give Cantor a full house and leave Lisandro drawing dead. Jeff Lisandro never recovered and was knocked out shortly after the dinner break.
As is the norm, several players were eliminated right after the bubble burst. Among those were Justin "BoostedJ" Smith, Allen Bari, and Nikolay Evdakov. Evdakov put the rest of his chips at risk on the flop of
with the marginal hand of
. He was behind to Mike Watson, who flopped trip fours with
. Evdakov had five outs to win, but the turn fell the
and river the
to send Evdakov to the rail.
Sorel Mizzi emerged the victor in a huge confrontation with Jesper Hougaard and Isaac Baron to become the chip leader shortly after dinner. On the flop of
, Hougaard checked to Mizzi, who bet 33,000 into a pot of 48,000. Baron got out of the way and Hougaard check-raised to 105,000. Mizzi then moved in for 317,000 and was called. Hougaard held
for the nut straight and Mizzi held
for two pair, a straight draw, and a flush draw. The turn fell the
to improve Mizzi's two pair, and the river
completed Mizzi's flush and doubled him up to 660,000.
Hougaard could never recover from the loss to Mizzi and he was soon eliminated by Isaac Baron. On the flop of
, Baron moved in and Hougaard called all in for less. Hougaard held
for a pair of sevens and gutshot straight draw, and Baron held
for a pair of aces. Baron improved to a set when the
fell on the turn, and Hougaard picked up a flush draw. The river was the
and Hougaard was felted. Hougaard began the day as the chip leader and after a disastrous couple of hands, went home in 23rd place.
The swings in pot-limit Omaha are massive; a mountain of chips can be reduced to rubble very quickly. Ralph Perry was a prime example of this. Perry was sitting with nearly 500,000 in chips with 16 players left, but he wound up finishing in 14th place. First, he doubled up Van Marcus after putting Marcus all in with just a straight draw. Marcus held aces and made the call. By the river, Perry missed his draw and Marcus improved to trip nines to move Marcus up to 460,000 while Perry dropped to 266,000. Perry then ran a failed bluff against Jeppe Nielsen and dropped to just 130,000. Perry folded away most of his chips in hands against Jeppe Nielsen and Isaac Baron to leave himself with only 5,000. He was able to double up to around 10,000 but eventually lost them to Cliff Josephy. Both players made kings up by the river, but Josephy had Perry outkicked, and Perry's freefall was complete.
Play was suspended at 3 a.m. with 11 players remaining in the event. Sorel Mizzi ended the day as chip leader with 969,000. Rifat Palevic finished in second chip position for the second day in a row with 949,000. Cliff Josephy is third at 805,000. Play will resume Friday at 1 p.m. PDT and continue until the bracelet is awarded. Stay tuned to PokerNews.com as we bring you the conclusion to this exciting event.