2009 WSOP: Hougaard Tops Leaderboard in PLO #35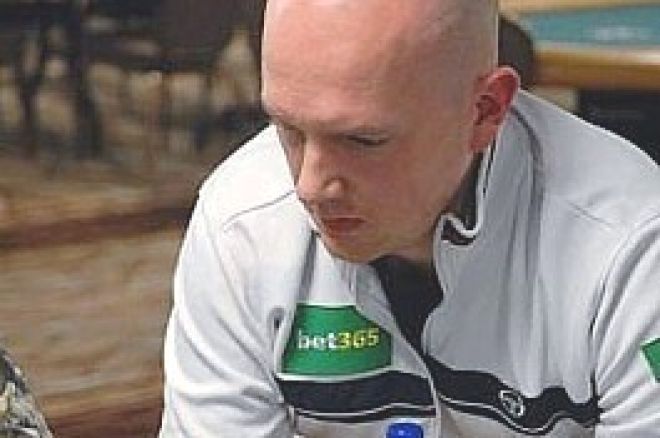 Event #35, $5,000 Pot-Limit Omaha, kicked off Thursday afternoon. Many players in the field viewed this event as a tune-up for the upcoming $10,000 PLO World Championship. As expected, this event drew out many of the high-profile pros and Omaha specialists. Among those in the field were Lee Watkinson, Humberto Brenes, Erik Seidel, Barry Greenstein, Ted Lawson, Shaun Deeb, Jeff Lisandro, Carlos Mortensen, Hevad Khan, John Juanda, Erick Lindgren, Vanessa Selbst, and "Mr. Omaha" Robert Williamson III. By the end of Day 1, Jesper Hougaard held the chip lead with 208,500 heading into Day 2 action.
This event had the largest increase in numbers year-over-year of any event so far in the 2009 WSOP. Last year, 152 players entered this event. This year, the event drew 363 players, an increase of 138 percent. Part of the reason is likely due to the WSOP eliminating rebuys from its schedule. Last year, there were 483 rebuys in the event, or an average of three per person. This made the average cost to play $20,000 per player. With the elimination of rebuys, this event became appealing to a wider range of bankrolls.
In Omaha, if you are hitting your draws and catching cards, you can accumulate chips very quickly. Matthew Kirk was up to around 36,000 chips by Level 2 and had the early chip lead. Sandra Naujoks was up to 26,500 early after knocking out an opponent with A-A-J-5. Her opponent held K-K-5-3 and was unable to connect on the board. Vanessa Selbst was not as fortunate. She was all in on the turn with the sucker end of a straight against the flush draw and set of another opponent. Her opponent hit his flush on the river and Selbst headed out before the end of the add-on period, an unlikely occurrence had this been a rebuy event.
Several players decided to come in around Level 3. Annie Duke, Howard Lederer, Johnny Chan, Steve Sung, and multi-bracelet winner Phil Ivey took the fashionably-late approach to tournament play. Marcel Luske welcomed Ivey to his table by doubling up through him. He hit a straight draw against Ivey on the river to move up to 7,000. Ivey then proceeded to not only win a couple of other pots, but also take his chips back from Luske plus more. Ivey put Luske all in on the board of
and Luske called. Ivey showed
for a rivered full house and moved up to 24,000 in chips. Luske reloaded with his remaining add-on chip. Ivey later eliminated Lyle Berman from the tournament. Berman was all in on the flop with a flush draw, but Ivey turned a wheel to send Berman packing. Ivey was up to 50,000 with that pot, only about an hour after beginning play.
Andrew Chen may have found the only way to stop a surging Phil Ivey, and that was by catching a straight flush against him. Five players went to the
flop and checked around. The turn fell the
and Ivey bet out for 2,000. Andrew Chen raised to 16,000 and action was folded to Ivey, who proceeded to raise to 16,000. Chen flat-called the bet. The river was the
and Ivey bet the pot. Chen moved in and Ivey called all in for less. Ivey tabled
with two other cards for quad sixes. Chen flipped over
with a ten and a seven for a flopped straight flush. Phil Ivey was eliminated and Andrew Chen became the chip leader with 90,000.
Jeff Lisandro chipped up after eliminating Dan Heimiller, who fell victim to a flopped straight from Lisandro. Heimiller's chips moved Lisandro's stack up to 44,000. A strange pot later propelled Jeff Lisandro into the chip lead with 107,000. On the flop of
, Lisandro put his opponent all in and was called. His opponent claimed to have flopped the nuts, and after revealing his
, the player claimed to have the second nuts. Lisandro flipped over
and waited for the board to fill out. The turn fell the
and the river the
, and Lisandro's kings up held against the "nuts" of his opponent.
A new champion is guaranteed for this event as defending champion Phil "OMGClayAiken" Galfond fell during Day 1 action. Galfond flopped middle set against the top two pair of his opponent. However, the turn brought his opponent a better full house and Galfond hit the rail. John Juanda soon joined him after Scott Clements hit a runner-runner flush to oust Juanda. Daniel Negreanu was the victim of Marcel Luske. Luske was able to run his add-on chips up to over 40,000. Howard Lederer did not have as much luck as he was eliminated by the runner-runner flush of Jamie Rosen.
Moving into the latter part of the day, Cliff "JohnnyBax" Josephy moved into the chip lead with 156,000. David "Devilfish" Ulliott was another player over 100,000 late in the day. He got there after doubling through Jesper Hougaard. Ulliott was all in on the flop with a pair of kings and flush draw against two pair and the weaker flush draw of Hougaard. The river filled Ulliott's flush and he moved up to 109,000. Tex Barch knocked out Ted Lawson in a classic kings-vs-aces Omaha scenario. Lawson was all in with
and Barch held
. Both players picked up straight draws on the flop, but neither draw completed. Barch's aces held and he moved up to 98,000.
Jesper Hougaard took the biggest pot of the day to move into the chip lead at the close of play. On the flop of
, Hougaard bet out and was raised by his opponent to 23,200. Hougaard bet pot and his opponent called all in. The pot was worth 200,000. Hougaard held
for aces and a Broadway draw. He found himself behind and needing one of four outs when his opponent revealed
. The turn fell the
, giving Hougaard Broadway and leaving his opponent needing the board to pair. The river was the
and Jesper Hougaard moved up to over 200,000 in chips. He added to his stack a few hands later when he eliminated David Benyamine.
Jesper Hougaard finished Day 1 as the chip leader with 208,500 in chips, just edging out Rifat Palevic who was next in line with 207,400. Among the 64 players left in contention are Sorel Mizzi, Cliff Josephy, Sandra Naujoks, Sam Khouiss, David Ulliott, Van Marcus, Chris "Jesus" Ferguson, and Tex Barch. Day 2 will kick off at 2 p.m. and is scheduled to play until the final table is reached. Stay tuned to PokerNews.com as we bring you all the action from the 2009 World Series of Poker.