2009 WSOP: Boatman Heads #30 PLO Final, Soulier Leads HORSE #31, Jing Tops NLHE #32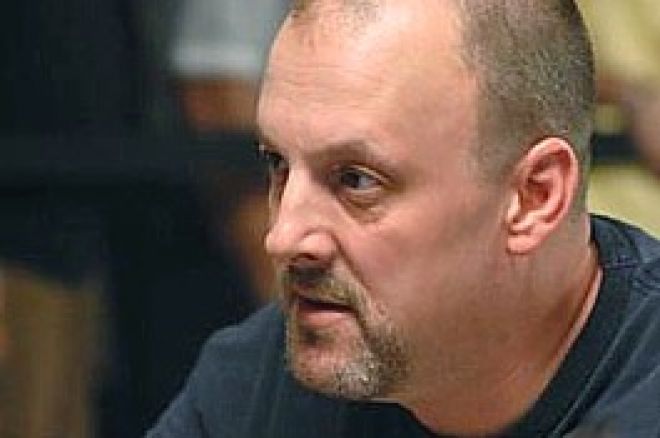 $2,500 Pot-Limit Omaha Event #30, Day 2 – Boatman Sails into Final Table with Chip Lead
After nearly 12 hours of play on Day 2 of Event #30, $2,500 Pot-Limit Omaha, the final table is set, with Hendon Mobster Ross Boatman carrying the chip lead into the final table. Boatman closed out the day with 718,000, well-ahead of his next-closest rival, Jeff Kimber with 525,000. Theo Jorgensen and J.C. Tran follow next, on stacks of 419,000 and 387,000 respectively, while John Juanda will come to the final table as the short stack with 129,000.
The tournament began with 436 runners, only 61 of whom survived the first day's carnage to start the Day 2 scramble for the 45 paid spots, with J.C. Tran out in front. He stayed near the front of the pack for much of the day, but plummeted late when, in an unlikely series of hands, he doubled up first John Juanda, then Dallas Flowers (twice), and Ross Boatman.
Vitaly Lunkin lasted less than 20 minutes into the day. He and Rami Boukai were the only two players to see the flop of
. When Lunkin pushed from the small blind, Boukai called and the hands were tabled: Lunkin had
for bottom pair and the nut flush draw, while Boukai had
for top set. When the
fell on the turn, Boukai made his full house and Lunkin was drawing almost dead. Hoyt Corkins also hit the rail at about the same time.
The money bubble was burst in dramatic fashion just after the first break when Andy Bloch's aces were cracked by Mikey Stotz. Bloch got the last of his chips in before the flop from the small blind with
, and Stotz made the call from the big blind with
. The board ran out
, Stotz making a straight. The dealer, however, did not realize this and pushed Bloch the pot while mucking Stotz's cards. It took tablemate Joe Beevers speaking up to halt the dealer's action, as Beevers pointed out the correct winner.
Phil Ivey lost a big pot just before Bloch's ouster and just barely made it to his fourth cash of WSOP 2009, ending in 44th place for $4,883. He got his last 6,100 chips into the middle on a six-way limped flop that fell
. Everyone in the hand folded except for Isaac Baron, who held
for trip tens versus Ivey's
for a wrap draw that didn't come when the board finished with the
and
.
David Chiu made it to 15th place ($13,026). J.C. Tran opened the bidding for 22,000 from early position with
. Chiu moved all in for 46,000 total with
, and Tran called. Chiu's aces were safe on the
flop and on the
turn, but Tran rivered the
to make a six-high straight.
The final table was locked into place shortly before 2:00 a.m. Leif Force (tenth place, $17,488) moved all in from under the gun, Theo Jorgensen called from middle position, and Jeff Kimber re-potted to 228,000 behind him. Jorgensen got out of the way and the cards were turned up. Force showed
to Kimber's
. The dealer put out
, giving Kimber the winner with aces and eights.
Other notables in money but not returning for the last day of competition included Joe Beevers, Noah Boeken, and Eli Elezra.
The final table will be set as follows:
Seat 1 - Jeff Kimber (525,000)
Seat 2 - Rami Boukai (325,000)
Seat 3 - Dallas Flowers (239,000)
Seat 4 - Ross Boatman (718,000)
Seat 5 - J.C. Tran (387,000)
Seat 6 - John Juanda (129,000)
Seat 7 - Theo Jorgensen (419,000)
Seat 8 - Chad Layne (206,000)
Seat 9 - Jean-Philippe Leandri (324,000)
They will be competing for $235,685 – the winner's share of the $1,002,800 prize pool – and some WSOP wrist bling. The final table is scheduled to begin at 2:00 p.m. PDT Tuesday.
$1,500 HORSE Event #31, Day 2 – Soulier Races to the Front of the Field
The much larger field in Event #31, $1,500 HORSE, really had no chance of getting down to a final table before the 3:00 a.m. curfew, starting their Day 2 with 221 players and Eric Kurtzman in the chip lead. They did get to a manageable 23, with Fabrice Soulier ending the day as the chip leader on a stack of 351,000. Shannon Shorr is right behind him with 323,500, followed by Mitch Schock in third with 285,000. The returning players will undoubtedly be facing a very long Day 3.
Several notables went down in defeat before reaching the cash. These included Thor Hansen, Marcel Luske, Barry Greenstein, Anna Wroblewski, Annie Duke, Perry Friedman, and Shannon Elizabeth. The money bubble broke just after 9:00 p.m., after which the usual spate of bustouts began. Prominent names among them included Doug Saab, Marco Traniello, Frankie O'Dell, Peter Feldman, Thor Hansen, Keith Sexton, David Singer, Andy Black, and Bryan Devonshire.
"Quiet Lion" Richard Brodie was eliminated in 34th place ($4,372). He was all in preflop with
against Shannon Shorr and a third player. The board ran out
, with Shorr betting the flop and calling a check-raise, calling the turn, and then betting the river. Brodie's third-nut flush was no good against Shorr's
for the nut flush.
Rodney Pardey, owner of two bracelets in stud as well as a second-place finish in Event #16, $1,500 Seven-Card Stud, just last week, was ironically knocked out during a round of his best game. He ended in 32nd place ($4,540) at the hands of Joe Serock in the following hand:
Serock: (X-X)
(X)
Pardey: (X-X)
(X)
Kathy Baxter: (X-X)
-FOLD
Serock brought in and then Pardey completed. Baxter called and then when action got back to Serock, he raised. Pardey and Baxter both called. From there, Serock bet on all streets when action was on him. Baxter stayed with her hand until fifth street, where she folded. Pardey stayed all the way and ended up all in on sixth. At that point, Serock showed his
in the hole. Pardey had a wired pair of eights with
. On seventh street, Serock peeled the
, leaving Pardey with outs to any two pair or trips. He pulled the
, though, and couldn't beat Serock's aces.
Other pros still in the hunt on Day 3 include Vanessa Rousso, Paul Darden, John Racener, James Van Alstyne, and Bryan Micon.
After a short and likely fitful night of sleep, the final 23 players will regroup at 1:00 Tuesday. All are guaranteed a minimum payday of $5,906, and the last man or woman standing will claim $247,033 and a nice new Corum wrist band emblazoned with "WSOP 2009."
$2,000 No-Limit Hold'em Event #32, Day 1 – Jing Squeaks into Early Lead
Monday saw the kick-off of Event #32, $2,000 No-Limit Hold'em, the second such tournament of the summer. There was a strong uptick in participation compared to last year with 1,534 entrants, significantly more than the 1,344 who came to play in 2008. Their buy-ins added up to a total prize pool of $2,791,880. The large field was whittled down to 220 by day's end. Last year's event was won by Blair Hinkle. This year, the Day 1 chip leader is Shan Jing with 137,400, followed closely by Daniel Makowsky (127,900), Ed Chang (121,900), Peter Feldman (116,700), and Sergey Rybachenko (111,900).
Clonie Gowen was an early casualty. Stephen "allinstevie" Devlin made it 550 to go from middle position and was called by the button and Gowen in the big blind. Devlin continued his aggression with a 900 bet that only Gowen called on the flop of 8-10-3. Gowen again check-called Devlin when a four came on the turn. Upon seeing the six on the river, Gowen moved all in for her last 3,000. Devlin called and was shown pocket nines. He tabled A-10 for a higher pair.
Swedish poker star William Thorson was another of the early bustouts, his demise coming at the hands of Bryan "bparis" Paris. Thorson open-raised from the hijack position and was called in two spots. The flop fell A-10-7. It was checked to Thorson, who bet 500, only to be raised to 1,600 by Paris after the other player folded. Thorson called, saw a nine fall on the turn, and shoved for his last 2,600 after Paris checked to him. Paris called with A-10 for flopped top two pair and saw that Thorson had turned a lower two pair with A-9. No miracle two-outer came on the river.
Paris's luck was even more extraordinary later in the day. He made the rather unorthodox choice of four-betting from the big blind with the
. He then apparently felt pot-committed to call an all-in bet from the original raiser, who held
. The flop would plaster Paris:
for an unbeatable straight flush.
Sorel Mizzi's luck ran hot and cold. About halfway through the day he busted an unknown opponent with the unlikely
. He had raised from late position, and faced an all-in reraise. We didn't catch the bet sizes, but it was, in Mizzi's view, little enough extra to be worth the call. He was up against
, a more than 4-to-1 underdog. The board cooperated, though, coming
for two pair and the pot. However, a couple of hours later, Mizzi's
ran into
, all in before the flop. The community cards didn't bail him out him this time, and he was down to just 1,600 in chips. Those went to an opponent shortly thereafter, when Mizzi's pocket sixes couldn't win a race against A-J, a jack coming on the flop.
A good chunk of Makowsky's big stack came his way during Level 8, when he was on the good side of one of those hands that tends to make one wonder who shuffled the cards. Makowsky's
ran up against pocket kings and pocket queens in a three-way all-in before the flop. The aces held up on the board of
.
Notables who didn't make it to the end of Day 1 included David "Devilfish" Ulliott, and Phil Hellmuth. Recognizable players returning for Day 2 will include Jan von Halle, Chau Giang, Martin Klaser, Michael Schneider, Theo Tran, Michael Binger, Jon Turner, Tony Cousineau, Neil Channing, Matt Molinari, Kelly Kim, Scott Clements, Chris Bell, and Dennis Phillips.
They and the rest of the field will resume play at 2:00 p.m. PDT Tuesday.