2009 WSOP: Angel Guillen Soars to Victory in NLHE #32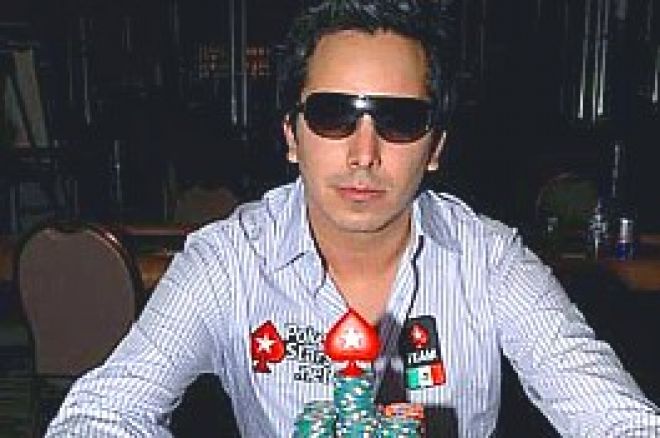 It took nearly five hours of heads-up play, but in the end Angel Guillen of Mexico beat Finland's Mika Paasonen to claim the bracelet in Event #32, $2,000 No-Limit Hold'em. Day 1 of this event saw 1,534 players register, a number that had been tapered down to 220 for the start of Day 2. Of those, 171 would make the money, but only 19 would survive to begin Day 3 and have a shot at the final table. They were contending for a total prize pool of $2,791,880.
Johan Dunder started the day as the short stack – just 115,000, with blinds and antes for Level 21 at 8,000/16,000/2,000 – and his chips lasted only about ten minutes. They all went into the pot when action was folded to him in the cutoff seat and he looked down at
. To his dismay, however, Neng Lee was on his immediate left with
and a big stack, and the kings held up on the board of
, eliminating Dunder in 19th place with a prize of $13,819.
It took only one more hand for kings to knock out another player, though that brief interval was enough for a significant pay jump. Matthew Waxman's
couldn't crack the
of Daniel Makowsky when the board came
, and he went home with $19,012 for 18th place. The same hand took out Neng Lee on the next level. He had A-K but Eric Ladny's pocket kings needed no help from the
board. A check for $27,164 accompanied his 13th-place finish.
Peter "Nordberg" Feldman achieved his highest WSOP finish to date with 11th place, good for $38,807. He got it all in from the small blind with
and was called by Ladny from the big blind with
. Feldman succumbed to a killer river card, the board coming
.
Feldman's elimination brought the remaining ten players to a single table. The official final table, though, was only reached after one more ouster, specifically, David Vu (tenth place, $38,807). With blinds and antes at 12,000/24,000/3,000, Vu pushed in his last 281,000 chips from under the gun with
. Jason Boyes reraised all in with
, but got no more callers. The board came
. Vu caught the ace he was looking for on the river, but by then it was too late, Boyes having made a full house on the turn.
Clark Hamagami was the first to leave the final table (ninth place, $55,279). Angel Guillen moved all in from the small blind when action was folded to him, and Hamagami called him from the big blind for his last 470,000, with Level 24 blinds and antes at 15,000/30,000/4,000. When the board ran out
, Hamagami's
in the hole might have looked good with two pair, were it not for the higher two pair made by Guillen's
. The hope of the French for a bracelet was dashed when Antoine Amourette went out in eighth place ($61,421). His
lost the race against Ladny's
on the board of
. C'est la guerre!
Chris MacNeil survived to enjoy the dinner break, but lasted only a few minutes beyond that. His K-Q needed serious help when pitted against Mika Paasonen's A-Q, but didn't get it when the community cards were shown to be
. He received $71,192 for seventh place. Just ten minutes later, it was another classic race situation when Daniel Makowsky's
took on Steve Kohner's
all in preflop. Makowsky made a strong run in this event from start to finish, having been second in chips at the end of Day 1. He couldn't quite make it to the end, though, when the board came
to give the pot to Kohner. Sixth place was good for $86,548 as a consolation.
Eric Ladny went out in fifth place ($108,883). He had been crippled a short time before when his pocket tens flopped a set but got crushed by the flopped set of kings owned by Guillen, with both players all in before the flop. Guillen also delivered the final blow by making two pair with
on the board of
, besting Ladny's
, with which he had shoved preflop.
Just five minutes later, Angel Guillen would put another notch on his belt, again taking out an opponent's pocket jacks. This time it was Steve Kohner's
up against Guillen's
, and Big Slick took it down when the dealer put out
. Fourth place earned Kohner $150,761. That series of hands gave Guillen the overwhelming chip lead with about 5.4 million, more than half of the 9.2 million in play.
Jason Boyes had brought the chip lead into Day 3, and the momentum carried him far – but not quite to the finish line as he took third place for $214,974. In the two hands leading up to his ouster, Boyes had been beating up on Mika Paasonen by reraising him out of the pots. That set up the exit hand, which saw Boyes raise to 150,000 from the button (blinds and antes at 25,000/50,000/5,000 for Level 26) and Paasonen call quickly to get to the flop of
. Paasonen raised Boyes's continuation bet of 200,000 up to 600,000. After a pause for thought, Boyes moved all in over the top for another 1,530,000. Paasonen then went into a five-minute tank. He alternated from staring his opponent down to pushing his thumbs into his eyes sockets, deep in thought. He came out of the tank by making a great call with
as Boyes opened
. The turn came
and river
to make aces up for the Finn and propel him into a slight chip lead (4.9 million to 4.3 million) entering heads-up play.
It had taken only about three hours to winnow the field from 19 down to the final table of nine, and only a little longer than that to chop the final table down to the last two men. That portended a speedy finale to this event – but it was not to be. Both Paasonen and Guillen started the battle with stacks of more than 85 big blinds, giving them plenty of play, and they took full advantage of it. The chip lead changed hands several times over the course of the ensuing five hours.
Paasonen seemed to be the more aggressive player at first, making bigger and more frequent preflop raises, and being willing to play more hands, even out of position. But Guillen adjusted and notched up his own aggression accordingly, resulting in a high frequency of preflop three-bets and post-flop raises and reraises. By about two hours into heads-up play, this had brought him considerable success and a substantial chip lead: 6.7 million to 2.4 million.
The Mexican had the Finn on the ropes about three hours in. Guillen deceptively limped in with
. Paasonen pushed all in with
and was snap-called. It looked like it might be all over when the flop came
, but the
on the turn gave Paasonen his three-outer and kept the match going. From there, Guillen gradually chipped up again, but then lost another ace-versus-ace confrontation all in preflop, this time starting with the worst of it holding
to Paasonen's
. Four clubs among the community cards gave the latter the double-up, though Guillen still held a 2-to-1 chip lead with six million to Paasonen's 3.1 million.
Paasonen was crippled to under a million when he check-called bets on every street from Guillen, who held
in the hole. They were apparently good on the board of
, as Paasonen mucked without showing. Passonen doubled up to about two million on the next hand, but this being Level 30, that amounted to fewer than 17 big blinds, so it was almost inevitable that he would get pot-committed to a hand before too long.
The end finally came just after 1:00 a.m. Paasonen raised from the button with
. Guillen called with
. The flop was a lethal
, giving Paasonen top pair and Guillen a disguised set. Anybody seeing the player's holdings with a hole-card camera could have predicted how it would go: Guillen led out for 250,000, Paasonen raised all in, and Guillen called instantly. The
and
on the turn and river couldn't deliver the miracle Paasonen needed, and the epic fight was over.
Paasonen has cashed three times so far in his WSOP career, all in 2009, with this being his biggest score yet at $326,203. Similarly, Guillen has two WSOP cashes, both this year. His gold bracelet and $530,548 for first place come just ten days after a nice payday of $312,800 but a heartbreaking second-place finish in Event #13, $2,500 No-Limit Hold'em.