2009 WSOP: Wolpert Wins NLHE Heads-up #29, Boyes Leads NLHE #32, Taylor Tops NLHE #34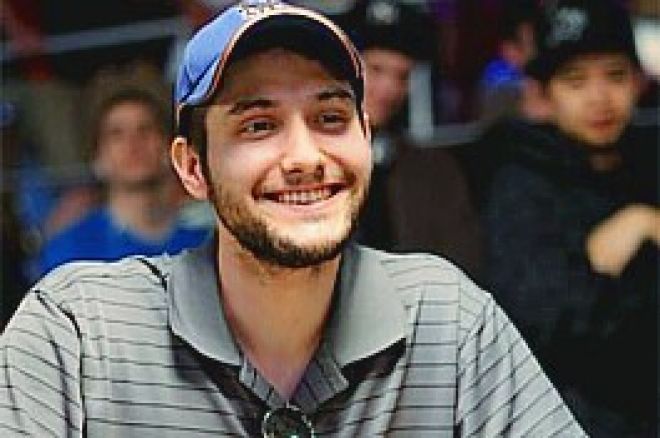 $10,000 World Championship Heads-up No-Limit Hold'em Event #29, Day 4 – Leo Wolpert Prevails in Marathon Final
The $10,000 World Championship Heads-up No-Limit Hold'em went to a fourth day, and the best-of-three final match went the full three matches before Leo Wolpert finally toppled John Duthie to take down his first WSOP gold bracelet.
All three matches began with each player holding 3,840,000 in chips, along with 40-minute blind levels starting at 15,000/30,000, giving the finalists plenty of play. Leo Wolpert held the early lead on Hand 4, when he moved in on John Duthie's river bet of 800,000 to take a nearly 3-to-1 chip lead. Whenever Wolpert held the button, he would either raise or fold, a trait he held for most of his three matches. The atmosphere was friendly between the two finalists, with a $100 prop bet between them for whoever could land the button on the WSOP logo that was in front of each player. Duthie offered to raise the stakes to $50,000, but Wolpert declined. Hand 32 saw Duthie take a slight chip lead when he three-bet all in with pocket tens, while Wolpert called with A-Q. Duthie flopped a set and turned a full house to hold a 60,000-chip lead.
Wolpert would chip away yet again to retake the lead from Duthie and move to a nearly 2-to-1 lead. Duthie clawed his way back to within one million chips, when on Hand 91 he doubled up again to take a large chip lead. The blinds were now at 30,000/60,000 as Wolpert made his standard raise to 150,000, which Duthie called. The flop came down
as Duthie checked. Wolpert bet 180,000 and Duthie called. The
on the turn had Duthie check again, and Wolpert bet 420,000. Duthie raised two million, and Wolpert moved all in. Duthie had just 400,000 left, and made the call.
When the cards were turned over Wolpert had
and Duthie held
for the open-ended straight draw and diamond flush draw. The
on the river filled out the flush, sending the EPT founder to 6,730,000 million, while Wolpert held only 950,000. The last hand of Match 1 came five hands later, with Wolpert moving in with
, and Duthie calling instantly with the dominating
. The board brought no help to Wolpert, as John Duthie took the first match.
In the second match, John Duthie took the chip lead on the second hand, cracking Leo Wolpert's pocket aces with 10-9 when he turned a third ten. Wolpert won the next six hands, evening out the finals on Hand 9. Wolpert made yet another button raise, this time to 90,000 as Duthie called. When the flop came down
, Duthie checked and Wolpert bet 130,000. Duthie then check-raised to 300,000 and Wolpert made the call. The
on the turn caused Duthie to check yet again, and Wolpert bet again to 420,000. Duthie gave it some thought, took a sip of water, and moved all in. Wolpert called instantly with
while Duthie was drawing dead with
. After the
hit the river, both stacks were counted down, and Wolpert had 20,000 more chips than Duthie, leaving one more match to decide the winner.
Those who hoped for a similar quick finish would be disappointed, as both Wolpert and Duthie looked to avoid making a mistake in the longest match of the finals. Wolpert took an early chip lead within the first 20 hands as he continued to either raise or fold his button. Duthie tried his best to chip away, but Wolpert continued to pad his chip lead, moving to more than a 2-to-1 advantage.
On Hand 96, Duthie was down to just 1,590,000 in chips when he doubled through Wolpert to move within one million chips of his rival. Duthie made a raise to 125,000 as Wolpert called. When the flop came down
, Wolpert checked and Duthie bet 300,000. Wolpert put him all in and Duthie called with
for the open-ended straight draw. Wolpert held
for top pair. The
turn gave Duthie a few more outs, and the
on the river filled the straight giving Duthie some hope as the match continued.
Leo Wolpert went to work again, chipping away at John Duthie to take yet another 2-to-1 chip advantage. Duthie continued fighting as he started reraising on Wolpert's raises to reduce his chip advantage to a 3-to-2 margin. Wolpert then decided to change his strategy on Hand 177; for the first time in the match, he decided to limp when holding the button. The hand eventually went to the turn when Wolpert fired out a bet and took the hand down. Wolpert limped yet again on Hand 181, and took down the pot yet again when he fired on the turn. He would limp a third time the next time he held the button, but this time Duthie reraised from the big blind, forcing Wolpert to lay it down.
Wolpert held a 3-to-1 advantage on Duthie after 190 hands when the long tournament finally reached a verdict. On Hand 191, Wolpert limped yet again on the button as Duthie checked. The flop was
and Duthie check-raised all in to put his bracelet hopes at risk. Duthie held
for top pair, while Wolpert flipped up
for bottom two pair. As the crowd moved in for a closer look, the
on the river gave Duthie a few more outs, but the
on the river wasn't one of them as Duthie was eliminated in second place to earn $386,636.
Leo Wolpert came back from an early one-match deficit in a well-fought battle for his first WSOP bracelet and added $625,682 to his bankroll for the former professional turned University of Virginia law student on a summer internship in Nevada.
$2,000 No-Limit Hold'em Event #32, Day 2 – It's a Boyes Life
Day 2 of Event #32, $2,000 No-Limit Hold'em, saw 220 players returning, all of them hoping to reach a final table. When the tournament clock read 3:00am, there were still 19 players remaining as play was suspended until Wednesday afternoon, with Jason Boyes leading the remaining field.
The returning players began with the goal of reaching the money, which began at 171, but for Dennis Phillips and Jeff Williams, their days didn't last long enough. Sergey Rybachenko, who started the day in the top ten in chips, was another player who unexpectedly finished out of the money. When the bubble was reached with 172 players remaining, there was some confusion as two players were knocked out on the same hand, resulting in those two players splitting $1,815 for 171st-place money, but apparently at least one of the players didn't know and left without collecting his reward.
2008 Main Event final-tablist Kelly Kim was on the short stack when the money was reached, upon which he went on a tear. First he tripled up with pocket aces when two players moved all in with pocket nines and pocket tens and the board ran out jack-high. A few hands later, he flopped a full house to chip up to 140,000 as he moved into contention before finally being eliminated in 69th place, good for $6,309. Jason Boyes was another player whose stack went up when he busted Andre Akkari after flopping a set of sevens against Akkari's pocket jacks to send the Brazilian home, while Boyes moved to over 450,000 in chips.
Some notable eliminations who made the money included Alex Bolotin, Gioi Luong, and Scott Clements, each collecting $3,629. Motoyuki Mabuchi, Matt LaGarde, and Todd Arnold finished a little bit higher as each earned $3,908. Other players who earned a top 100 finish: Day 1 chip leader Shan Jing ($11,893), Jim McManus ($9,715), Jack Powell ($8,208), Tony Cousineau ($7,119), Christian Harder ($5,667), Theo Tran ($5,081) and Neil Channing ($4,606).
Ken Lennaard and Michael Binger were the last two eliminations of the day, each earning $13,819. When the 3am deadline came, 19 players remained with Jason Boyes leading on a stack of 976,000. Mika Paasonen (894,000) and Neng Lee (830,000) finished in second and third and will head the other two tables when action resumes at 1pm Wednesday for Day 3. Angel Guillen (496,000), Peter Feldman (485,000), and Clark Hamagami (367,000) are some of the other returning notables who'll be looking to take down a coveted WSOP bracelet.
$1,500 No-Limit Hold'em Event #34, Day 1 – Taylor Out in Front
Event #34, $1,500 No-Limit Hold'em, saw 2,095 players enter the tournament area Tuesday afternoon for Day 1. When the chip counts were tabulated after ten levels of play, James Taylor had squeaked into the chip lead, returning with a stack of 174,400 when Day 2 begins at 2pm Wednesday.
Although the field was a bit smaller than expected, Bertrand Grospellier, Clonie Gowen, Dennis Phillips, Roland de Wolfe, Paul Wasicka, David Sklansky, Liv Boeree, Shannon Elizabeth, Jason Mercier, and Allen Cunningham were among the notables spotted in the field when play began. As usual, the field was decimated by the rapid eliminations expected in any no-limit hold'em event with a small buy-in. When players returned after their 90-minute dinner break at the end of Level 6, fewer than 700 players remained.
One noteworthy table after the dinner break featured Vanessa Rousso, Jeff Madsen, David Singer, and Phil Hellmuth all seated together. At another table, a player who was unable to check in to his hotel room was spotted with his luggage located behind his seat as he moved from table to table. Eventually, he took out his electric razor to have a shave while at the table. After several inquiries about his bag, the player stated that it was to hold the final table money, with the ninth-place finisher guaranteed at least $60,000 and the winner guaranteed to pick up over $520,000. It's unknown if the player finished the day with chips, but hopefully he did check in to his room and get comfortable.
The money bubble was almost reached at the end of Level 10, but 240 players still survived when action was called to a halt – 24 spots shy of the 216 players who will pick up money for this event. James Taylor from Cumming, Georgia closed out the day with the chip lead at 174,400, just barely ahead of Scott Dorsch who finished on a stack of 172,100. Some notables who made the upper portion of the leaderboard include Eric Baldwin (96,300), Eugene Katchalov (90,600), David "The Maven" Chicotsky (89,100), Phil Hellmuth (88,100), Pat Poels (84,500) and Jared Hamby (64,400).
PokerNews will be following the action starting at 2pm, so see who makes the money, and who experiences the agony of the money bubble.