2009 WSOP: NLHE Shootout #22, Tran, Bolotin Advance to Day 2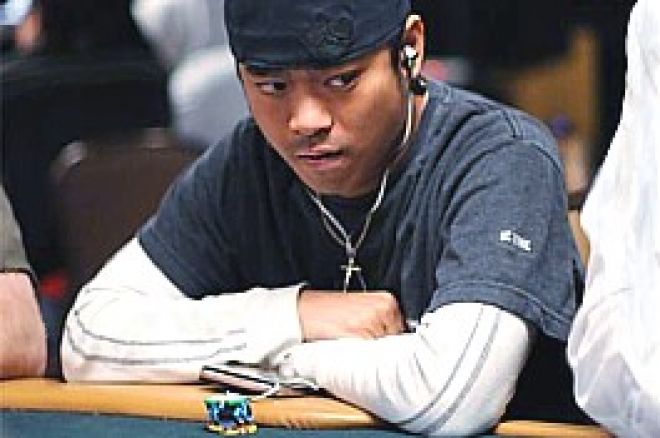 Event #22, $1,500 No-Limit Hold'em Shootout, is a perfect event for sit-and-go junkies. Unlike other WSOP events, one only has to defeat nine opponents to cash and move on to Day 2. An even 1,000 players started the day on 100 tables, and by the end of the day, only 100 players remained. Among those advancing to Day 2 included Theo Tran, Alex Bolotin, Joe Beever, Matt "AllInat420" Stout, and Nick Binger.
The field of 1,000 players included numerous pro and big-name players. Among those taking part in the event were Humberto Brenes, Theo Tran, Andy Black, Phil Ivey, Hevad Khan, Shannon Elizabeth, Shaun Deeb, Mike Sexton, Eskimo Clark, David "Chino" Rheem, Lee Watkinson, Andy Bloch, Erick Lindgren, and Gavin Griffin. Several tables wound up with multiple pros. For example, Adam Junglen and Michael Mizrachi were both seated at one table, while Jonathan Little, Chris McCormack, and David "Devilfish" Ulliott were facing off against each other at another table.
Several big names were eliminated in the early running. Chad Brown, Doug Lee, Chino Rheem and Shaun Deeb all failed to gain any traction and were among the first players eliminated. Phil Ivey and Victor Ramdin started chipping up early in the event. Ivey had doubled his stack with just seven players left on his table, while Ramdin nearly tripled his stack by the point his tabled reached seven players.
The first table winner was Marc Sander. Tyson Marks joined Sander in advancing to Day 2 soon afterward. On the last hand at Marks' table, Marks had his opponent all in and behind, holding
against his opponent's
. Five bricks on the board allowed Marks to advance. Dutch Boyd and Jason Mercier were the last two standing at their table. The final hand saw Jason Mercier race A-Q against the pocket kings of Boyd. Boyd's kings held and he took the first step into winning his second bracelet.
Phil Ivey got to heads up on his table against John Racener, but Racener finished as the victor. Ivey moved all in preflop with
and Racener called with
. A ten on the flop put Racener in the lead, and his tens were enough to send the six-time bracelet winner Ivey to the rail. Another big heads-up match took place between Alex Bolotin and Kirill Gerasimov. The final hand had Gerasimov all in preflop with
against the
of Bolotin. The
board gave both players two pair, but Bolotin's ace kicker was enough to give him the win.
Dennis Phillips was among those in the "close but no cigar" category. With three players remaining on his table, he held 25,000 in chips, but was unable to walk away a winner. Max Pescatori was at 11,000 with three players left, but he finished the day in third on his table. Victor Ramdin, Eugene Katchalov, and Jeffrey Siegal were much more fortunate, as they all advanced to Day 2 play.
Theo Tran cashed in his first event of this year's WSOP. He was heads up on his table and facing an all-in bet on the board of
. Tran made the call with pocket tens; his opponent held
and needed help to survive. The turn fell the
and river the
and Tran is guaranteed his first cash of the 2009 WSOP. Victor Ramdin and Eugene Katchalov soon joined Tran in advancing to Day 2.
Sam Johnson advanced after his
held up against his opponent's K-10. Terry Boyd rode pocket jacks into Day 2. On the board of
, Boyd bet out 4,500 and his opponent responded with a shove all in. Boyd called with
and his opponent tabled
. Any nine would result in a chopped pot. The turn fell the
and the river the
and Boyd advanced.
Derric Haynie's opponent moved all in dark preflop for 2,325 and Haynie made the call. When the cards were flipped, Haynie was dominated as his
was up against
. The flop and turn missed both players, but the river
allowed Haynie to advance. Kyle Brossia progressed to Day 2 when his pocket nines held up against his opponent's
. Phong Ly had his heads-up opponent in bad shape with
against
. The board blanked out and Ly moved on.
Dennis Phillips was unable to make it to Day 2, but his girlfriend Maura Harris did. On the final hand of her table, the board read
. Her opponent moved all in and Harris made the call with
. Her opponent revealed Q-8 for a gutshot draw. The board missed both players and Phillips will get to rail his girlfriend during Day 2. The final table of the day was won by Andrew Scott. His opponent moved in preflop with pocket nines and Scott called with
. Scott spiked a queen on the flop and his pair of queens allowed him to advance.
Each player will enter Day 2 play with 45,000 in chips. The only objective tomorrow is winning, as 11th through 100th place all pay the same amount. Among those looking to advance to final table are Theo Tran, Nick Binger, Matt Stout, Eugene Katchalov, Brandon Wong, Alex Bolotin, Victor Ramdin, and Alan Smurfit. Day 2 will kick off Thursday at 2 p.m. PDT with 100 players returning to make their way to the final table. Stay tuned to PokerNews.com as we bring you all the exciting action.