2009 WSOP: Freddie Ellis Captures $10,000 Seven-card Stud World Championship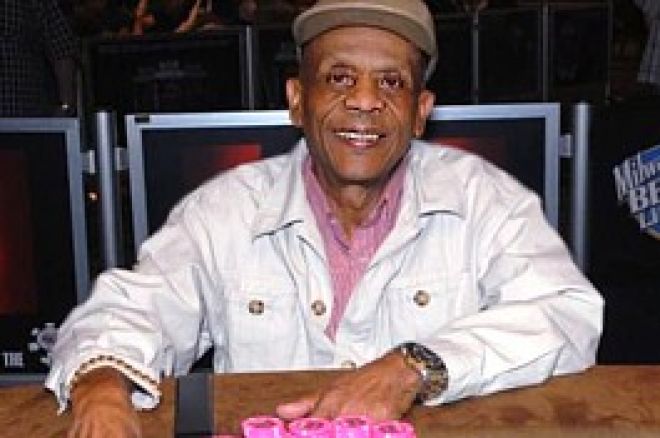 After a grueling Day 2 that lasted well into the wee hours of the morning, the final table of the $10,000 World Championship Seven-Card Stud turned into another endurance contest, with the final table running long past midnight. As the clock ticked towards 3AM in Las Vegas, it was East Coast stud expert Freddie Ellis who overcame fatigue and a tough final table to take down his first WSOP bracelet and the $373,744 top prize.
Eric Drache came into Day 3 with the chip lead as 11 players returned to the Rio to duke it out for a spot at the final table and a shot at the bracelet. Ray Dehkharghani was the first to fall when he and Max Pescatori tangled in the first big pot of the day. Pescatori completed the betting with the
in the door. Dehkharghani raised with the
showing, and he and Pescatori went heads-up to fourth street. Pescatori picked up the
, and checked. Dehkharghani bet out with the
, and Pescatori check-raised. Dehkharghani called to pick up the
on fifth street. Dehkharghani checked, and then called a bet from Pescatori, who caught the
. Pescatori bet out again on sixth street when he drew the
, and Dehkharghani called with a five for a pair of fives showing. All the money went in on sixth street as Pescatori opened
in the hole for the flush. Dehkharghani was still drawing live as he showed
for the nut flush draw, but he missed his heart on the river and was done in 11th place ($29,152).
Daniel Negreanu lost a huge pot to Eric Drache to find himself crippled, then got the last of his stack in the middle against Tim Phan with the
in the door. He finished with a pair of tens, never catching up to Phan's split kings. Phan picked up a third king on seventh street just for good measure, and Negreanu was done in tenth place ($36,267).
With Negreanu's exit, the remaining nine players condensed to a nine-handed final table, an oddity in stud. Stud games are typically played eight-handed due to the number of cards required. But the table didn't stay nine-handed for long, as Jeff Lisandro busted soon after the final table kicked off. He got all his money in with split tens on fourth street and found action from both Greg Mueller and Ville Wahlbeck. Wahlbeck started with four to a flush in his first four cards, but backed into two pair to best Lisandro's tens and scoop a sizable pot. Lisandro picked up $36,267 for ninth place.
The final table settled into a rhythm of folding and short stacks doubling up after Lisandro's departure, until Tim Phan kicked off a brief flurry of bustouts. Phan got it all in on third street against Freddie Ellis and Ivan Schertzer, but could only muster a pair of deuces by the river, not enough against Schertzer, who started the hand with rolled-up tens. Phan was done in eighth place, good for a $47,532 payday.
Greg "FBT" Mueller busted in seventh place ($53,886) just a few minutes after Phan headed to the rail. He made a stand with deuces in the hole and ran into Hasan Habib, who kicked off the hand with split aces. Neither player improved, and Habib's aces held up to send Mueller packing.
Just a few minutes later it was Ivan Schertzer's turn to make the long walk when he was eliminated in sixth place ($64,297). All the money went in on fifth street as Schertzer showed (
)
. He was in deep trouble when Eric Drache revealed aces in the hole for the hand of (
)
, but Schertzer picked up the
on sixth street to make two pair. Drache got no help from the
, but when he caught the
on the river to make a better two pair, Schertzer's tournament was over.
Hasan Habib came back from dinner to find the cards gone cold, and eventually busted in fifth place ($80,969) at the hands of Eric Drache. Habib completed on third street with the
showing, and Drache was the only caller with the
up. Drache called Habib down all the way to sixth street, when Habib's last chips went in with (
)
. Habib needed one of only two tens left in the deck when Drache showed (
)
for two pair. Habib paired his king on seventh, but it was not enough and he was sent home in fifth place.
Max Pescatori got the last of his money in on third street with (
)
, but Ville Wahlbeck had a bunch of Pescatori's outs covered with (
)
. Pescatori took the lead briefly with jacks up on sixth street, but Wahlbeck picked up his second pair on the river and Pescatori was done. The Italian Pirate plundered $107,959 for fourth place.
The final trio played for over two hours before Ville Wahlbeck finally succumbed in third place. Again it was a case of buried kings running into buried aces, and again it was Eric Drache with aces in the hole. Neither player improved, and Wahlbeck earned $152,915 for his three days' work.
Freddie Ellis took a significant chip lead into heads-up play, but Eric Drache was not content to just let Ellis roll over him. Drache took down the first pot of the head-to-head confrontation, and he seized the chip lead after just a few hands. Drache held onto the chip lead for over an hour of heads-up play before Ellis took down a series of pots to put himself back in front. As the night moved well into morning, Ellis – significantly older than his opponent – began to suffer the effects of back-to-back late nights. But even with the fatigue setting in, the elderly Ellis refused to give in and finally recaptured the lead for good.
Eric Drache led out on every street of the final hand, and with a final board reading
, he raised all in after Ellis bet out. Ellis showed (
)
(
) for the rivered flush. Drache mucked his hole cards and accepted the second-place payout of $231,014 as Freddie Ellis took down the tournament. Ellis, a respected stud player in the New York and Atlantic City circles, picked up $373,744 to go with his first WSOP bracelet.