2009 WSOP Event #5, $1,500 PLO: Jason Mercier Merciless, Wins First Bracelet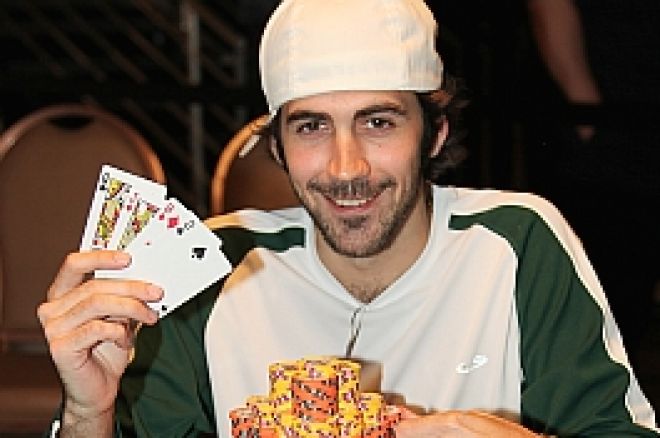 The name Jason Mercier may not be familiar to poker fans in the United States. Of his $3,000,000 in career earnings going into today's final table of Event #5, $1,500 Pot-Limit Omaha, Mercier had earned just over $230,000 in the United States. His breakthrough success has been on the European Poker Tour, taking down an event in San Remo, a High Rollers event in London and a final table in Barcelona in just over six months in 2008. However, at the final table of Event #5, $1,500 Pot Limit Omaha, Mercier went on a rush to claim his first WSOP bracelet.
The start of the table brought tentative play, with few hands seeing the flop. The first big hand of the day came when four players saw the flop in a limped pot. On the flop of
, An Tran led out with a bet for 56,000. Jason Mercier folded, while Chris Biondino went all in for his last 165,000. Jonathan Tare also folded, while Tran made the call, flopping the nut straight with
. Biondino had a flush draw with
, and when the
hit the turn to hit his flush, with an irrelevant
to double up to over 415,000 in chips while Tran fell to 240,000. The first elimination of the day took place about half an hour later as Vic Park made a mid-position raise to 42,000 with a call by Matt Giannetti in the small blind. When the flop came down
, Giannetti put Park to the test for all of his chips. Park made the call, turning over
for the flush and gutshot straight draws, while Giannetti had an overpair and an open-ended straight draw with
. The
turn and
river wouldn't help Park, as he earned $22,053 for his ninth-place finish.
An Tran finished in eighth when he ran into a cooler at the most inopportune time. In another four-way limped pot, the flop came down
. It was checked around to Jason Mercier, who bet 36,000. Chris Biondino folded, Steven Burkholder check-raised to 111,000, while Tran went all in for an additional 298,000; Mercier folded and Burkholder made the call. Tran thought he was looking good, as he was holding
and had flopped a set of deuces. Unfortunately for the veteran pro known as "The Boss", he was up against Steven Burkholder's
for a flopped set of fives. The turn and river brought no help to Tran, who added $25,122 to his tournament earnings with his finish.
Dario Alioto fell next, as he got into a raising war with Kevin Iacofano, who had remained the chip leader. Kevin's
was well ahead of Dario's
. Iacofano caught a queen on the turn, and Alioto headed to the pay window to collect $29,882 for his seventh-place finish.
Play slowed down yet again for another hour, but in a 30-minute span it was down to heads-up action. Another four-way limped pot brought the first elimination, as Jason Mercier opened the betting for 46,000 on a flop of
, two players folded, and Tare bet the pot. Mercier moved all in and Tare went into the tank, eventually deciding to call with
for two pair, However, Mercier turned over
for a flopped set of jacks. The turn and river brought no help, and Mercier was over 1,200,000 in chips while Tare received $37,192 for finishing sixth.
Mercier would eliminate the next two players, first disposing of Chris Biondino. Chris rode the short stack for the entire final table, finally succumbing when he went all in with his five-high wrap against Mercier's
, which improved to two pair. Biondino collected $48,533 for fifth. Matt Giannetti was down to his last 80,000 in chips when the blinds were at 10,000/20,000 and took his
against Mercier's
. Mercier would improve yet again, making a ten-high straight on the river to eliminate the veteran cash-game player out of Texas, who earned $66,544.
Steven Burkholder took his turn when he bounced Kevin Iacofano. Burkholder opened for 60,000 with Iacofano calling from the big blind. The flop came down
with Burkholder making a bet of 80,000. Iacofano bet the pot, and the duo bet the rest of their chips, with Iacofano being the player at risk. Burkholder opened his
for a set of queens to outflop Iacofano's
and an open-ended straight draw. An ace or ten would not come to save Iacofano, who added $96,128 to his bankroll, while Burkholder began heads-up play with a slight chip lead over Jason Mercier, 1,992,000 to 1,650,000.
Burkholder, an admitted pot-limit Omaha novice, still moved out to an early 3-to-2 chip advantage. However, Jason's experience would help on the key hand of heads-up play. With the blinds at 12,000/24,000, Mercier made a button raise to 60,000, and Burkholder called. Both players checked the
flop. The
on the turn saw Burkholder check to Mercier, who bet 80,000. Burkholder check-raised to 215,000 and Mercier made the call. When the
came on the river, Burkholder made a bet of 400,000 which Mercier just called, turning over
for the turned full house to climb up to reclaim the chip lead with 2,300,000 while Burkholder fell to 1,350,000.
The final hand came a few hands later when Mercier limped the button, calling Burkholder's 48,000 chip raise. The flop came down
. Burkholder led out for 110,000, Mercier raised to 285,000, Burkholder bet the pot, Mercier moved all in and Burkholder called to put his tournament life at stake. When the hands were turned up, both had trip jacks, but Burkholder's
outkicked Mercier's
. Mercier, though, made a full house when the
came on the turn. Jason pumped his fist, knowing there was still one card to come. The harmless
on the river ended the tournament, and Burkholder took home $146,748 as the runner-up. Mercier collected $237,415 and a coveted gold bracelet, doubling his US tournament winnings in the process. With plenty of events remaining at this year's World Series of Poker, Mercier already has a start on a very big series.