2009 WSOP, $1,000 NLHE Event #4, Day 2: Comegys Tops Leaderboard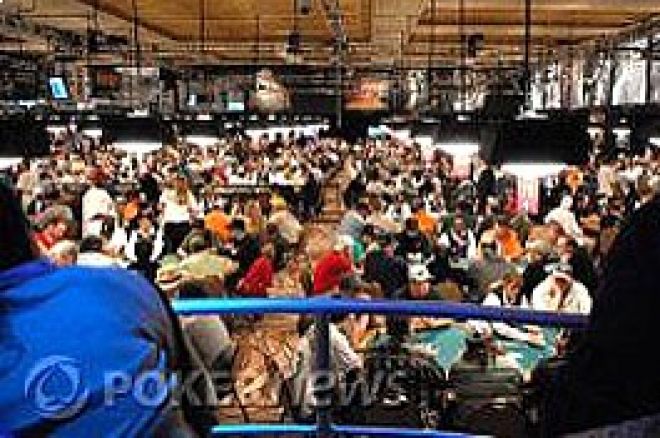 With 760 players returning for Day 2 of Event #4, $1,000 No-Limit Hold'em, the plan was to play down to the final table or 3am, whichever came first. This time, the clock was the winner as 50 players will return at 1pm on Tuesday for Day 3 to play down to a champion, with Robert Comegys holding the chip lead on 1,186,000.
The first agenda when Day 2 started was to get down to the money, which began at 621 players. Eliminations were coming at a swift pace in the first level of play, with the tournament staff taking a short break with just four minutes left in Level 11 to determine how many players were remaining. Day 1 overall chip leader J.C. Tran was able to do his part to get players to the money, when his pocket nines held up against multiple-bracelet winner Billy Baxter's A-K. Nikolay Evadkov would do one better, knocking out two players in the same hand when his
bested
and
in a three-way confrontation, winding up with trip kings. Some of the other players who just missed the money included EPT winner Jason Mercier, David Plastik, and Andrew Teng.
Hand-for-hand play lasted just three hands, when Jeff Greco and Petr Kadavy were eliminated at different tables. Each player would receive $947, less than what he had paid to enter the event, as $1,894 was the lowest payout level for this event. The rest of the players, elated that they had made the money, went into a frenzy yet again, their starting hand requirements now loosening up considerably. One player who was looking to double up decided to shove with his
, and was called by an opponent with
. Rooting for an ace or jack to hit the board, he saw the beautiful
in the window and rose from his chair to celebrate. That was, until the
also appeared on the flop. No further help would arrive and he made his way to the end of a long line of players looking to receive their winnings.
Some players were able to recover from setbacks to roar up the leaderboard. Amanda Baker was down to her final 10,000 at the 1,000/2,000 level when she ran into a straight flush. She was able to turn her meager holdings into 704,000 in chips which would place her in fifth place at the end of play. Another player who went on a rush after the dinner break was Adam White, who ran his 9,000 up to over 330,000 in chips. White would then drag the largest pot of the tournament, when his pocket aces dominated Dung Ho's A-Q to bring White to 681,000. The pot was so large it took a floorperson five minutes to count down the stacks, while Ho looked on in shock at his bad fortune. Adam would eventually end Day 2 with 292,000, good for 24th place at the close of play.
Zach Melaney, leader at the dinner break with over 350,000 in chips, was not as fortunate, as he was eliminated in 53rd place. Other notable names who were eliminated in the money: J.C. Tran (68th), Matt Marafioti (126th), Capt. Tom Franklin (174th), Brett Jungblut (367th) , and Paul Parker (554th).
The first player who would break the one-million chip mark would be Danny Fuhs, who won a race when his A-K beat pocket sixes after another ace hit the flop. However, Fuhs would finish the day in second place (1,112,000) as he was overtaken by Robert Comegys of Grand Prairie, Texas (1,186,000) at the end of Level 20 to become the chip leader. Information about Mr. Comegys is a bit scarce, but he'll be much better-known if he's able to maintain his lead and pick up a coveted WSOP gold bracelet on Tuesday night.
Some who'll try to relieve Comegys of his chips include Eric Chhor (895,000), Stephan Ma (809,000), Jamie Armstrong (618,000), and Jack Powell (551,000). Other notables remaining: Tom Dobrilovic (324,000), Jonathan Aguiar (283,000), Dan Heimiller (267,000), Justin Rollo (219,000), Eric Mizrachi (127,000), and Lee Watkinson (106,000). PokerNews will be there to cover the final day of this event as well as the other WSOP bracelet events at the Rio.