2009 WSOP: $1,500 Omaha Hi/Lo Event #3, Day 3 – Thang Luu Successfully Defends Title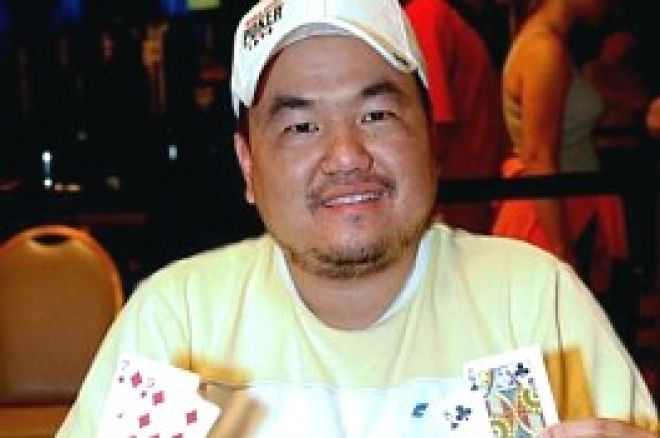 Thang Luu pulled off an historic victory in Event #3, $1,500 Omaha Hi/Lo 8-or-Better as he bested a record field to take home the bracelet for the same World Series of Poker event for two years running. Luu came to this event as the defending champion, having taken down last year's $1,500 Omaha Hi/Lo Event (then numbered as Event 6) at the WSOP, and he also finished second in a $2,000 Omaha Hi/Lo event at the 2007 WSOP. With this back-to-back championship, Luu earns a place in the World Series of Poker record books.
Along the way there were a few unusual incidents, including an interruption of play because the players could not hear each other over the amplified din of the introduction for the Champions Invitational event. Freddy Deeb caused some resentment at his table when he would not release his hole cards, despite his opponent showing the stone-cold nuts on a board with no possible low. But in poker as in entertainment, the show must go on.
The final 19 contestants began their battle at 2:00 p.m. For two of them, the contest would last ten hours. Less than 30 minutes in, however, the first player fell by the wayside. Jeremy Harkin took 19th place ($7689) when he went all in from the big blind with A-J-9-7. Ed Smith, chip leader at the start of the day, held K-6-3-4 and was the only caller. He scooped the pot with two pair on the K-J-4-6-10 board.
What followed was a veritable flurry of ousters – five more over the ensuing 30 minutes. The felled players were Henry Hull (18th, $9,899), William Seale (17th, $9,899), Edgar Cheng (16th, $9,899), Adam Quiggle (15th, $12,669), and Dan Spear (14th, $12,669). The last woman remaining in the field, Ming Reslock, took out two of these players in one hand. Her Q-J-10-8 turned into a full house on the board of 10-10-7-J-6, and neither Seale nor Cheng could best it.
After that, the eliminations slowed down, with only four players getting bounced over the next three hours. The official final table of nine was set when Sebastian Ruthenberg surrendered the last of his chips at around 6:00 p.m., claiming tenth place and $16,829.
The chip leaders at this point were Ed Smith and Jordan Rich, nearly tied; nobody else had even half as many chips. Several of the players were so crippled that they ended up all in preflop. Ferddy Deeb, Jim Geary, and Pascal Leyo each survived one such showdown before the short stacks' luck came to an end.
Reslock, who by this time had moved up to second in chips, put her A-A J-10 against the K-8-6-4 of Senovio Ramirez III and scooped the pot. Ramirez earned $23,520 for his ninth-place finish. On the very next hand, Luu took out Deeb, who won eighth-place honors and $27,029. Just ten minutes later, immediately before the dinner break, Jim Geary got it all in on the flop against both Smith and Luu, who proceeded to check down the turn and river. Geary had flopped top two pair, but Smith rivered a flush to take the pot. Geary's prize for seventh place was $32,404.
It would take another three hours of play to whittle the field down to a sole survivor. Defending champion Luu won a much-needed double-up in a dramatic confrontation with Reslock. On the flop of
, the two raised and reraised each other back and forth until Luu was all in. When their hole cards were revealed, it became apparent why they had both been willing to put it all on the line: Luu held
for top set and the current nuts, while Reslock had
for a royal flush draw. The case king fell on the river, giving Luu four of a kind and the roughly 500,000-chip pot.
He soon took those chips to battle against the now short-stacked Jordan Rich, and prevailed with A-A-A-J against the latter's K-6-4-3 when trip sevens on the board gave Luu a full house. Rich exited in sixth place, worth $40,612. Pascal Leyo went out just ten minutes later at the hands of Reslock, earning $53,293 for fifth place. Luu claimed another victim when he knocked out Robert Price (fourth place, $73,405) by inducing a final, all-in call on the turn, when the shorter stack was actually drawing dead.
Reslock survived for more than another hour of play, but she finally succumbed to the eventual winner. She aggressively check-raised all in on the turn with a small pair and a gutshot straight draw, but Luu called her down with two pair, which held up. Reslock took home $106,373 for her third-place finish.
The two chip leaders at the beginning of the day turned out to also be the last two standing, but the order had been reversed, with Luu now in front holding 2,300,000 to Smith's 1,800,000. They fought for about an hour, with Luu never yielding the chip lead. Late in the day, the severely short Smith survived a series of all-ins, each ending in a chopped pot and no forward progress for either man.
Like Cinderella, however, his magic finally ran out at midnight. With Smith holding J-9-9-3 and Luu Q-9-8-7, the players got most of the chips in preflop and the remaining few chips went into the middle on the flop. The board ran out Q-5-4-5-10, and Luu took the last pot of the match with a better two pair. Smith's second-place finish earned him $162,110.
Luu's phenomenal achievement of a second and two firsts in Omaha Hi/Lo is one for the record books – especially coming, as it did, with him sitting as chip leader at the end of Day 1 and in second chip position at the end of Day 2, for a nearly "wire-to-wire" victory. It earned him his largest tournament cash to date ($263,135) and surely marks him as one of the world's elite tournament players in that game.
Thang Luu was born in Vietnam, arrived in the United States at age 17, and is now a professional poker player living in Las Vegas. This was his fifth WSOP finish in the money. Interestingly, though, he said that his favorite poker variant is not Omaha, but badugi. One must assume that he will be a force to be reckoned with if the WSOP ever makes that game into a bracelet event.