2009 WSOP: $1,500 Omaha Hi/Lo Event #3, Day 2 – Smith Overtakes Luu for Lead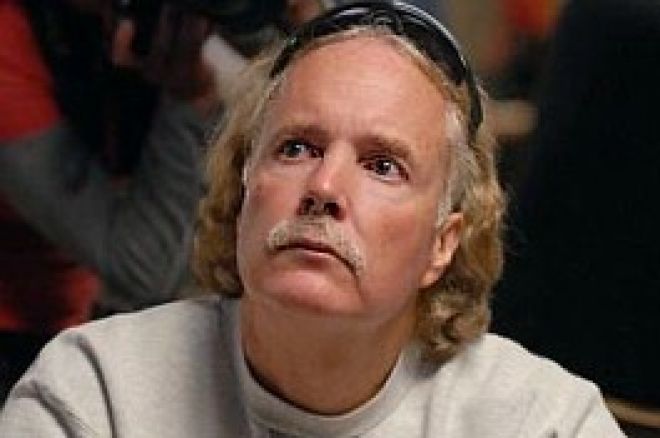 Day 2 of Event #3, Omaha Hi/Lo 8-or-Better ended with Thang Luu's quest to take the bracelet for the second consecutive year still very much alive, although he surrendered the chip lead to a largely unknown player, Ed Smith. The headline story yesterday was Luu's remarkable defense of his 2008 victory in the same event as he held the chip lead at the close of Day 1. Today, however, Smith edged him out for the role of big stack, ending with 433,000 to Luu's 410,000 when tournament officials stopped action for the day at 3:00 a.m. with 19 players remaining, short of the original goal of playing down to the final table.
Smith is no stranger to Omaha Hi/Lo, having finished 23rd in a similar $1,500 event in the 2008 World Series of Poker, and just one spot short of the bracelet in yet another $1,500 Omaha Hi/Lo WSOP tournament in 1999. Interestingly, Luu also has experienced the heartbreak of second place in an Omaha Hi/Lo event, finishing runner-up at the 2007 WSOP, the year before returning to claim his win.
Nineteen players now remain, including Freddy Deeb (currently in eighth with 266,000), Jordan Rich (tenth,185,000), and Sebastian Ruthenberg (11th, 185,000). Ming Reslock is the sole surviving female contestant, currently in 13th place (146,000), having outlasted her better-known husband, Chris Reslock. Julie Schneider similarly bested her husband, Tom Schneider by cashing in 58th place for $4,361; he had busted out on Day 1. Reslock would be even higher in the chip counts if not for a crucial error about an hour before the end of the day. On the river, she bet into two opponents, both of whom had her beat, then said that she had misread her cards, mistakenly thinking that she had K-Q for a Broadway straight, which would have been the best possible high hand on the board of
.
Eli Elezra was the last one eliminated before the end of the day (20th place, $7,869). Joining him in the money but out of the race were Al Barbieri (27th, $7869), Annie Duke (30th, $6,566), Erick Lindgren (34th, $6,566), Layne Flack (44th, $5,651), Chip Jett (53rd, $4,925), Matt Savage (60th, $4,361), Pat Poels (64th, $3,797), Toto Leonidas (70th, $3,797), Fabrice Soulier (71st, $3,797), Greg Pappas (72nd, $3,797), and Todd Brunson (77th, $3,271).
Justin Phillips bubbled in 91st place just before the dinner break. Readers may remember him from last year's Main Event broadcast, when he won the most improbable of hands with a royal flush beating four aces. Other well-known players who exited short of the cash today included Justin Young, John "The Razor" Phan, Dario Alioto, Lee Watkinson, Brandon Cantu, Michael Mizrachi, Roy Winston, Rafe Furst, Tony Cousineau, Max Pescatori, Phil Hellmuth, Ted Lawson, "Minneapolis" Jim Meehan, "Hollywood" Dave Stann, and Andy Bloch.
The action got underway about an hour late, as tournament officials and facility space were overwhelmed by the start of the record-setting, 6000-player, $1,000 "Stimulus Special" tournament. One of the earliest sounds heard was Duke lamenting her table draw on Table 69, with Todd Brunson on her immediate left and Max Pescatori and Matt Savage also sharing the same table. That was hardly the only talent-laden stretch of felt; we can pity those who had to start the day staring down Erick Lindgren, Freddy Deeb, Phil Hellmuth, and Michael Mizrachi at Table 61. (Much later, Savage was moved to that table and issued a Twitter lament: "Short stacked and moved to table with Lindgren, Freddy Deeb, Jordan Rich, and Pat Poels. Brutal!")
With such players vying for top honors, it is no wonder that at least two players were spotted during the day reading the "Omaha Eight-or-Better" chapter (penned by Bobby Baldwin and Mark Gregorich, the latter of whom finished tenth in this event last year) of Doyle Brunson's 2005 book Super System 2.
Double-paired hands seemed to fare well in today's contest. During the second level of the day, Pescatori tripled up to stay alive after hitting a full house with K-K-9-9 in the hole and a board of K-6-A-2-2. Shortly thereafter, Deeb's A-A-K-K similarly made kings full of deuces on the board of 9-7-2-2-K, sending Mizrachi to the rail. Ironically, though, Pescatori later couldn't make the same A-A-K-K hand hold up when Duke called his all-in reraise before the flop with her
. She flopped top two pair, and improved to the nut flush and the only qualifying low when the board came
.
Another theme of Day 2 was the plummeting of the big stacks. Thang Luu dipped low mid-day, but recovered nicely. His rehabilitation was boosted late in the day during Level 18 by taking a huge pot from Jordan Rich with kings full on the board of K-10-5-10-9. Conversely, Sven Amtzen fell and couldn't get up; he plunged from 165,000 to about 25,000 over the course of roughly 30 minutes, and was eliminated a little over an hour later (26th place, $7,869). Alex Michaels also experienced an Icarian rise and fall. Losing a rapid succession of monster pots, he dropped from a high point of around 250,000 chips to exit in 24th place ($7,869), reportedly after playing a dangerously high percentage of his starting hands. The sense of power a big stack brings might be as intoxicating as flying close to the sun.
Day 3 of the tournament begins today (Sunday) at 2:00 p.m. PDT, with live updates from the PokerNews team. The 19 remaining players – 98 percent of the starting field has now been eliminated – will play until a winner is determined. The player with all of the chips at the end will receive the bracelet and $263,135 of the $1,253,070 total prize pool.