2009 WSOP: $1,000 No-Limit Hold'em Event #4, Day 1b – Tran Tops Massive Field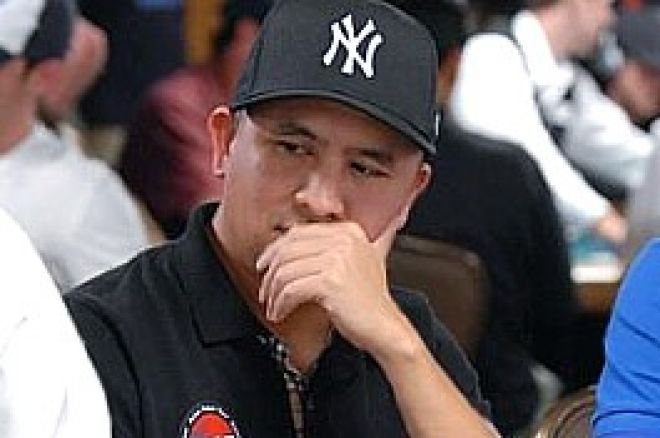 A field of 3,014 entered the Amazon Room and surrounding tournament areas on Sunday afternoon to conclude Day 1 of Event #4, $1,000 No-Limit Hold'em, informally known as the "Stimulus Special". Combined with the 2,998 entries on Saturday, a total of 6,012 runners have officially signed up to chase the first-place prize of $771,106 and the coveted gold bracelet, creating the largest tournament field outside of the past three WSOP Main Events. After ten levels of play, a name more familiar to the poker community emerged from the crowd as J.C. Tran ended the day as the unofficial chip leader with 130,800 in chips.
If you were a known poker player and had decided not to appear for Day 1a on Saturday, it's likely you were seen out on the floor Sunday. Some of the famous names who showed up for Day 1b included: Daniel Negreanu, Phil Ivey, Erick Lindgren, John Juanda, Chino Rheem, Humberto Brenes, Marcel Luske, Michael and Nick Binger, Bryan Micon, Jonathan Little, John Phan, Jimmy Fricke, and Adam Junglen, to name just a few of the well-known players in attendance. The immense size of the field could make even the most established players feel lost in the shuffle, as Scandinavian poker legend Thor Hansen lost his way back to his table after stepping away from a break. He eventually found his way back, but was eliminated shortly afterward.
An early chip leader emerged in California grinder Jesse Rios, as he was able to crack pocket aces on three separate occasions to take his stack up to over 23,000 at one point. However, variance would take its toll on him as well, as he lost a huge pot in a set-under-set play and was eliminated later in the day. J.C. Tran wasn't worrying about variance; he was able to build up a large stack and then used his skill to put the pressure on his opponents, working his way up from a 3,000-chip starting stack to nearly 20,000 at the dinner break.
When the dinner break arrived after Level 6, just over 1,000 players were remaining as eliminations took place at the dizzying rate of 5.5 players per minute. Some other names that had crept up the leaderboard included Vinnie Vinh (19,000), and Lee Watkinson (14,000). While Vinh would eventually get knocked out later, Watkinson was able to finish the day at 36,600, comfortably above the average stack of nearly 24,000. Jack "doctor_fun" Powell was getting it done quietly as he made his move after the dinner break, running his stack up to 70,000 in chips. Asked if there were any interesting hands, he replied, "No, just mostly all-in confrontations." Powell finished the day in the top ten, with 72,900.
As the evening wore on, some player's level of excitement was inverse to the number of chips won, with one player giving a roar of delight over a win of just 1,100 in chips. Floor men attempted to quiet him and his buddies on the rail; perhaps a few of them were enjoying their adult beverages a bit too much.
Meanwhile, J.C. Tran kept on climbing, catching a bit of luck along the way. Even when he was dominated, he was able to pull out the win, taking A-Q suited against pocket queens and making a flush on the river to get to 55,000. When told that the Day 1a chip leader had finished with over 130,000 in chips (which turned out to be in error as the player had added a 1 to his final total), Tran opined that they'd have to break his table for him to get close to that total. Fortunately for Tran, he was finally moved into the Amazon room and finished with 130,800 to close the day as the overall chip leader. Alex Shin (103,300) and Mark Fink (100,300) were the two other players to report a chip count of over 100,000. More notable names near the top of the leaderboard included Rob "veeRob" Perelman, Rep Porter, John Myung, and Matt Marafioti.
The 385 survivors who completed Day 1b will join the 375 players from Day 1a Monday at 2pm, as they attempt to play down to a final table. However, it's more likely they'll play down to a few tables if it gets too late. The players will first have to break the money bubble, where the player who finishes in 621st will take down $1,894. Most people will be reaching for much larger prizes however, with the final table of nine each guaranteed a six-figure payday. Follow the action at PokerNews later today to catch the action of this and the other tournaments taking place at the World Series of Poker!