2009 WSOP: $1,500 Omaha Hi/Lo Event #3, Day 1 – Luu Tops Record Field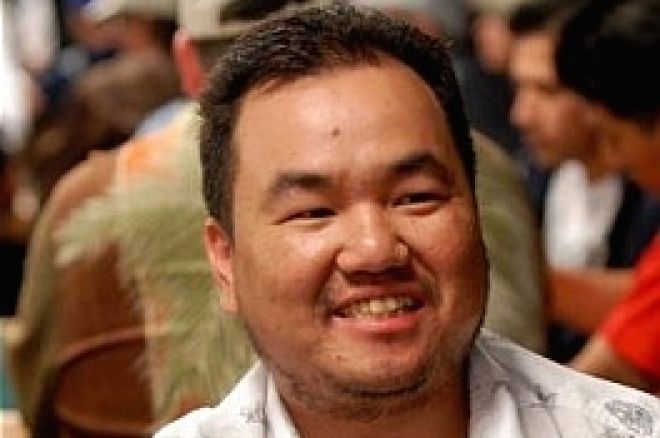 If Event #3, $1500 Omaha Hi/Lo 8-or-Better, is a bellwether, then the 2009 World Series of Poker may be the biggest yet. A remarkable Day 1 began with a record-breaking field of runners for a live Omaha Hi/Lo event, and ended with last year's winner of this event, Thang Luu, perched on top of the leaderboard.
The first open event of the 2009 Series that does not require a mammoth bankroll (Event #1 was for casino employees only, and Event #2 carried a $40,000 price tag) showed a substantial increase in participation over 2008. This year saw 918 players taking to the felt, compared to 832 last year, a 10.3 percent uptick in registration – and that during a global recession. WSOP organizers boast that the field size makes this the largest Omaha Hi/Lo live tournament in history.
The players were spread between the Amazon and Brasilia rooms. Starting at noon with 4,500 in tournament chips each, they were competing for 90 cash spots worth a total of $1,253,070, with the winner's share set at $263,135.
Despite the big-ticket event running simultaneously, there was no shortage of famous names taking a shot at this bracelet. The participants included Roy Winston, Chad Brown, Scott Clements, Barry Shulman, Freddy Deeb, Ivan Demidov, Linda Johnson, Max Pescatori, Michael Binger, Jonathan Little, Eli Elezra, Layne Flack, Jennifer Harman, Andy Bloch, Jan Fisher, Erick Lindgren, Marcel Luske, John Phan, John Juanda, Chris Ferguson, Bill Edler, Hoyt Corkins, and Kathy Liebert.
The field also included some players better-known for other pursuits, such as acclaimed tournament director Matt Savage, L.A. Lakers owner Jerry Buss, and blackjack champion "Hollywood" Dave Stann. A notable appearance was put in by Mike Matusow, who shuttled between this event and his remaining stack in the $40,000 tourney. He was eliminated from both before the dinner break, however.
In an unusual incident early in the day, one player learned the hard way that you must have the right number of cards. He got all his chips into the pot apparently before realizing that he had been dealt five cards instead of four. His hand was declared dead and therefore ineligible to win any share of the pot. A tough way to get eliminated from a major poker tournament.
One of the frustrations of Omaha Hi/Lo is making the best possible hand one way, only to do no better than getting your money back when your opponent snags the other half of the pot. Michael "The Grinder" Mizrachi and Warren Karp know the feeling well. In a hand late in the day, the final board read
. Mizrachi held
for the nut low, while Karp cinched the high with quad deuces. Both players ended the hand only marginally ahead of where they stood when it started.
But successful Omaha Hi/Lo is about scoops, not chops, as was shown at the expense of Men "The Master" Nguyen. The short-stacked Nguyen and an unknown opponent raised and reraised each other on the flop of
, until Nguyen was all in. He said, "I just want to go home," and showed
for a non-nut flush draw and a low draw. Conversely, his opponent held
, for top set, a better flush draw, an inside straight draw, and a low draw. When the turn and river were the two red treys, Nguyen was left with trips beaten by a full house and no qualifying low. Apparently each player got what he wanted: Nguyen an early ouster, and his opponent the entire pot.
In previous years, reporters were sometimes left to wonder what might have happened to a well-known player who was suddenly missing in action. This year, with the prevalence of Twitter accounts, the announcements often come straight from the horse's mouth. The epitaphs ranged from the late and angry (Jean-Robert Bellande: "Out. Super long day. No result. Sucks!"), to the early and amusing (Allen Cunningham: "New personal best for this year's World Series. Lasted 4 hours").
A little over half of the field, 507 players, remained by the dinner break at the end of Level 6. Two hours later, it was down to 311. Of those, only 197 were still standing when chips were bagged at the end of the day. The survivors include Phil Hellmuth, Lee Watkinson, Brandon Cantu, Annie Duke, and Todd Brunson.
The day's casualties included notables such as Barry Greenstein, Daniel Negreanu, Jeff Madsen, Jimmy Fricke, Tom Schneider, Alexander Kostritsyn, David "Chino" Rheem, Gavin Smith, and Bryan Devonshire.
Perhaps the most remarkable story of the day is that the winner of this event last year, Thang Luu, ended Day 1 as the presumptive chip leader. It would be an impressive and historic accomplishment to claim bracelets in the leadoff Omaha event two years in a row.
Follow the next leg of his quest, as well as all of the other stories that will emerge from the remaining field, when PokerNews brings you live updates from Day 2, starting at 2:00 p.m. Pacific Daylight Time.