Darvin Moon, Joe Cada, and How Luck Paved their Way to Heads-Up Play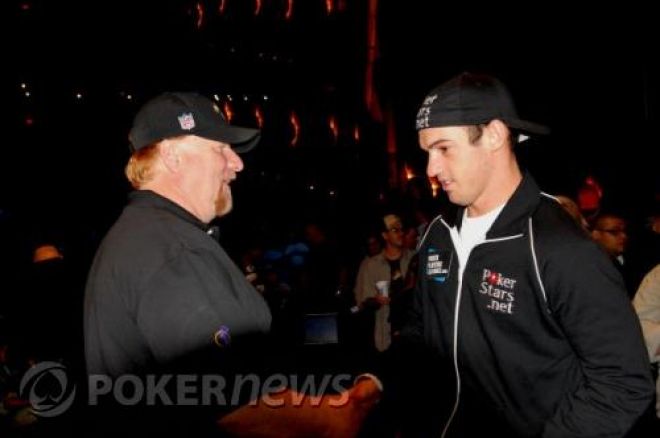 There's an old saying in poker — "It's better to be lucky than good." At one time or another, all of us who play the game have thought it, muttered it under our breath, or spoken it aloud to an opponent by way of rationalizing a suckout or two at the tables. Though there was plenty of skill on display at Saturday's World Series of Poker Main Event final table (most notably by France's Antoine Saout, who surprised everyone by working his way off the short stack to finish third), the hands that will stick out in everyone's minds for years to come will be the series of improbable suckouts that led Darvin Moon and Joe Cada to their heads-up battle.
Though Moon made some already-legendary missteps at the final table that cost him significant chunks of his stack, the 45-year old logger never found himself in serious danger when it came to his chip count. Cada, however, was crippled to only a bit more than four big blinds after he called Jeff Shulman's three-bet shove with
only to find his hand dominated by Shulman's
. Shulman's hand held, and Cada was left with only 2.25 million in chips, with the blinds up to 250,000/500,000 with a 50,000 ante. Cada needed a huge comeback at that point, and come back he did, increasing his stack to a still-short 4.8 million in chips when he doubled through Eric Buchman on the following hand with
against
. Buchman looked like he was kicking himself for making that call as the pot was shipped to Cada, a win that would set off a remarkable run for the 21-year old pro, paved with flopped sets, dramatic river cards, and one coinflip that in this writer's opinion, changed everything.
Hand #131 - Cada wins the Game-Changing Coinflip
After a few more blind steals, Cada had chipped up to 5.8 million when he three-bet shoved over the top of Phil Ivey's 1.25 million opening raise, holding pocket fours. Ivey tanked so hard over the decision, it brought to mind that Full Tilt Poker commercial when time slows down as Ivey thinks through a hand ("Did that ace hit him? I think it hit him. 2 to 1...4 to 1...8 to 1...unless I'm drawing dead. I like my chances.") Ivey eventually called with
, but could not win the race against Cada's small pair. The hand took Ivey's stack back down to 10.3 million while Cada gained new life with 12.5 million in chips.
Had Ivey won that coinflip, Cada would have been eliminated while Ivey would have become a huge factor at the final table with healthy 24 million in chips.
Hand #175 - Moon Eliminates Ivey in Seventh Place
Down to 6.5 million in chips (13 big blinds), Ivey open-shoved from under-the-gun with
and Moon looked him up from the big blind with
— a hand that has been Ivey's nemesis for years now (Ivey busted from several World Poker Tour final tables holding A-Q, not to mention the hand where he turned a full house against Chris Moneymaker on the 2003 WSOP Main Event final table bubble, only to have Moneymaker river a bigger boat holding what else — A-Q). With the entire room vibrating with deafening cheers for Ivey, the dealer spread out a
flop, the queen appearing in the door and instantly silencing the masses as Moon defied the odds and flopped top pair. Ivey wasn't going to be the one catching cards that night, as blanks peeled off on the turn and river, sending him home in seventh place and setting off a mass exodus of fans from the Penn & Teller Theatre.
Hand #187 - Moon Spikes an Ace on the River, Eliminating Steve Begleiter
A-Q would prove to be Moon's lucky hand once again. Only minutes after Ivey departed the stage, Moon moved in over the top of Steve Begleiter's 1.6 million opening raise and "Begs" snap-called, springing from his chair as he turned over
. Moon was a 7 to 3 underdog before the flop and nearly a 7 to 1 dog after it came down
. The
on the turn left Moon with only three outs in the deck to win and one of them, the
, hit the river to eliminate Begleiter, and send his 23.25 million chips over to Moon, who reclaimed the chip lead with 63.9 million.
Hand #195 - Cada's Treys Outflop Shulman's Jacks
"Wow. Run good one time, Joe Cada," wrote our own David "F-Train" Behr as he live-blogged this hand.
The tight-playing Jeff Shulman opened for 1.75 million from first position and the rest of the table folded around to Cada in the small blind. Holding 10.8 million in chips (18 big blinds) Cada shoved and Shulman called rather quickly, turning over
to Cada's
. Cada had an 81.4% chance of becoming the sixth-place finisher, that is until he hit a three on the flop, making him a set and sending Shulman's stack plummeting to 7.5 million.
Cada was up to 22.5 million after hitting that miracle three, and only four hands later, boosted his chip count even further after doubling through Moon with pocket aces against
.
Hand #271 - Moon Busts Buchman
Although his hand wasn't nearly a suckout of violent proportions like those we'd seen earlier in the evening, Moon continued to enjoy the blessings of the poker gods, winning a key 55/45 hand that sent Eric Buchman to the rail in fourth place. The late hour and the sheer length of the final table had many of us in media row wondering if fatigue played a large role in this hand, where while holding
, Buchman three-bet shoved for his entire 23 million+ stack over the top of Moon's 3 million opening raise. Moon quickly called with
and though the queen-high flop was safe for Buchman, Moon spiked a king on the turn to send the 30-year old New Yorker home in fourth place. Moon held 76 million in chips after the hand but was still not the chip leader. Those honors belonged to Antoine Saout until the next hand which sent heads spinning the world around.
Hand #272 – Cada Cracks Saout's Queens with Deuces
The dust hadn't even begun to settle from Buchman's stunning elimination when Cada made it 2.55 million to go from the small blind and Saout slid out a 7.3 million raise. Believing a shove could force Saout off his hand, Cada moved in for over 39 million and Saout double fist-pump snap-called with pocket queens, a better than 4 to 1 favorite over Cada's two black deuces. Earlier, Cada was an 81.4% favorite to finish sixth. Now he was an 81.8% favorite to go out in third.
Then came that heaven-sent deuce on the flop. Pandemonium. Inebriated yellow-shirted Cada fans leaping all over each other. Media row, awoken from their late-night stupor, their mouths agape at another huge improbability come to life. Cada's backers practically dancing with their "horse" as he dodged yet another bullet.
Four hands later, Cada won what would be the final hand of the night, Saout putting his 40 million remaining chips in the middle with
and Cada making the call with
. Though it was only a coinflip (albeit one with several million dollars on the line), it unfolded in the most dramatic fashion possible, the board running out a safe
for Saout until the
spiked on the river, eliminating Saout and sending Cada into heads-up play with a 2.3 to 1 chip lead on Moon.
One last interesting tidbit for you: Cada started the final table with 13,215,000 in chips and will go into heads-up play holding 135,950,000—a gain of 122,735,000. Moon, on the other hand, holds 58,850,000. That's 80,000 less than the 58,930,000 he bagged up last July.
The World Series of Poker Main Event concludes this evening. Tune into our Live Reporting Page starting at 10 p.m. Pacific time for all the play-by-play, live from the Rio's Penn & Teller Theatre. Follow us on Twitter too!