2009 WSOP, $2,500 Pot-Limit Hold'em/Omaha: Rami Boukai Mines Gold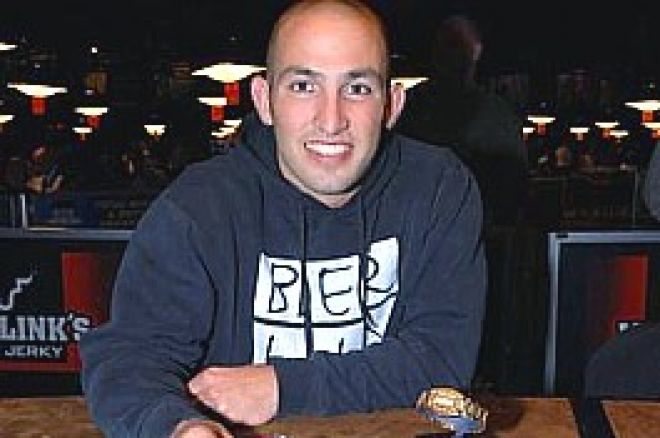 It took more than 29 hours of play over the course of three days, but Event #10, the $2,500 Pot-Limit Hold'em/Omaha, is in the books, with the bracelet going to Rami Boukai of San Diego, California.
The original schedule had called for play to continue down to a final table on Day 2, but as is happening in most events so far this year, tournament officials called a halt to the proceedings at 3:00 a.m., leaving 18 contestants to return. All 18 survivors were guaranteed a payday of at least $10,293. The structure of the event called for switching between pot-limit hold'em and pot-limit Omaha every nine hands. Last year, Max Pescatori claimed the victory in this event. This year's starting field of 453 was four fewer than the number of players who signed on to compete in 2008.
The day's first elimination took less than 45 minutes. In the hold'em round, action folded to Tony Cousineau in the small blind, and he raised. Paul Parker reraised from the big blind, and Cousineau made the all-in call. His
was already in trouble against Parker's
, and no help came from the board. Neither player made so much as a pair, and Parker's kicker gave him the pot.
Two players with considerable name recognition from televised tournaments went out in consecutive spots. Surinder Sunar (14th place, $13,534) raced for his tournament life with A-Q against the pocket tens of Najib Bennani, but couldn't pair either of his hole cards. Shortly thereafter, Amit Makhija (13th place, $13,534) similarly lost a preflop, all-in race against pocket tens, this time held by Rami Boukai. Makija had
and caught trip aces, but they were no match for the full house that Boukai made on the turn, when the board came
.
Hevad Khan, perhaps the best-known player of the Day 3 field, survived to 11th place, good for $18,170. He opened for a pot-sized raise to 42,000 with
. Daniel Makowsky reraised with
and Khan agreed to the all-in call, subsequently missing the board entirely. With Khan's departure, the remaining ten players were consolidated to a single table, though for purposes of WSOP records it would not be considered an official final table until they reached the last nine. That occurred about three and a half hours into play, when Gary Do (tenth place, $18,170) took a bad beat to send him packing. His
was the big favorite over Cornel Cimpan's
when all the money went in, but an ace on the turn ended Do's day.
Boukai's chip stack had been running about middle-of-the-pack most of the day, but he got a big shove towards the top of the leaderboard when he ousted Paul Parker (sixth place, $39,904). Parker's
was no match for Boukai's
. Reporters described Parker has having been the life of the party for the three days of play, both the friendliest and best-dressed player at the final table.
Boukai took the chip lead soon thereafter, and he gradually built on it. By late in the evening Boukai had pulled far out in front, with triple the chips of his next-closest follower. He would relinquish the number one spot only briefly in the hours to come. Play was relatively cautious during this same stretch –especially during the hold'em rounds – with no additional eliminations for the next two and a half hours. That couldn't last, though, and Daniel Makowsky, who had been the overnight chip leader, was next to fall in yet another classic hold'em race situation. Makowsky, holding
, raised and called an all-in reraise from Bennani, who had
. When the board ran dry, Makowsky exited in fifth place, good for $51,313.
There's a reason some call the game "Omadraw," as illustrated by the hand that ended the tournament for Cornel Cimpan, who earlier in the day had been the first player to hit the million-chip mark. On the flop of
, he and Najib Bennani got it all in. Cimpan had the made hand with
, but Bennani's
gave him enough outs to be a statistical favorite. The
on the turn didn't get him there, but the
on the river did. As a result, Cimpan busted out in fourth place with a $69,546 consolation paycheck, and Bennani captured the chip lead from Boukai for the first time.
Play finally got down to two at about 1:30 a.m. with the elimination of Ben Grundy in the Omaha round. Earlier in the evening, Grundy had twice been put into a vise by pressure from his more well-heeled opponents, and both times he made painful folds, choosing to play on as one of the shorter stacks rather than risk elimination. His patience was finally rewarded with third place and $99,574 – clearly not the result he had hoped for, but an impressive outcome under difficult circumstances. Grundy's final hand was
, pitted against Bennani's
. Unimproved pocket aces rarely win in Omaha, and this hand showed it. Bennani caught runner-runner two pair on the
board to snatch the pot away.
That hand gave Bennani a slight edge in chips over Boukai as they began heads-up play: 1,750,000 to 1,650,000. But Boukai quickly won the first large pot, and he never looked back. After just 20 minutes, he held a 3-to-1 lead, and ten more minutes brought the tournament to a close. Ironically, it came in a hold'em hand, even though the Omaha portions of play had seen far more action and the majority of the eliminations through the day.
Bennani opened from the button/small blind with a pot-sized raise. Boukai reraised the pot, enough to cover his opponent. Bennani quickly called, showing
to Boukai's
. Boukai's pocket pair was in trouble on the flop of
, but when the dealer next peeled off the
, the trouble was Bennani's. He could only win with a ten on the river to make Broadway, and the
would not do the job. Najib Bennani picked up $151,355 for his trouble – a sum which dwarfs the combined totals of his previous recorded tournament cashes.
Rami Boukai's name is likely not familiar to most poker players, not yet, anyway. However, he has a significant track record, including over $315,000 in recorded tournament wins. In fact, this is already his second cash in the 2009 World Series of Poker, having placed 147th for $3,571 in Event #4, the "Stimulus Special" $1,000 No-Limit Hold'em. He also cashed three times in last year's Series, and twice each in 2007 and 2006, thus showing admirable consistency. His previous biggest hit came just over a year ago at the EPT Monte Carlo Grand Final, taking 25th place for €42,100 (about $58,940 USD at current conversion rates). Today's first-place prize of $244,862 more than quadruples that mark.