2009 WSOP, $2,500 No-Limit 2-7 Draw Event #8: Phil Ivey Wins Sixth Bracelet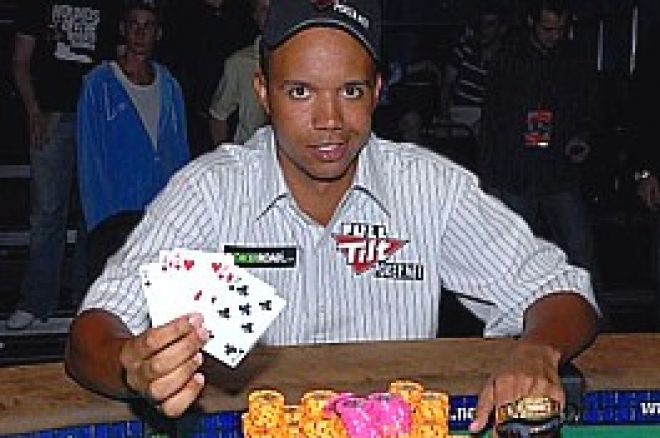 Phil Ivey is considered by many to be the best poker player in the world. No-limit deuce-to-seven draw lowball is considered by many to be the most skillful game of the various poker disciplines. The two came together on Thursday afternoon for Event #8, $2,500 No-Limit Deuce-to-Seven Draw, with Ivey starting the day sixth in chips at the seven-player final table. Nine hours later, Phil Ivey would collect his sixth WSOP bracelet, $96,361 in winnings, and several million in bracelet bets, rumored to be between $3,000,000 and $10,000,000 depending on who you ask.
First, the basics of deuce-to-seven draw lowball in a few sentences. The worse your hand is the better, and the best hand a player can get is 7-5-4-3-2, known as a wheel or number one. The game has small and big blinds along with antes, and a player who enters the pot must make a raise. After the first round of betting is complete, players can either stand pat or draw in the hopes of improving their hands. Flushes and straights count against you and the ace is a high card. And when the game is played no-limit, an experienced player will usually have the advantage over a less-experienced opponent.
Fifteen minutes into the action, the first player was bounced from the final table. The blinds were at 2,000/4,000 with a 1,000 ante when Yan Chen made a raise to 9,000 from the small blind. Elia Ahmadian reraised to 28,000 and Chen made the call. Chen drew one card, while Ahmadian stood pat. Chen appeared to like the card he received as he moved all in. Ahmadian quickly called and turned over a 10-low. Chen turned over 9-8-4-3-2 for a better low and eliminated Ahmadian in seventh place for $11,627.
Phil Ivey didn't get off to a great start as Raphael Zimmerman, who began the day second in chips, appeared to have Ivey's number. Zimmerman reraised Ivey on a number of occasions, as Ivey's stack dwindled to around 65,000 in chips. Ivey would start his comeback when he got involved in a pot with Zimmerman and Rodeen Talebi. Zimmerman made a raise to 10,000, and Talebi and Ivey both made the call. Ivey and Zimmerman drew two cards, while Talebi took one. Ivey made a bet of 20,000 and only Zimmerman called. Ivey rolled over an 8-5-4-3-2 low, while Zimmerman mucked his hand.
On the next hand, Ivey raised to 12,000 from the small blind, while Zimmerman moved all in. Ivey made the call and each player drew one card. Before the cards were given to each player, they turned over their hands and Ivey was well ahead with his 7-6-3-2 to Zimmerman's 9-7-6-2. Ivey drew an eight, meaning Zimmerman was drawing dead. A few hands later, Ivey finished off Zimmerman for good. Ivey raised again to 12,000 and Zimmerman responded with a raise all in, Ivey called and stood pat, while Zimmerman drew one card. Phil Ivey would show an 8-7-5-4-3, and Raphael Zimmerman announced he was drawing dead, mucking his hand to finish in sixth place for $14,663 while Ivey moved into the chip lead with over 400,000 in chips.
Yan Chen, a veteran cash-game player, would dispose of the next player as Rodeen Talebi moved all in with his last 50,500 and Chen made the call. Both players stood pat, and Talebi's J-10 low was no good against Chen's 9-8 low, as Talebi would head to the cashier to pick up $19,436 for his fifth-place finish. Phil Ivey and John Monnette, the two chip leaders, would then tangle in the first of many pots, as Ivey made a raise to 12,000 from under the gun. Monnette called from the small blind and each player drew one. Monnette checked, Ivey bet 30,000, and Monnette called. Ivey would turn over 8-7-6-4-3 for the winning hand to increase his lead.
When the players returned after the break to an increase in the blinds to 2,500/5,000 with a 1,500 ante, the only other bracelet winner at the final table, Eric Kesselman, would be the next player to be excused from the table. Phil Ivey made a button raise to 15,000, Kesselman shoved all in from the small blind for 80,500, and Monnette called from the big blind. Ivey elected to get out of the way, and Kesselman and Monnette stood pat. Monnette was dealt a wheel, 7-5-4-3-2 and Kesselman mucked without showing to collect $26,757 for fourth place.
With play down to three-handed, it appeared to a foregone conclusion that Phil Ivey would quickly take care of his two opponents and take down the bracelet. John Monnette asked Ivey what was the difference between first and second place. Ivey told him about $3,000,000, joking about giving him a piece if Monnette let him win. However, both Monnette and Yan Chen were intent on forcing Phil Ivey to earn the bracelet. Yan Chen started to catch a rush, winning several hands in a row to move into the chip lead while Ivey fell into third place, but all three were close in chips. John Monnette then won a healthy pot in a three-way hand to take the lead himself. Yan Chen raised on the button to 18,000, and Ivey and Monnette both called, each drawing one card while Chen stood pat. Ivey then made a bet to 50,000, which Monnette reraised to 170,000. That was too much for his other two opponents, who both mucked their hands as Monnette raked in the chips.
John Monnette was well in front at 640,000, with Yan Chen at 260,000, and Phil Ivey in third chip position with 210,000 when the levels increased to 4,000/8,000 with a 2,000 ante. Ivey would take some chips off of Chen with a 10-7 low. Then Chen got some of those chips back when he reraised all in off an Ivey raise, inducing both of his opponents to muck. This was followed by Monnette taking some chips off Ivey himself when Monnette made an 8-7 low.
Eventually, Yan Chen would be the next player to hit the rail as he moved in for his last 139,000. Phil Ivey made the call and while Chen stood pat, Ivey drew one card. Yan Chen showed a J-10 low, while Ivey had 9-4-3-2, and when Ivey drew a five that was all for Chen as he finished in third place for $38,892. It was down to the final two, with John Monnette holding a slender 6-to-5 chip lead over Phil Ivey.
With play now at heads-up, the rail filled with poker pros, including Joe Sebok, Perry Friedman, Andy Bloch, Dutch Boyd, and Chino Rheem – most of them hoping for another Phil Ivey bracelet. Ivey was doing his best to oblige as the action picked up. With the blinds now at 5,000/10,000 with a 3,000 ante, John Monnette made a raise to 30,000, which Ivey called and took two cards, while Monnette took one card. Ivey checked to Monnette, who made a bet of 45,000. Ivey gave his patented stare at Monnette, thinking through the hand, before eventually making the call. Monnette could only nod when Ivey called; Ivey showed just an ace-low, which turned out to be the best hand, as he eventually retook the chip lead from Monnette.
As Phil Ivey kept adding to his chip lead, more pros were coming down for what appeared to be a mere formality. Roland de Wolfe, Danny Wong, Allen Cunningham, and John Racener joined the throng of admirers awaiting the victory celebration. The only obstacle was John Monnette, who wasn't going to back down that easily. Phil Ivey made a raise from the button, then John Monnette pushed all in and stood pat with a 10-8-6-5-4. Ivey drew one card to a nine-low, and when he paired that nine, Monnette had doubled up to 480,000 and was back in contention. John Monnette then doubled up yet again to put Ivey on life support when both players had a 10-9 low, but Monnette's 6-5-2 bested Ivey's three remaining cards as it was now John Monnette staring at victory with a 4-to-1 chip lead.
After nearly three hours of heads-up play, Phil Ivey came back yet again, going all in and drawing one card, while keeping the 6-4-3-2. John Monnette also drew one while holding J-10-8-5. Ivey caught a 7, leaving Monnette drawing dead and bringing Ivey back to over 400,000 in chips. The rejuvenated Ivey went back on the attack, repeatedly three-betting Monnette and he was able to regain the chip lead when the final hand came down.
After a period of trading blinds, John Monnette moved all in and Phil Ivey made the call. Everyone left their seats trying to get as close to the action as possible, and each player declared he was taking one card. Ivey had 7-6-4-2, while Monnette held 9-7-5-2. John Monnette showed his card first, revealing another seven, meaning that he was drawing dead. Phil Ivey turned over the five for the winning hand and his sixth WSOP gold bracelet, his first since 2005.
Ivey joins T.J. Cloutier, Layne Flack, Men "The Master" Nguyen, and Jay Heimowitz among the other six-time bracelet winners, now setting his sights on Billy Baxter, the only player currently with seven WSOP bracelets. Knowing the drive that Phil Ivey has when he decides to go for something, don't be surprised if you see him at yet another final table this WSOP. Check out PokerNews every day to follow his progress among the thousands of others hopeful in picking up bracelets of their own.