2009 WSOP: NLHE #34, Klausen Fronts Final 21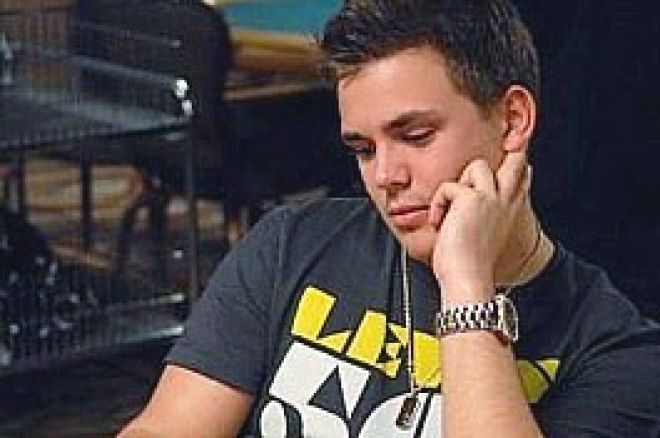 Wednesday afternoon saw the return of 240 participants for Day 2 of Event #34, $1,500 No-Limit Hold'em, with the dual goals of making the money and reaching the final table. When the 3:00am deadline was reached, 21 players survived to come back on Day 3 and play down to a WSOP bracelet, with Jonas Klausen as the chip leader when play resumes.
One notable elimination before players reached the money was Jeff Madsen, who started the day with just 17,000 in chips. Phil Hellmuth began his day with over 85,000, but when he ran his pocket queens into Alex Kravchenko's pocket aces in an all-in confrontation, Kravchenko doubled through while Hellmuth fell to 30,000. Chris Ferguson scraped into the money, finishing 206th, good for $2,745. Allen Cunningham (211th) and Dennis Phillips (200th) also picked up $2,745 for their first cashes of the 2009 WSOP.
Bertrand "ElkY" Grospellier started the day in the bottom half of the field, but chipped up to nearly 90,000 as he eliminated several short-stacked players looking to double up or head to the payouts table. Meanwhile, Phil Hellmuth's chip count spiked up and down more than a readout from a 9.5 earthquake. Another downward spike came on a queen-high flop, as Jeff Blenkarn moved in on him with pocket tens when Hellmuth had A-Q. Another ten on the turn triggered a stream of profanity from Hellmuth as he fell to 60,000 in chips while Blenkarn moved up to 49,000. Hellmuth eventually fell to 3,700 in chips when he made a last-longer bet with Roland de Wolfe, who held 180,000 at the time of the bet, with de Wolfe giving Hellmuth 20-to-1 odds. Hellmuth would finally depart the tournament area finishing in 113th place, after paying de Wolfe $2,000 out of the $3,231 he earned.
Meanwhile, Grospellier maintained his upward direction as he kept sending players to the rail to move into the chip lead with 470,000 as the dinner bell rang at the end of Level 14. Some notables who took their dinner break early with some extra money in their pockets included Devin Porter (138th), Alex Jacob (154th), and Alex Kravchenko (165th), each good for $2,945. David "The Maven" Chicotsky (112th), Pat Poels (116th) and Justin Pechie each would pick up the same $3,231 Hellmuth earned without having to pay anyone for a last-longer bet.
James Taylor, who started the day as the chip leader and had maintained a top-ten position, would move back into the lead when his pocket kings were much the best over Nils Bardsley's pocket jacks to chip up to 550,000. Roland de Wolfe stopped Betrand Grospellier's forward progress when he rivered the nut flush, moving to 360,000 while Grospellier fell to 240,000. Steven Ayoub looked to take more of Grospellier's chips when he bet 60,000 on the board of
while holding
. Grospellier gave it some thought, but made the call holding
, which was good as he moved back over 500,000 in chips.
Some controversy came late in the day in a hand between Jared Hamby and James Taylor, when Hamby doubled up with pocket jacks against Taylor's A-Q to move up to 370,000 chips. However, after counting the chips, Hamby figured he was short by 34,000. Play stopped at the table while the tape was checked, and it was determined that he had the correct amount of chips, despite the objections of Hamby and the rest of the table. Hamby would be one of the late eliminations in the wee hours of the morning, finishing in 27th place and picking up $15,242. Other notables leaving after the dinner break included Andrew Teng ($12,325), Cody Slaubaugh ($9,465), Andrew Lichtenberger ($6,319), Shawn Glines ($4,117), and Paul Darden ($4,117).
In the last hour of play, Jonas Klausen would move into the chip lead. Klausen made a raise from under the gun, as Sean Mullaghy made the call. Thanhdat Tran reraised all in for his last 200,000 from the big blind. Klausen then reraised all in for the rest of his chips, while Mullaghy thought about calling, but decided to fold
face-up. He wasn't happy with that decision when Klausen turned over
and Tran revealed
. The board gave no help to Tran as he hit the rail in 29th, while Klausen moved into the chip lead with over 780,000. A few hands later, Klausen's A-K knocked out Steven Ayoub's A-9, sending Ayoub home in 25th place as Klausen moved over 900,000 in chips.
When the clock struck 3:00am, the remaining 21 players were left to bag their chips and note their totals, and Jonas Klausen added a few more chips towards the end to take the lead with 939,000 heading into Day 3, when play resumes at 1pm PT. Martin Jacobson is in second place with 806,000, with recent "Triple Crown" winner Roland de Wolfe finishing a distant third with 644,000. Eric Baldwin (610,000), James Taylor (522,000), Bertrand Grospellier (414,000), James Mackey (299,000) and Young Phan (211,000) are also among those who will try to overtake Klausen and pick up a coveted WSOP gold bracelet. PokerNews will be there as well, covering all the exciting action.