2009 WSOP: Clements Heads #27 PLO/8 Final, Barbieri Leads LHE #26, Nguyen Tops NLHE #28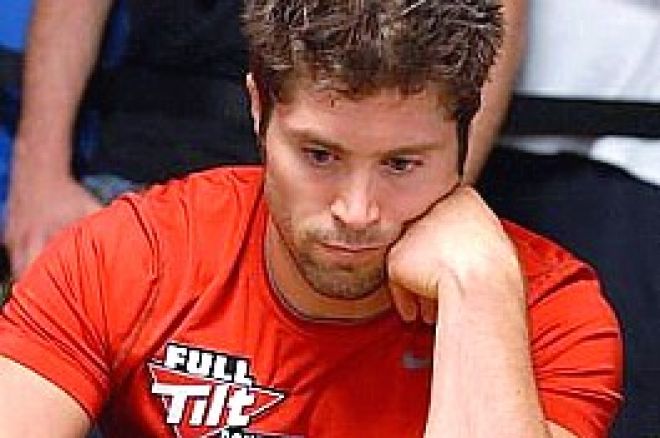 $5,000 Pot-Limit Omaha Hi/Lo Event #27, Day 2 – Clements Seizes Lead Going into Final Table
The final table was set in Event #27, $5,000 Pot-Limit Omaha Hi/Lo, before the 3:00 a.m. deadline, with Scott Clements firmly in the chip lead on a stack of 801,000, well ahead of his next-closest competitor, Antony Lellouche with 533,000. Clements will come to the final table with his eyes on a third WSOP gold bracelet and the $246,616 that goes with it.
Out of 198 players who originally entered this event, 59 survived to kick off Day 2, and of those, only 18 would be paid. That group would not include Michael Binger, Jason Mercier, Barry Shulman, Chris Reslock, Eli Elezra, Amnon Filippi, Daniel Negreanu, Richard "Chufty" Ashby, or Phil Ivey – all of whom were eliminated short of the cash.
Mickey Appleman filled the role of "bubble boy" for this tournament. He got his chips in before the flop with
and was called by Armando Ruiz II holding
. The dealer gave the players five more cards:
, leaving Ruiz with two pair for the high to go along with his nut low, and Appleman out in 19th place with nothing.
Usually as soon as the money is reached, there is a flurry of eliminations. Not this time. It took nearly an hour before Chris Bell was shown the door in 18th place, good for $14,889. Antony Lellouche pulled off the double elimination of Kenny Tam (16th place, $14,889) and Matt Lefkowitz (15th place, $17,495). Lefkowitz started the action with a raise, which Tam called with the last of his chips. On the flop of
, Lellouche took control, betting enough to put Lefkowitz all in, and got the call. Tam flipped over
, while Lefkowitz showed
and Lellouche had
. Lefkowitz was ahead with his queens, but Lellouche had the big draws. The turn
didn't get him there, but the river
gave him the nut flush and the pot.
Clements also scored a double knockout just before things wrapped up for the night, taking out Senovio Ramirez III in 12th place ($21,962) and Mark Bartlog in 11th ($21,962). His
hit paydirt on the board of
, and neither opponent could make better than aces up.
Clements also cemented the final table with the night's last elimination. Stewart Yancik left in tenth place ($21,962) when his
could not best Clements'
on the board of
.
Here is how the final table will look when Day 3 action begins at 2:00 p.m. PDT Sunday:
Seat 1: Antony Lellouche - 533,000
Seat 2: Roland de Wolfe - 386,000
Seat 3: Alex Kravchenko - 267,000
Seat 4: Andy Black - 182,000
Seat 5: Brett Richey - 238,000
Seat 6: Scott Clements - 801,000
Seat 7: Armando Ruiz II - 192,000
Seat 8: John Racener - 214,000
Seat 9: Robert Campbell - 152,000
$1,500 Limit Hold'em Event #26, Day 2 – "Sugar Bear" Roars to the Top
Just 15 players remain of the 124 who came back for Day 2 of Event #26, $1,500 Limit Hold'em. Al "Sugar Bear" Barbieri takes the chip lead into the final day of play with a stack of 400,000. He is closely followed by Demetrios "Jimmy" Arvanetes with 350,000 and Tomas Alenius with 322,000 in chips. Other well-known professionals still in the hunt going into the final day include Rep Porter and Richard Brodie.
One of the first high-profile players eliminated was actress Shannon Elizabeth, about 40 minutes into Day 2. With A-Q in the hole, she called Yan Peng Li all the way down on the board of 7-K-A-8-3, only to discover that Li was hiding pocket kings. The money bubble burst during Level 14, less than four hours after action began. Noah Boeken raised from under the gun, and it folded back around to Kieu Duong, who three-bet from the small blind. Boeken called. The flop came
. Duong led out, and Boeken asked her how much she had left. "A little over 8,000," came the reply. Boeken raised, and they got the last of her chips into the middle. Duong turned over
, and Boeken
. The turn came the
, and Duong was still safe. But the river was the
, giving Boeken the flush and knocking Duong out in 64th.
Jan von Halle, after enjoying the overnight chip lead, was taken out in 40th place ($4,046). With the board showing
, von Halle bet and Li called. The turn was the
; again a bet and call. The river was the
. Von Halle bet with his last chips, and said, "You've got me" when Li called. He was right; Li's
for top pair with top kicker beat von Halle's
.
Paul Darden went out in 31st place, good for $4871. He raised from middle position with
, Al Barbieri three-bet from the button with
, Darden four-bet, and Barbieri called. The flop came
. Darden bet with his last 2,000, and Barbieri called. The turn was the
, and the river the
, giving Barbieri the pot with top pair.
Justin Bonomo was the next one to fall (30th place, $4,871). Matt Keikoan raised from early position, Bonomo reraised from the cutoff, and Keikoan called. The flop came
, and the two got the rest of Bonomo's chips in the middle. Keikoan showed
for top pair, and Bonomo tabled
. The turn was a jack, giving Bonomo more hope, but the river blanked out. Other notables who finished in the money include [Removed:14], Barry Greenstein, Bryan Devonshire, Victor Ramdin, Bill Chen, Noah Boeken, Matt Keikoan, and Billy "The Croc" Argyros,
Starting at 1:00 p.m. PDT Sunday the remaining 15 will play down to a bracelet winner, who will also pocket the first-place prize money of $197,488.
$1,500 No-Limit Hold'em Event #28, Day 1 – Nguyen Off to Flying Start
A whopping 2641 players sat down for Event #28, $1,500 No-Limit Hold'em. At day's end, 327 were left, led by Van Dung Nguyen on a stack of 218,000, followed by Zach Fritz with 154,000 and Mats Gavitin with 131,800 in chips.
The field is larger than the 2447 who came to play in last year's event, which was won by Jesper Hougaard. Chris Ferguson took a gamble that didn't pay off. Holding
for the nut-flush draw, he bet 1,700 into a 2,100-chip pot on a board of
. His opponent raised all in, holding
for top pair. Ferguson studied for a while, but finally called. He was apparently resigned to his fate, as he was heard to say, "I guess I'll go play the heads-up" – referring to Event #29, $10,000 World Championship Heads-up No-Limit Hold'em – while he tossed in his last 2,300. His prediction was accurate; the
river could not save him.
Phil Hellmuth and an opponent raised each other back and forth before the flop until the "Poker Brat" was all in. His
was racing against
, and lost when the board came down
. "It's so brutal," Hellmuth said as he exited the tournament area. Pocket tens were also the undoing for John Juanda when his A-Q got no help from the community cards.
2008 Main Event final-tablist Ylon Schwartz couldn't make the tens work for him, either. On the flop of
, Schwartz raised his opponent all in and was called with
, with no rescue coming on the turn or river. Next, pocket tens were lethal for Nick Frangos – even though he flopped a set – as his opponent flopped a bigger set with pocket kings. Finally, Ravi Raghavan joined the club of ten-haters, after his
failed to improve against an opponent's
.
Those who will not be returning for more action tomorrow include Tony Dunst, "Amarillo Slim" Preston, Eric Lynch, Jonathan Little, Erica Schoenberg, Kristy Gazes, J.C. Tran, Roy Winston, Anna Wroblewski, Adam Junglen, Sam Simon, Maya Gellar, Paul Wasicka, Brett Jungblut, Allen Kessler, Jerry Buss, and Humberto Brenes. Notables still having a shot at the bracelet include Thor Hansen, Liv Boeree, Ivan Demidov, Kelly Kim, and David Chicotsky.
They and the others will reassemble Sunday at 2:00 p.m. PDT, chasing 270 paid spots, a total prize pool of $3,604,965, and the prized WSOP gold bracelet.