2009 WSOP: Katchalov Makes #22 NLHE Final, McCaffrey Leads NLHE #24, Hua Tops #25 Mixed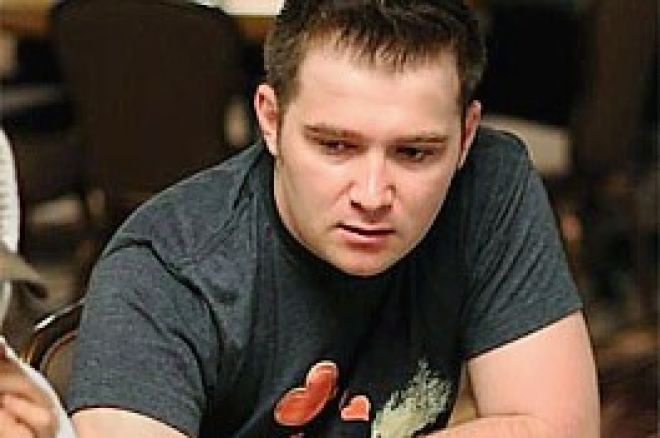 $1,500 No-Limit Hold'em Shootout Event #22, Day 2 – Katchalov, Somerville, Wong Advance to Final Table
Day 2 of Event #22, $1,500 No-Limit Hold'em Shootout, started with 100 players returning for a chance to win their way to the final table. The concept for Day 2 is simple: win and you're in. Among those looking to make it to the final table were Matt Stout, Victor Ramdin, Dutch Boyd, and Alex Bolotin. By the end of the day, the final table was set with Jason Somerville, Brandon Wong, and Eugene Katchalov among those advancing.
Dutch Boyd was eliminated early in Day 2 action. On the flop of
, Boyd checked to Jeffrey Carris, who bet 4,500. Boyd then moved all in and Carris insta-called. Boyd tabled pocket threes and Carris pocket tens for a set. The
turn left Boyd drawing dead and heading to the rail. Alan Smurfit soon followed, falling victim to the pocket aces of Josh Tieman. Mats Gavatin was all in preflop on another table with pocket aces against the
of Ping Chan. The flop of
gave Chan trip jacks and leave Gavatin with one out to win the pot. The turn fell the
and the river the
to give Chan a full house and eliminate Gavatin.
Brandon Wong became the first player to advance to the final table. Robert Fikac was all in preflop with
, ahead of Wong's
. Wong spiked a nine on the flop and his pair of nines held, allowing Wong to advance. Joseph Cutler then eliminated Petr Jelinek to progress to the final table. Jelinek shoved all in on the
flop and Cutler made the call with pocket jacks for a set. Jelinek was behind with
for a double belly-buster. The turn and river blanked out for Jelinek and Cutler will return for the final table.
Mike Shannon and Nick Binger faced off for a spot at the final table, with Shannon getting the upper hand. On the flop of
, Shannon pushed all in with
and was called by the 6-4 of Binger. The board bricked out and Shannon advanced. Both Josh Tieman and Jeff Siegal held a full house on the final hand of their table, but Tieman's jacks full of threes bested Siegal's threes full of jacks, to send Siegal to the rail while Tieman moved on.
Jeff Carris held the chip lead for most of the day at his table and eventually took it down. The board read
on the turn when Rajesh Vohra moved all in. After making the call, Carris revealed
for two pair and Vohra tabled 8-6 for a pair with straight draw. The river
gave Carris the full house and a spot at the final table. Jason Somerville also advanced after eliminating Chris Klodnicki. Klodnicki had flopped the nut straight, but Somerville turned a flush to put an end to Klodnicki's bracelet run.
Christopher Moore was the seventh player to advance to the final table. Kyle Brossia shoved preflop with
and got called by the
of Moore. The
flop hit both player's kickers to keep Brossia in the lead. The turn fell the
to give Moore trip sevens and leave Brossia needing an eight. The river was the
and Brossia was eliminated.
Eugene Katchalov advanced after taking out Marco Liesy. Liesy was all in preflop with A-5 but ran into the pocket kings of Katchalov. Liesy was unable to spike an ace and Katchalov advanced to his second-ever WSOP final table. Andrew Margolis progressed to the final table after eliminating Jan Skampa. Skampa moved in preflop and Margolis insta-called with
. Skampa found himself racing for his tournament life with a pair of red sixes. Skampa lost the race as the board ran out
to give Margolis a pair, and ultimately the win.
Michael McNeil defeated Arkadiy Tsinis to lock up the last seat at the final table. Tsinis was all in with
and ran into the
of McNeil. The board failed to produce a king or eight and the final table was set.
1000 players became 100, and then 100 became 10. Eugene Katchalov, Brandon Wong, and Jason Somerville are the headliners going into the final table. Each player will start with 450,000 in chips, so everybody will start with equal footing once this final commences. Play begins at 2 p.m. PDT Friday.
$1,500 No-Limit Hold'em Event #24, Day 1 – McCaffrey Nabs Early Lead
Event #24, $1,500 No-Limit Holdem, kicked off Thursday afternoon with another large field indicative of this level of buy-in. Affectionately called a "donkament" by many players, the event drew 2,506 hopefuls. Ninety percent of the field was eliminated during Day 1 action, and by day's end 270 players remained, with Glenn McCaffrey emerging as the chip leader on a stack of 187,800. Darryll Fish ended the day in second chip position with 157,900, followed by Marcus Meyer with 153,000
This event also drew out some of the pro players, as they looked to take a shot at the soft field. Among those present were Kathy Liebert, Humberto Brenes, Adam Junglen, Dennis Phillips, Phil Hellmuth, T.J. Cloutier, Hevad Khan, Jason Mercier, Jimmy Fricke, J.J. Liu, Lee Watkinson, and Ivan Demidov. The pace of play was nearly supersonic as over 300 players were eliminated within the first 30 minutes. Professionals are not immune to early bustouts. Jeff Madsen, Shane "Shaniac" Schleger, and Surinder Sunar all proved this point as they were eliminated by the first break of the day. Liv Boeree was also among those who had an untimely end to Day 1.
Erica Schoenberg was among the players who chipped up in the early levels. An opponent moved all in against her preflop with
and Schoenberg called with pocket jacks. The board failed to produce an ace and Schoenberg moved up to 10,500 in chips. Anna Wroblewski was another lady on a hot streak early on. She raised from late position preflop and was called by the big blind. The flop fell
and action was checked around. The turn came the
and the big blind bet out 1,000. Wroblewski called to see the
fell on the river. The big blind check-called a 600 chip bet from Wroblewski and she showed
for a weak flush. The flush was good and Wroblewski moved up to 22,000.
By the dinner break, PokerNews' own Anthony Yeh was the chip leader with 63,000. Shortly after the break, he moved up to 70,000 as the last few levels approached. Robert Mizrachi nearly doubled up to around 51,000 on the following hand. On the turn, the board read
and he checked to his opponent, who bet out 5,000. Mizrachi then raised to 10,000, and his opponent moved all in for 17,750. Mizrachi made the call and revealed pocket eights for a turned full-house. His opponent flipped over pocket tens and needed a river ten to win the pot. The river fell the
and Mizrachi chipped up to 51,000.
As play started to approach the end of the day, several big names hit the rail and will have to try for a bracelet in a different event. Bill Edler moved in with
and was called by Anthony Magallon with pocket eights. Edler flopped a straight draw, but failed to complete it, thus resulting in his elimination. Anna Wroblewski started the day on fire, but that fire was extinguished as she busted just shy of the last break. Jimmy Fricke was all in and looking to double up with pocket kings against the pocket jacks of Michel van Loon. A jack on the flop gave van Loon a set and that was enough to send "Gobboboy" home. Dennis Phillips ran pocket kings into aces and failed to receive help. Phil Hellmuth never could build any chips on Day 1 and he pushed all his remaining chips into the middle with
. He was called by an opponent with pocket eights and Hellmuth will have to wait for bracelet number 12.
The money bubble hit at 270 players. Play was to conclude at the end of Level 10, but the pace of bustouts convinced the WSOP to continue play until the bubble burst. After around 30 minutes of hand-for-hand play, the money was reached and Day 1 action came to a close. Anthony Yeh is among the chip leaders with 81,000 in chips. The surviving players will return Friday at 2 p.m. PDT and play is scheduled to continue until the final table is reached.
$2,500 Omaha/Seven-Card Stud Hi/Lo Event #25, Day 1 – Can Kim Hua Tops Leaderboard
Event #25, $2,500 Omaha/Seven-Card Stud Hi/Lo, also kicked on Thursday evening. A field of 376 players turned out to take a shot at this split-pot mixed-game bracelet. Among those who signed on for this event were Jeff Lisandro, Dutch Boyd, Jerry Buss, Carlos Mortensen, Katja Thater, Brock Parker, Eli Elezra, and Allen Kessler. By the end of the day, Can Kim Hua finished as the chip leader with 51,800 in chips, followed by Dustin Sitar and Mark Scott on stacks of 46,600 and 45,800 respectively.
Daniel Negreanu and David "Chino" Rheem were seated at the same table during Day 1, much to the delight of fans railing the event. Rheem took a nice pot off Negreanu in a stud hi/lo hand around the dinner break. On seventh street, Rheem's board showed
to the
of Negreanu. Rheem bet out his board and Negreanu made the call. Rheem flipped over
for kings up, enough to take the pot.
Vitaly Lunkin did not find much success in this event as he was on the rail by dinner. On fifth street of a stud hi/lo hand, Lunkin was all in with a board of
. Eric Buchman called with a board of
and another player came along with
showing. Lunkin caught the
on sixth, while Buchman caught the
and the other opponent the
. Buchman bet out and was called in both places. At showdown, Buchman flipped over
for an eight high straight and a seven low. Lunkin held only queens up and the third player mucked. Lunkin was eliminated and Buchman moved up to 20,000 in chips.
Allen Kessler was running short towards the end of the day, but he was able to get a double-up at the right time. In another stud hi/lo hand, Kessler held
on fifth street and was all in. Dario Minieri called with
and they were off to the races. Kessler flipped up his cards to reveal
in the hole for trip threes. Minieri revealed
in the hole for air. Kessler's trips held and he doubled up. Phil Ivey was able to double through another player in the Omaha hi/lo round. Ivey bet all streets with his opponent calling all the way. The board at the river was
. Ivey's opponent flipped over
for two pair and effectively playing the board for the low. Ivey flipped over
for a flush with a live six for a better low.
"Miami" John Cernuto was among the Day 1 casualties. He was short near the end of the day and pushed all in with an eight low against Jon Tuner. Turner held a flush and a seven low to end Cernuto's day. After doubling up earlier in the day, Allen Kessler let his stack dwindle to desperation mode and was all in on three separate occasions. The first two times, he chopped the pot. The third time he ran
against the
of another opponent in an Omaha hi/lo round and was unable to make a winning hand.
At the close of the day's action, 153 players survived to Day 2. Only 40 players will be paid in this event with first place receiving $220,538. The Day 1 chip leader is Can Kim Hua with 51,800. Among those still in contention are Daniel Negreanu, Phil Ivey, Marcel Luske, Annie Duke, Gavin Smith, and Scott Clements. Day 2 will kick off at 2 p.m. PDT and is scheduled to play until the final table is reached. Stay tuned to PokerNews.com as we bring you all the memorable moments for the 40th Annual World Series of Poker.