2009 WSOP: #18 Omaha Hi/Lo, Daniel Alaei Scoops Second Bracelet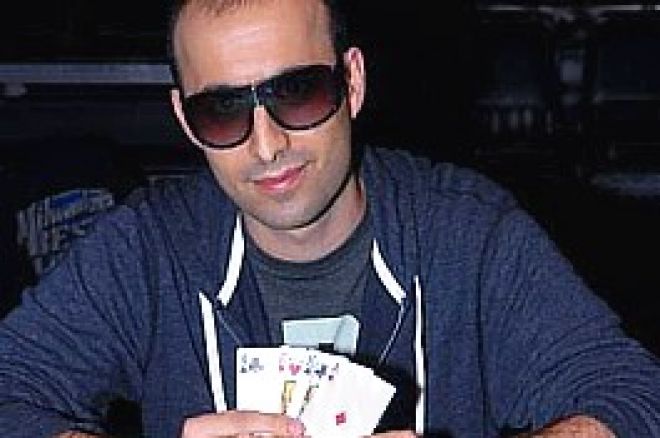 After three days of split-pot poker against one of the toughest fields anywhere, Daniel Alaei bested Scott Clements in a brutally short heads-up battle to claim his second World Series of Poker bracelet in Event #18, $10,000 World Championship Omaha Hi/Lo. Alaei outlasted a tough Day 3 field that included Clements, Annie Duke, Daniel Negreanu, and Sam Khouiss to pick up the bracelet and the $445,898 top prize.
Seventeen players returned to the felt for Day 3 of the World Championship of Omaha Hi/Lo, but the field shrank quickly in the early going. Toto Leonidas (17th), Alex Kravchenko (16th), Pat Pezzin (15th) and Ted Lawson (14th) all busted before the first break. Ville Wahlbeck came back from the first break with a few chips, but he departed when John Monnette and Sam Khouiss chopped the pot and claimed Wahlbeck's last chips. Wahlbeck, who final-tabled the $10,000 Stud Championship and won the $10,000 Mixed Game Championship at this year's Series, added $31,632 to his 2009 WSOP winnings for his 13th-place finish.
Sam Khouiss helped to take out Wahlbeck, but then fell in a similar fashion in 12th place ($39,709). Khouiss got all his chips in against John Monnette and Ben Boyd with
. Khouiss' low draw was counterfeited twice on the board of
, and Boyd and Monnette both made queens up with no low to chop the pot. Once Jacobo Fernandez busted in 11th place ($39,709), the remaining players consolidated to one table to await the final table bubble. Cameron McKinley earned that unwanted title when he busted in tenth place ($39,709) at the hands of Ben Boyd. Boyd flopped bottom set on the
board, and his hand held up to send McKinley packing.
After McKinley's elimination, the final table players took a dinner break and returned to chip stacks and seating assignments that looked like this:
Seat 1: Scott Clements - 1,445,000
Seat 2: Annie Duke - 225,000
Seat 3: Daniel Alaei - 540,000
Seat 4: Greg Jamison - 350,000
Seat 5: John Monnette - 940,000
Seat 6: Yueqi Zhu - 170,000
Seat 7: Tom Koral - 220,000
Seat 8: Ben Boyd - 855,000
Seat 9: Daniel Negreanu - 635,000
Yueqi Zhu was the first casualty of the final table when he busted in ninth place ($54,179) at the hands of Greg Jamison. Zhu raised preflop with A-K-J-7, and Jamison and Daniel Alaei both called. Alaei bet out on the
flop, Jamison called, and Zhu raised all in. Alaei and Jamison both called. Jamison put the last of his chips in the pot when the
came on the turn, folding Alaei. Jamison showed A-J-9-2 for trip nines, and when the river came down the
, Zhu was busted.
While she wasn't selling lemonade these last few days at the Rio, Annie Duke still managed a pretty good take for herself when she earned $58,049 for eighth place. She got her money in preflop with
against the all-in of Greg Jamison. John Monnette also came along for the ride. Jamison tabled
while Monnette showed
. Monnette made two pair on the
board for the high, while Jamison made the second-nut low with his A-5. Duke was left without any piece of the pot or any remaining chips as she headed to the rail.
Another three-way pot saw Tom Koral bust in seventh place ($65,453). Daniel Negreanu and John Monnette both called Koral's preflop shove, then checked down the board of
. Monnette showed
for aces up, good enough to take the whole pot as Negreanu showed
for a worse kicker on his aces up and another counterfeited low draw. Koral was all but dead as soon as the ace hit with K-K-4-4.
Daniel Negreanu had to do all the heavy lifting himself when Greg Jamison raised preflop. Negreanu was the lone caller to see the
flop, and Jamison led out. Negreanu raised, and the chips flew back and forth until eventually both players were all in. Jamison showed
for top two pair, but Negreanu tabled
for bottom set. The turn and river came
and
, and Negreanu scooped the pot as Jamison busted in sixth place ($77,736).
John Monnette found himself desperately short-stacked and all in from the small blind as Daniel Alaei and Ben Boyd limped in to see the flop of
. Both live players checked the flop, and Alaei bet out on the
turn. Boyd called the turn, and called again when Alaei bet the
river. Boyd showed 2-4-7-8 for the eight-high straight, good enough to scoop the pot and send Monnette home in fifth place ($97,422).
Daniel Negreanu made his second final table of the last few days, and once again he fell just short of another WSOP bracelet with a fourth-place finish here. Negreanu called a preflop raise from Scott Clements with
, and then moved all in on the
flop. Clements called with
for the open-ended straight draw, and made the wheel on the turn when the
landed. Negreanu was drawing thin for half the pot, and when the
on the river brought Clements an unnecessary flush, Kid Poker picked up $130,401 for fourth place.
All three remaining players limped in to see the
flop, and Daniel Alaei bet right out. Ben Boyd moved all in over the top for less than a full raise, and Scott Clements and Alaei both called. Clements and Alaei both checked the
turn, and Alaei bet out again on the
river. Clements got out of the way as Alaei showed
for the six-high straight and the best low, as Boyd could only muster
. Third-place finisher Boyd earned $182,730 for his three days of poker.
Daniel Alaei took the chip lead into heads-up play, and he wasted no time finishing off Scott Clements. All the chips went in preflop on just the second hand of heads-up play, with Alaei showing
to Clements'
. The all-high board came down
to make top set for Alaei and finish off Clements in second place ($275,946). Alaei, whose previous WSOP gold came in a deuce-to-seven lowball event in 2006, picked up $445,898 for his impressive victory in Event #18.