2009 WSOP: Greg Mueller Scores First Bracelet in LHE #33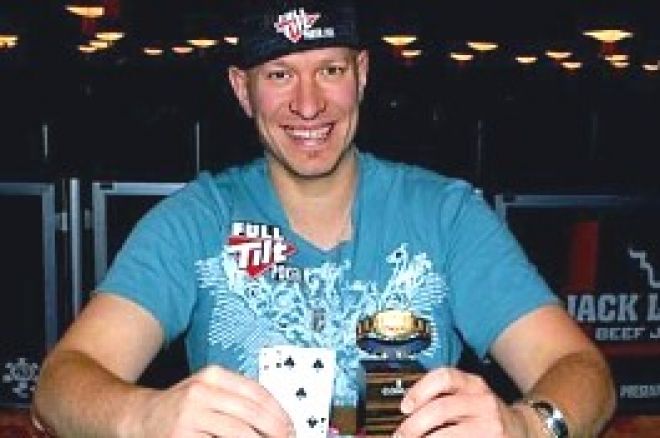 After three long days and nights of check-raising and chasing draws, the $10,000 World Championship Limit Hold'em Event #33 went to Greg "FBT" Mueller after he defeated Pat Pezzin for the bracelet. After a back-and-forth final table that saw more lead changes than a NASCAR race, Mueller was the last man standing, having outlasted big names like Jennifer Harman, Chad Brown, and 2009 bracelet winner Daniel Alaei. Mueller picked up $460,836 for the win and his first WSOP gold bracelet.
Twelve players returned for Day 3 of the event, with Kenny Hsiung the overnight chip leader. Jennifer Harman started the day on the short stack, and after taking two big hits to her chip stack early, she got it all in preflop with
. Eventual champ Mueller called with
, and spiked a river ten on the board of
to send Harman to the rail in 12th place ($41,040).
Maria Ho's aggression took her all the way to 11th place and a $41,040 payday, but she couldn't quite get past Kenny Hsiung for a spot at the final table. Ho and Hsuing saw the flop of
, and Ho check-raised Hsiung. Hsiung called, and the
came on the turn. Ho led out, and Hsiung called once again. Ho's last few chips went in on the
river, and Hsiung called one last time. His
was just good enough to bust Ho's
, and the remaining ten players crowded around one table.
Mark Klecan was the official final table bubble boy when he fell to Daniel Alaei in tenth place ($41,040). Alaei raised preflop, then called when Klecan put the last of his chips into the pot. Alaei showed
, and Klecan needed to catch up with
. No help for Klecan on the
board as Alaei rivered a set to send him to the rail.
With the official final table set, Daniel Alaei held the chip lead as the stacks looked like this:
Daniel Alaei - 1,001,000
Matt Glantz - 856,000
Matt Hawrilenko - 770,000
Pat Pezzin - 662,000
Greg "FBT" Mueller - 598,000
Chad Brown - 513,000
Michiel Brummelhuis - 420,000
Kenny Hsiung - 390,000
Soheil Shamseddin - 386,000
After holding the chip lead going into Day 3, Kenny Hsiung was the first casualty of the final table and Daniel Alaei's next victim. Hsiung got it in slightly behind with
to Alaei's
, and the flop of
left him looking for help. Running sevens on the turn and river didn't give him any, and Hsiung picked up $55,996 for ninth place.
Soheil Shamseddin became the eighth-place finisher ($59,996) when he lost a battle of the short stacks to Matt Glantz. Glantz and Shamseddin were the only two players to the flop of
, and Shamseddin called Glantz' bet. The turn brought the
, and Glantz led out again. Shamseddin raised all in, and Glantz made the call. Shamseddin showed
, and Glantz held a commanding lead with
. The river brought the
to give Glantz a full house and send Shamseddin to the rail.
After losing a huge pot to Daniel Alaei for most of his stack, Michiel Brummelhuis got the last of his chips in against Matt Glantz and Pat Pezzin. By the time to hand was over, the board read
. Glantz bet out on the flop, and Pezzin called. The two live players then checked it down to the river where Pezzin showed pocket nines to Glantz' pocket sevens for the side pot. Nines were good for the main pot as well, as Brummelhuis could only manage
. His seventh-place finish was good for $67,647.
Matt Glantz came back from dinner as one of the short stacks, and busted in sixth place ($80,342) before he could get his dessert properly digested. Glantz raised from the cutoff with
, and Pat Pezzin defended his big bind with
. The flop came down
, and Glantz put the rest of his chips in with top pair. Pezzin called with his pair and flush draw, and the
on the turn left Glantz drawing completely dead. The river was an irrelevant
, and then there were five.
The last Matt standing busted in fifth place ($100,688) when Matt Hawrilenko fell to Pat Pezzin a few hands later. Most of Hawrilenko's chips went to Chad Brown in one big hand, but it was Pezzin who provided the coup de grace. All the money went in preflop, and Pezzin called Hawrilenko's shove with
. He had Hawrilenko dominated, as he tabled
, and when both players missed the board completely Pezzin's nine kicker played. The final board read
, and Hawrilenko was done.
After doing much of the heavy lifting in the early levels of the final table, Daniel Alaei's string of bust-outs came to an end with his own elimination in fourth place ($134,733). Alaei and Greg Mueller saw a raised flop of
, and Mueller bet out. Alaei raised, Mueller three-bet, and Alaei called all in with
. Mueller held a commanding lead with
, and he picked up the
on the river for trips. Three tens were good enough to send Alaei packing just short of a second 2009 bracelet.
With Alaei's elimination, the bracelet would be going to a first-time WSOP champion. Unfortunately for Chad Brown, it wasn't him as he busted in third place ($188,855), once again close but no cigar. Brown traded raises back and forth with Greg Mueller preflop until all his chips went in, and he needed help with
to Mueller's
. The
flop gave Mueller a gutshot straight draw to go with his ace-high, and after the
came on the turn, Mueller made the straight on the
river. With eliminations averaging less than one per hour on Day 3, the last two players were finally heads up.
At different times on Day 3 Pat Pezzin held the chip lead, was the short stack, and was back in contention. He put on a good show of it heads up before finally falling to Greg Mueller in second place ($285,196). In the final hand, Mueller raised from the button, and Pezzin called. The flop came down
, and Pezzin bet out. Mueller raised, and Pezzin called all in with
. Mueller was well ahead with
, and when the turn and river ran out
, Mueller's "Presto" held up to take down his first WSOP gold bracelet and $460,836.