2009 WSOP: Seth Fronts Field in NHLE #24, Turner Leads #25 Mixed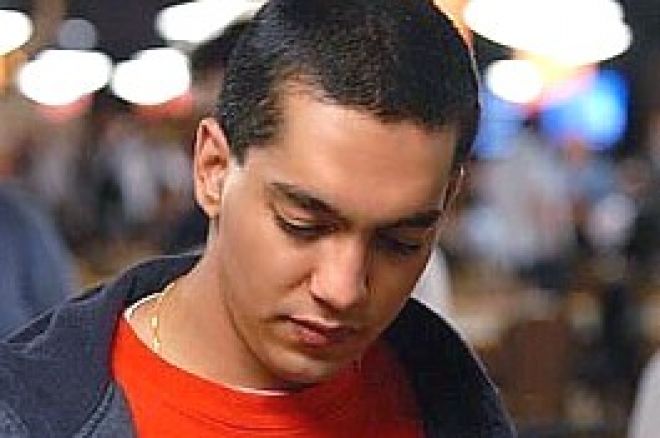 $1,500 No-Limit Hold'em Event #24, Day 2 – "BKiCe" on Fire
Day 2 of Event #24, $1,500 No-Limit Hold'em, started with 270 players looking to make their way to the final table. Since the money bubble was burst at the end of Day 1, chip accumulation and survival became the primary objective of the remaining players. Glenn McCaffrey started the day as chip leader with 187,800, with Darryll Fish following close behind at 157,900. The chip lead changed hands a couple of times, but by the end of Day 2, Andy "BKiCe" Seth was sitting on top of the leaderboard with 1,407,000. He leads the pack of 19 players who will return on Day 3 to play for the WSOP bracelet.
Pete Vilandos had a quick start to Day 2 and took over the chip leadership early on. He was all in against Seth Montgomery in a huge 230,000-chip pot. Vilandos had pocket aces and the bullets held to propel Vilandos into the chip lead. Montgomery was left with around 10,000 and busted shortly thereafter. Humberto Brenes had a fast start as well, but he moved in the wrong direction. Early on, he doubled up another player and was left with less than 4,000 in chips. He was able to make a slight comeback to 20,000, but it did not sustain him for long. Brenes moved all in preflop for 15,000 and received a call from Douglas Faulkner. Brenes held pocket jacks to the
of Faulkner. The flop fell
to put Brenes on the brink of elimination. Running sevens sealed the deal and Brenes headed to the cashier for an early payout.
Poker is played by a variety of people in many professions. Doctors, lawyers, politicians, and now even priests play poker. Michael Wernette, a priest from Chicago, made the money in this event. He was eliminated about four levels into Day 2 to take home a modest payday and likely is among the all-time WSOP money winners for priests. Joe Sebok doubled up a couple of times to move up to 40,000 in chips, but was soon be eliminated by Andy "BKiCe" Seth. Sebok ran
into the
of Seth and the ace was enough to send Sebok to the rail. PokerNews reporter and early Day 1 chip leader Anthony Yeh had his bracelet run cut short by Guillaume Patry. Yeh pushed under the gun with pocket tens and Patry called tabling
. An ace on the flop left Yeh with only two outs to stay alive. The turn and river blanked out and Yeh was eliminated.
Roberto Truijers moved up to 600,000 and the chip lead at the expense of Kara Scott. On the
flop, Truijers called a 29,000 bet from Scott. The turn fell the
and a Scott moved all in. Truijers called and tabled
for aces and fours. Scott revealed pocket kings and was about five percent to win the hand. The river was the
and Scott was eliminated. Truijers later bumped his stack up to 915,000 after taking a pot of nearly 450,000 chips from Chris Sparks. The board at the river was
and Sparks bet out 100,000. Truijers made the call and tabled pocket kings. Sparks held only
and Truijers padded his chip lead.
Andy Seth then took the largest pot of the tournament to become the new chip leader. After Seth limped in from the small blind, Ernst Hermans raised to 30,000. Seth raised to 136,000 total and Hermans shoved. Seth made the call with
. Herman held A-J and the two were off to the races. The board came down
to complete a flush for Seth and vault him into the chip lead with 1.25 million.
The magic hour of 3 a.m. arrived and play was suspended with 19 players remaining. Andy Seth and Alan Jaffray are the only players over the million-mark with 1,407,000 and 1,193,000 respectively. Start-of-day chip leader Glenn McCaffrey ended in third with 737,000, followed by Roberto Truijers with 681,000. Play will kick off at 1 a.m. PDT Saturday and will continue until there is a winner.
$2,500 Omaha/Seven-Card Stud Hi/Lo Event #25, Day 2 – "PearlJammer" Heads Final 14
Day 2 of Event #25, $2,500 Omaha/Seven-Card Stud Hi/Lo, kicked off Friday with 153 players hoping to make their way to the money and eventually the final table. Can Kim Hua finished Day 1 as the chip leader and led an all-star field into Day 2 play. Among those still in contention at the start of play were Phil Ivey, Jennifer Harman, Scott Clements, Jeff Lisandro, Thomas Bihl, Dutch Boyd, Mel Judah, Chad Brown, and Erick Lindgren. Jon "PearlJammer" Turner finished Day 2 with 465,000 and leads the final 14 players heading into Day 3.
Phil Ivey chipped up early in Day 2 to increase his chances for winning a second bracelet this year. In a stud hi/lo hand, he made a seven-high straight with a six-low to send his opponent to the rail and move up to 40,000 in chips. Layne Flack was not so fortunate. He was eliminated in a three-way stud hi/lo hand involving Blair Rodman and Jon Turner. By the river, Flack was holding
/
/
for a pair of aces and a busted wheel draw. Turner held a rough eight low and Rodman had two baby pair with fours and treys to send Flack to the rail.
A pair of naked aces is seldom a winner with multiple straight draws on board in Omaha hi/lo. However, Dutch Boyd was the beneficiary of one of those rare instances. With the board showing
, Carlos Mortensen fired a bluff into Boyd, who made the call holding only
. His aces were good as Mortensen tabled A-2-3-7 for a missed low and ace-high. Boyd moved up to 80,000 after the pot. Chad Brown moved up to 108,000 after taking a nice pot off Gavin Smith. Brown started with buried jacks and caught trip jacks on fourth street with the rest of his board giving him an apparent low draw.
Erick Lindgren pushed the last of his chips in with
in the Omaha hi/lo round. He turned two pair, but three aces were on the board by the river and one of his opponents held the case ace for quads, and Lindgren was gone. Earlier in Day 2, Jon Turner looked to be on his way out when he fell to only 5,000 in chips. But he went on a huge heater to move that stack up to 105,000. Turner moved over the 100,000 chip mark after eliminating Ron Winklevoss in a stud hi/lo hand. Winklevoss was all in on sixth street with aces-up and a draw to an eight-low. Turner held an ace-high flush. The river bricked for Winklevoss and he hit the rail.
As the money bubble loomed, Phil Ivey put on a clinic to move up to 180,000. Ivey made a six-high straight during a stud hi/lo round to cripple his opponent who was on a seven-low draw. The bubble period lasted all of one hand and the 40 remaining players continued their march to the bracelet. Soon after the bubble burst, Steve Wong emerged as the new chip leader. After taking a huge three-way pot, Wong moved over 280,000 in chips.
Among those eliminated after the money bubble burst were Hoyt Corkins in 40th, Chau Giang in 32nd, and Gavin Smith in 23rd. Smith was all in on sixth street showing a board of
for a likely seven-low draw. Jon Turner had an open pair of fours showing and Matt Kelly had an open pair of threes. At showdown, Kelly revealed a seven-low and Turner showed three fours. Smith got up from his seat and headed for his $6,434 payday. Raymond Davis finished in 16th place. He was all in on the turn in a big three-way Omaha hi/lo pot with Phil Ivey and Jon Turner. The final board was
. Turner tabled
for the wheel and Ivey and Davis both mucked.
Play was suspended at 3 a.m. PDT with 14 players remaining. Jon Turner finished the day as both the "comeback kid" and the chip leader with 465,000. Carlos Mortensen was next in line with 328,000. Phil Ivey, Blair Rodman, Dutch Boyd, and Chad Brown are all still in contention as well. Play will resume at 1 p.m. PDT Saturday and continue until the bracelet has been awarded. PokerNews will be there bringing you all the action.