European Poker Tour Grand Final: Nicolas Chouity Holds Monster Chip Lead Going into Final Table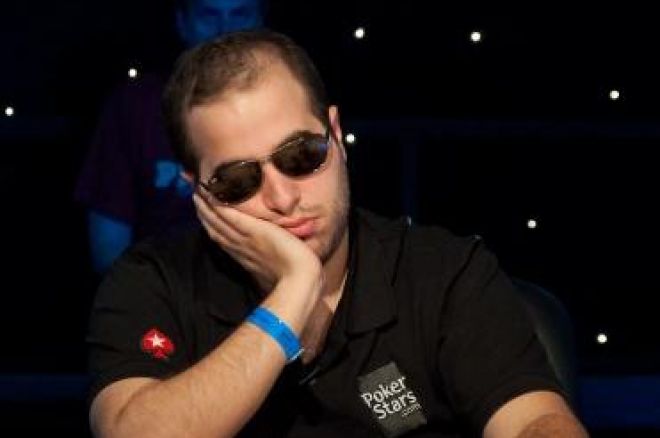 When the final 24 players convened for Day 4 of the European Poker Tour Grand Final at Le Sporting Club, the curtains were firmly drawn across the sunny Monte Carlo Bay vista for the serious business to attend to indoors. American Kevin Eyster was chip leader going into the day, but as we have seen so often before, everything changed by the end of the day. Only eight players remained when the chips were bagged and tagged. Lebanese online qualifier Nicolas Chouity was in the lead with 10,280,000 - around 40 percent of the chips in play.
Paul Berende was the first exit of the day. The shortest stack going into the day after doubling up David Sesso in the last minutes of Day 3, Berende pushed with
and found himself dominated by Claudiu Saizu's
. An ace on the flop sealed the deal, and Berende took 24th place for €50,000.
Following Berende out the door were Manuel Bevand, Czech Team PokerStars Pro Martin Hruby and the aforementioned David Sesso, who came unstuck when Andrew Chen's
outdrew Sesso's pocket queens to send him home with 21st-place money. The outdraws continued as Emanuele Rugini's queens outdrew Romanian Claudiu Saizu's aces and knocked him down to a short stack until Rugini finished him off a few minutes later with
against Saizu's
giving the latter 20th place.
A familiar face on the EPT circuit, Ramzi Jelassi was a relatively short stack when he shoved with
and smacked into Jean Francois Talbot's
. A ten came on the turn, but just like in Barry Greenstein's book, an ace dropped on the river to bust Jelassi in 19th place.
Another familiar face - albeit more familiar on the other side of the pond than on the European circuit - took 18th place. WSOP bracelet winner Nick Schulman was short-stacked when he pushed with
but ran into Andrew Chen's
. He failed to spike on the
board and added another €50,000 to his lifetime tournament cashes for 18th place.
Busting Ramzi Jelassi couldn't save Jean Francois Talbot from finishing in 17th place. He faced a
flop when moved in with
but Nicolas Chouity was holding
for trips and Talbot needed the case ace to win the hand. It didn't come, and following his exit, only two tables remained.
Nicolas Chouity was already chip leader by this time and further upped his chip count when he cut Sami "Lars Luzak" Kelopuro's stack in half. Kelopuro eventually finished in 12th place when his
was crushed by Craig McCorkell's
, which made a flush, but not before start-of-day chip leader Kevin Eyster smacked his
into Roger Hairabedian's pocket queens for 16th place, Domenico Iannone ran into Matt Perrin's full house for 15th, Emanuele Rugini's pocket eights failed to spike against Andrew Chen's pocket kings for 14th, and a short-stacked Laurent Olive crashed out in 14th with
against Dominykas Karamzinas'
.
Salvatore Bonavena, the last EPT winner left in the field, was next to go in 11th place. He pushed with pocket jacks to a raise from Nicolas Chouity who called with
. A king dropped on the flop, and Bonavena took home €80,000 for his trouble but no second EPT title.
Matt Perrins, winner of the first-ever PokerStars.it Italian Poker Tour event in 2009, had some misfortune when he flopped two pair with
in an unraised pot only to discover too late that Mesbah Guerfi had turned a higher two pair with
. Guerfi doubled up, and a few minutes later Perrins pushed with
to a raise from Chouity, who called with
. The board bricked out and Perrins departed in 10th place.
Down to nine, the remaining players were seated at a single table and it wasn't long before the seating was down eight. The unlucky ninth-place finisher was Englishman Craig McCorkell. Although not the shortest stack at the table when he got there, he quickly doubled up Herve Costa to leave himself with just 12 or 13 big blinds. A hand or two later, short-stacked Dominykas Karmazinas pushed with
. McCorkell reshoved for just a little more with
. It looked as though things would go his way when the flop came down
and the turn a
blank, but the cruel third
on the river left McCorkell with just shrapnel. He called all-in for less than the big blind a few hands later with
but Andrew Chen raised with
and once everyone else had folded, they were on their backs. The board came down a completely blank
and McCorkell took home €100,000 and the final table wooden spoon.
When play resumes tomorrow at noon local time, Nicolas Chouity will be the chip leader on 10,280,000. Well-known Canadian online pro Andrew Chen and Mesbah Guerfi are tied for second place, and popular Lithuanian Dominykas Karmazinas, Belarussian online qualifier Aleh Plauski, local Frenchman Herve Costa from Nice, Viennese ex-chess player turned poker pro Josef Klinger and well-known French pro Roger Hairabedian are bringing up the rear.
You can watch all the action as it happens at EPT Live and the PokerNews Live Reporting Team will be on the floor to bring you all the stories as we crown a new EPT Grand Final champion.
Final Table Seat Draw
Seat 1: Herve Costa, 1,590,000
Seat 2: Roger Hairabedian, 1,130,000
Seat 3: Aleh Plauski, 1,695,000
Seat 4: Dominykas Karmazinas, 2,285,000
Seat 5: Josef Klinger, 1,170,000
Seat 6: Mesbah Guerfi, 3,670,000
Seat 7: Nicolas Chouity, 10,280,000
Seat 8: Andrew Chen, 3,670,000
----
The EPT Grand Final High Roller event kicked off today. One hundred and thirteen players paid the €25,000 buy-in and took their seats in the middle of the Salle des Etoiles for an 11-level day.
Daniel Negreanu, Gus Hansen, Tony G, Johannes Strassman, Lex Veldhuis, Barry Greenstein, Humberto Brenes, Dario Minieri, Sorel Mizzi, Jason Mercier and last year's champion Vanessa Rousso, were just a few of the notables to hit the felt.
Left to see another day are Viktor Blom, Gus Hansen, Allen Bari, Daniel Negreanu, Dennis Phillips, Isabelle Mercier, Tony G, Sorel Mizzi, Bertrand "ElkY" Grospellier, and Yevgeniy Timoshenko, to name a few.
Not all survived, however. At the end of play, 41 were left to move on to Day 2. Of those, Tobias Reinkemeier (457,300) is the chip leader, with Luke Schwartz (300,500) and Markus Golser (291,000) close behind. The players will be back tomorrow at noon local time to play down to a final table. The PokerNews Live Reporting Team will be covering all the action.
Follow us on Twitter for up-to-the-minute news.