World Poker Tour World Championship Day 6: Benyamine, Williams, and Basebaldy Headline Final Table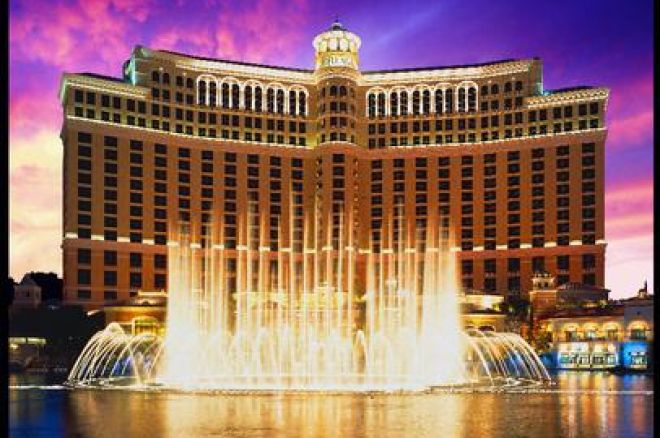 The WPT World Championship is down to a final table, and after six days of battle at the Bellagio, the best of the best remain. David Benyamine, David Williams, and Eric "basebaldy" Baldwin have the final table's biggest stacks, followed by Billy Baxter, Shawn Buchanan, and John O'Shea. Despite the close-but-no-cigar finishes of Phil Hellmuth and Scotty Nguyen, the $25,000 buy-in event produced a stacked top six that ought to make the World Poker Tour TV producers extremely happy.
There really is no chip leader heading into the final table. Internationally feared French pro Benyamine has half-of-an-ante more chips than Williams, who has made several deep runs already this year. Baldwin, who won just about everything in 2009, is only two big blinds behind both. O'Shea, now the table's short stack, had a big chip lead before doubling up Baldwin when Baldwin shipped with pocket jacks, and O'Shea called with tens. Just before the day ended, Baxter also doubled through O'Shea. This time when O'Shea moved all in from the small blind with a pair of treys, Baxter in the big blind woke up with aces. The confrontation left O'Shea to start the final table with 12 big blinds.
Faraz Jaka, who is in the lead in the race for WPT Player of the Year, went from chip leader to out in a few huge hands on Day 4. That left three players alive on Day 5 with chances to catch him, but all three had to win the tournament to take the title from Jaka. Nguyen and Hellmuth had a shot at the season's top honor, but neither made it through the day. Buchanan, on the other hand, can still catch Jaka if he can go from fifth in chips to last man standing. If he wins, he'll be the first person ever to win both the WPT Championship and WPT Player of the Year in the same season. This season, Buchanan finished fourth at the Five Diamond Classic, also at the Bellagio, and took 24th at the LA Poker Classic at the Commerce Casino.
Day 6 started with ten players who took nearly ten hours to play down to the final six. Each player started the tournament with 500 big blinds, and most of the final ten were fairly deep when they began Day 5. Chip leader O'Shea had 113 big blinds, two others had over 90, and three more had at least 70. But after a long day to get to the final table, all six are relatively short. Williams and Benyamine have 47 big blinds a piece, Baldwin has 45, and the rest of the crew are all under 25.
Although it took 197 hands to lose all four players, it was only 11 hands before the final ten were down to nine. Cliff "JohnnyBax" Josephy was the first casualty of the day, taking a brutal beat to finish in tenth place for $56,439. Williams check-raised a
flop, and Josephy moved all in. Williams called with
for a flopped straight and flush draw. Josephy was in trouble with
for top set. The turn was the blank
, and the river was the cruel
, filling Josephy's boat but giving Williams a straight flush.
Russian high-roller Nikolay Evdakov was the next to go. He shoved a
flop with
and Hellmuth called all-in with
. Hellmuth, just barely covered by Evdakov, needed help to survive, and the river came to his rescue with the
. Evdakov was left with one big blind and hit the rail two hands later in ninth place, earning $75,252.
After Evdakov's exit, the final eight managed to play for over four hours without losing a player. With a group of this caliber, it took another cooler to eliminate the Prince of Poker, Scotty Nguyen. After Nguyen raised preflop and Benyamine called from the big blind, both players checked a
flop. The turn brought the
, and Benyamine three-bet Nguyen all-in. Nguyen snap-called with
for a turned set of eights, but Benyamine showed
for a bigger flopped set. The river wasn't the case eight, and Nguyen was out the door in eighth place for $105,823. He also picked up $40,000 for hitting a royal flush on a video poker machine during one of the day's breaks.
Hellmuth made a show of his nitty play throughout the day, repeatedly making big laydowns face up while giving his familiar speech about sensing what other players had. Perhaps the only thing Hellmuth loves more than winning is getting television time, and he was close to having achieved his goal of going from Day 5's short stack to the final table. But his plan of blinding down to the final table didn't quite work. He was down to three big blinds without having lost a big pot when he limped on the button. After a raise and an all-in call from the blinds, Hellmuth gave up that hand too, leaving himself with two big blinds. He limped again leaving himself one big blind, and somehow got Williams to fold on the flop to his one big blind shove. Lest anyone think that he was shoving light, Hellmuth showed he'd flopped top pair. Hellmuth finally risked all of his five big blinds when he was dealt
under the gun. Williams called with
, and the eight-high board didn't hit either player. Hellmuth was sent home in seventh place with $152,856, but no final table TV time.
Hellmuth's elimination set the final table with the following chip counts:
Seat 1: John O'Shea - 1,200,000
Seat 2: Billy Baxter - 2,440,000
Seat 3: Eric Baldwin - 4,490,000
Seat 4: David Williams - 4,700,000
Seat 5: David Benyamine - 4,705,000
Seat 6: Shawn Buchanan - 1,965,000
The last six standing of the 195 who began will return at 4:00 pm PST on Saturday to take their seats around the final table felt and determine who will earn the top prize of $1,530,537 and the title of WPT Season VIII Champion.
Follow us on Twitter for up-to-the-minute news.