European Poker Tour Grand Final High Roller: Reinkemeier Reigns Supreme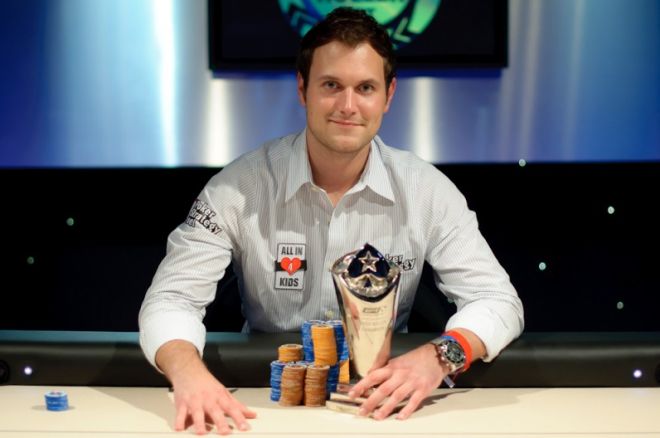 Season six of the European Poker Tour wrapped up on Saturday evening with the conclusion of the €25,000 High Roller event. From a field of 113 runners, Tobias Reinkemeier emerged as the champion at the conclusion of three long days of poker, taking home the coveted trophy and enviable €965,000 top prize.
The tough final table of eight returned to the Salle des Etoiles at Le Sporting Club in Monte Carlo to battle for the final trophy of the season. The action was instantaneous, and it took exactly one hand to reduce the field to seven. Just moments after the shuffle up and deal, short stack Michael Freidrich made his stand with
. Allen Bari made the call with
, and both players had to sweat a dramatic
flop. The
on the turn straightened Freidrich into a momentary lead before the river
ushered him out the door in eighth place (€81,300).
That was a good start for Bari, but things would turn sour quickly. A couple of orbits later, Bari made a five-bet shove with
only to run smack into Reinkemeier's
. The dealer couldn't find an ace, and Bari went to the interview booth in seventh place (€109,900). Sorel Mizzi followed Bari out the door in sixth place (€143,400) when his
could not overcome Reinkemeier's
.
Gregarious Dutch pro Paul Berende was the next to fall, adding a fifth-place finish (€191,200) to his impressive showing at the tail end of this EPT season. Berende was very short when he pushed in with
and was run down by Olivier Busquet's
on a board that ran
.
Moments later, Tom Marchese flipped a coin with Dori Yacoub in a big pot that would ultimately seal Marchese's fate. Yacoub open-shoved his
, and Marchese made the easy call with
. Yacoub flopped lucky, though, and the board of
snubbed Marchese out after a fine fourth-place showing (€263,000).
Yacoub had his moment in the spotlight, but his bid for the title came to an abrupt end in third place (€358,000). In a raised pot, Yacoub and Reinkemeier saw a flop of
. Yacoub continued out with a bet of 115,000, and his opponent called. Reinkemeier called another 160,000 on the
turn, and Yacoub shoved all-in for 453,000 on the
river. Reinkemeier squirmed in his chair and considered for several minutes before making the call with
for kings up. It was a good call; Yacoub showed his
on the way out the door, and heads-up play had arrived.
Reinkemeier began the duel with a small chip lead, but Busquet battled valiantly until a whale of a pot really tipped the scales. Reinkemeier mini-raised from the button and called a three-bet of 220,000. Busquet bet 240,000 on the flop and 450,000 on the turn as the board showed
. When the
rivered, Busquet fired a third bullet 560,000 chips strong. The eventual champion sized him up before moving all-in on a stone bluff with
. Busquet yielded, and Reinkemeier was able to put the final nail in his coffin just a few hands later.
Reinkemeier held pocket queens on the final hand, and they were worth almost a million Euros as the board ran
. Busquet's
was second best, as was the (€597,000) he earned.
We hope you enjoyed following us around the EPT circuit this season. We've still got APPT Macau coming up in a couple of weeks and then it's all hands on deck for the World Series of Poker in Las Vegas. Follow us on Twitter and become our fan on Facebook to keep tabs on our Live Reporting team.