Tony Dunst Dominates Day of Trash Talking, Drinking at Doyle Brunson Beer Pong Invitational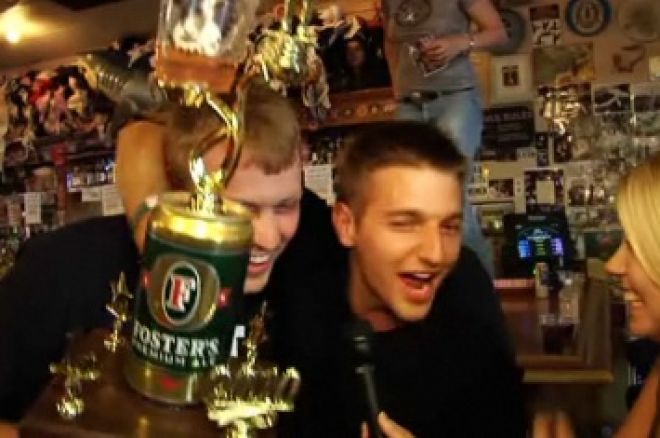 Some of poker's top pros gathered on Wednesday for the third-annual Doyle Brunson Beer Pong Invitational, a day full of trash talking, prop bets, and conspicuous consumption with a little beer pong thrown into the mix. Tony "Bond18" Dunst and his partner, Leo Murphy, were crowned champions after defeating Shawn Patrick Green and Amanda Baker in the final round of the 32-team competition, which was held at the Hogs and Heifers bar in downtown Las Vegas.
Team PokerNews, Eric Ramsey and Dave "ftrain" Behr held strong against Melanie "Callisto5" Weisner and Vanessa Ping to make it into the second round, but Ramsey and Behr failed to advance against the DoylesRoom tag-team of Hoyt Corkins and Steve "gboro780" Gross. PokerNews was also represented by Kristy Arnett, who joined forces with Chad Brown as a last-minute substitution for Vanessa Rousso. Arnett and Brown were defeated in the first round by the impressive duo of Erick Lindgren and Erica Schoenberg.
Brunson family members and DoylesRoom players all represented well in the tournament named for their patriarch. Todd Brunson and Brett Jungblutt, the defending champions, beat a Hogs and Heifers team in the first round before falling to eventual winners Dunst and Murphy in the second round. Corkins and Gross made it to the third round. The godfather himself, Doyle Brunson, and his partner, Brunson 10 member Zach Clark impressed the crowd with a quick win in the first round and an easy defeat of Scott Seiver and Greg "FunkiMunki" Dyer in the second. Then, in a match ended by a technical ruling, the dream team fell to Baker and Green. Down to one cup apiece, the Brunson-Clark duo sank the last cup, and Baker made her rebuttal, granting them another shot. But Clark picked up and drank the beer by mistake, and the match was ruled a forfeit by the Hogs and Heifers referees.
With this crowd's skill set weighted more toward head games than hand-eye coordination, many matches came down to technicalities or were decided by teams knocking over their own cups. In a first-round matchup against Seiver and Dyer, Adam "Roothlus" Levy and Trishelle Canatella made their last cup, but as soon as Seiver sank his rebuttal shot, Levy knocked over the cup to end the game. "I felt terribly for Trishelle," a smug Seiver joined in the needling of Levy. "She played tremendously and deserved a better partner."
In another intense first-round game, Shaun Deeb and Allie Prescott quickly took a four-cup lead over Rick Fuller and Jim Shipley, and just as quickly, knocked over several of their own cups to even the game. Fuller and Shipley went on to take the match and advanced all the way to the semi-finals, but Deeb and Prescott were satisfied with the "Best Trash Talkers" trophy they earned for their performance. Later, after loudly coming to the aid of Fuller and Shipley in a rules dispute with a Hogs and Heifers team, Deeb was also awarded the "Worst Loser" trophy.
In big second-round matches, Doyle Brunson and Clark crushed Seiver and Dyer, Baker and Green axed Jonathan Aguiar and Steve O'Dwyer, and Andrew "Chewy" Lichtenberger and Dan Smith beat Schoenberg and Lindgren. Dunst and Murphy ended Todd Brunson and Jungblutt's hopes of a repeat victory, and a Hogs and Heifers teams eliminated Bob Lauria and Gary Gates.
On to the third round, where Lichtenberger and Smith faced Dunst and Murphy in one of the day's most entertaining grudge matches. Smith and Dunst are staying with Lichtenberger for the World Series, and after Dunst's partner, Randal "randallin" Flowers, was unable to make it at the last minute, Lichtenberger supplied Dunst with Murphy, one of his good friends. It was a heated battle, but Lichtenberger and Smith were no match for the other team. After his defeat, Lichtenberger said Dunst was going to be kicked out of the house for at least a week. "He's going to be sleeping on the front lawn." Dunst didn't seem too worried, calling the third round victory the highlight of his tournament.
The unstoppable force of Dunst and Murphy handily defeated Fuller and Shipley in the semi-finals. The match between Baker and Green and Ty Stewart and Brian Balsbaugh was much closer, but Baker and Green prevailed to move on to the finals. The "final table" was a tough one. When Dunst and Murphy got down to one cup, Baker and Green still had three, a deficit they were unable to overcome.
"This is the single greatest moment in my life," Dunst said, hoisting his giant trophy. "Everything else was just leading up to this." Uncharacteristically, Dunst didn't wear a suit to the event, a strategic sartorial decision. "It gave me more flexibility, especially around the neck and shoulders." Dunst also thanked his ringer of a partner, whose game was still sharp only a few months after he graduated. "I'm glad my four years of college were finally worth something," Murphy said.
For more great videos, stay tuned to PokerNews during the World Series of Poker. We'll be bringing you all the action on, and off the felt.